What Really Went Down Inside Glastonbury's Women-Only Venue
The secret space was a classic Glastonbury experience: intimate, secluded, and a little bit magic.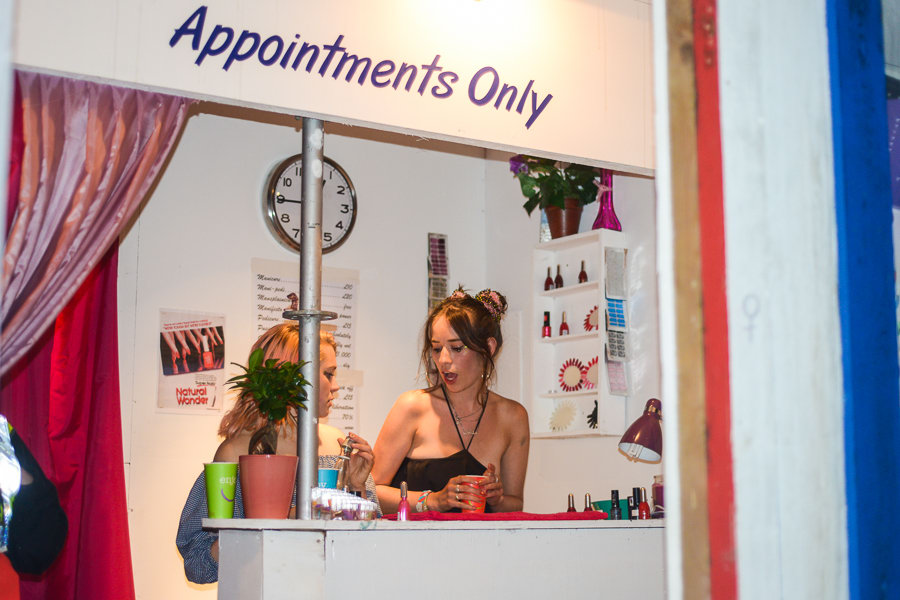 Walking into The Sisterhood, a women-only venue hidden behind a fake nail bar shopfront in Glastonbury's after-hours area Shangri-La, was an event I expected to have a lot more fanfare than it did. For weeks before the festival, there was furore online that such a space was being opened. The idea was labelled reverse sexism, and even considered patronising to women. But in practise, it only felt like the kind of sneaky, off-radar fun that forms a classic Glastonbury experience. As I approached the "Talon Salon," a female security member in a hi-vis vest nodded and guided me through a curtain, where I entered a sparkling room that was throbbing to the sound of Missy Elliott. Go-go dancers in pink lycra and fanny packs populated a small stage, and everywhere, women — many of whom seemed to be there alone, and comfortably hanging with strangers — were sprawled on vintage sofas or dancing with loose, open movements.
The Sisterhood was a small, comfortable, cute space fuelled by cheesy bangers and camp performances. During the day, it also housed controversial performance art, workshops, and panel discussions (some of which were sadly cancelled due to adverse weather). But its greatest appeal was the space it afforded, for a moment in the dead of night, to move without fear of anyone spilling their drink all over you, or repeatedly hitting on you until you have to tell them to them to move along, or even groping you. It was having physical space, and mostly, the feeling of being in on a secret.
Glastonbury is known for being full of magic, small spaces like this one — The Sisterhood's only real difference, as Shangri-La's creative director Kaye Dunnings told The FADER before the festival, is that it attracted the vitriol of men, who hate to be left out. "There are a thousand other venues that you can go to in Glastonbury," she pointed out. "It's one tiny little space that we hope can be just a real sanctuary, and also be a hotbed of ideas." See for yourself in The FADER's gallery below.