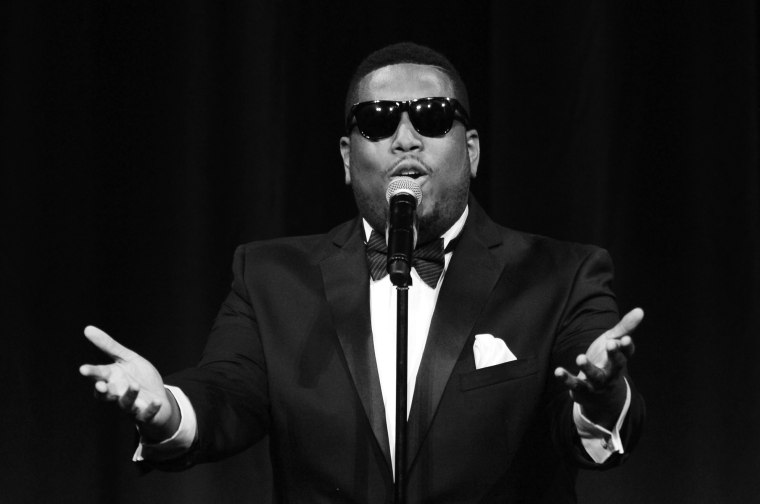 Guordan Banks has a No. 1 hit, but very little of the name recognition that's usually associated with such a feat. The Philadelphia singer's "Keep You In Mind," a single from his 2014 mixtape A Song for Everyone, spent 29 weeks on the Adult R&B charts and eventually climbed to the top spot earlier this month. The song is catchy and compelling; its methodical bassline, sharp synths, and easy falsetto glide bring to mind the lustrous edge of '80s R&B, a familiar sound that has been explored to varying degrees by artists such as dvsn and Jessy Lanza. Neither of them, it's worth noting, has made a dent in airplay charts.
There's a simple, but bizarre, explanation for why Banks has found Billboard success without conventional stardom: the Urban Adult Contemporary radio format, where "Keep You In Mind" has thrived and which is reflected on Billboard's Adult R&B chart, doesn't require the internet fandom that serves as currency in the modern pop climate. Banks does not have a public endorsement from Drake or Kanye West, a track that launched a million dance Vines, or a licensing agreement that led to a sudden jump in Spotify streams. And that's ok.
Interestingly, "Keep You In Mind" — which Banks said was written "three or four years ago" during a "a random session" with K. Roosevelt, a producer he didn't know at the time — initially grabbed the attention of several major artists. Mary J. Blige and Chris Brown kept it on hold, Banks said, but didn't put it out, so he wound up releasing it himself and the song found its way to program directors organically. "Six major market radio stations were playing the record before we even hired a radio guy," said Banks, who has a publishing deal with Sony/ATV but not an artist deal. That makes "Keep You In Mind" a rare independent No. 1, and something that likely would not have happened without the existence of the Adult R&B chart.
For R&B singers with less of an interest in pulling directly from the hip-hop trends of the moment, Adult R&B is one of the few avenues available to build and maintain careers on the fringes of pop, as evidenced by the audience of 11-million strong that "Keep You In Mind" reached during a recent tracking week. The tunes on this chart historically favor the style of traditional R&B: they tend to ignore post-trap drum programming, and their the basslines are likely pegged to a groove, and not pitched to make club walls buckle. Notably, a higher number of women singers operate in this space: a few weeks ago, 10 of the 20 tracks on the chart were by women (only four women appeared on the same week's Hot R&B/Hip-Hop Songs chart). And while there are plenty of veterans on Adult R&B Songs — it's where Erykah Badu often charts, alongside legacy artists like Maxwell and Anthony Hamilton — it's also home to young talents like Banks and RCA singer-songwriter Ro James.
Though the Adult R&B Songs chart was created to provide a more nuanced picture of who was listening to what, it has wound up doing the twin job of nurturing songs and artists largely out of favor in the mainstream.
Adult R&B Songs, also known as Urban Adult Contemporary, was born in 1993. According to Amaya Mendizabal, who manages Billboard's Latin, R&B, and hip-hop charts, the chart was created as part of a broader shift in the music industry. When Nielsen Music — then known as Nielsen SoundScan — started electronically monitoring radio stations and record sales in the early '90s, an influx of more accurate data led to the development of new charts that reflected activity in smaller subgenres. Previously, chart positions had been calculated solely based on reports filed by record stores, from which audiences' specific listening habits were difficult to glean. And while the "Adult" modifier may be misleading, it has been used to reflect older listeners' preferences for less abrasive and experimental sounds ever since 1979, when the "Easy Listening" chart was retitled "Adult Contemporary."
Though the Adult R&B Songs chart was created to provide a more nuanced picture of who was listening to what, it has wound up doing the twin job of nurturing songs and artists largely out of favor in the mainstream. While many of Billboard's airplay charts are based on audience impressions — a calculation derived from market size and assumptions about the number of listeners at different times — Adult R&B Songs is based exclusively on radio spins. That means that a record can start to bubble if it is embraced by program directors at one of the roughly 60 stations that report to the chart today, regardless of how many people are tuning in. And if a track picks up enough steam, it can move to the R&B/Hip-Hop hybrid airplay chart, which is based on a larger panel of 130 stations. Banks's track, for instance, eventually peaked at No. 15 on the hybrid R&B/Hip-Hop airplay chart.
Here's how Banks described his relationship with the radio stations he often visits: "They say, 'We were looking for something like this. We've been looking for something like this for years.'" Indeed, to remain vital — and viable — as a format, Adult R&B will need to find young singers of its own to embrace. But whether or not such artists can get attention elsewhere remains to be seen. Though "Keep You In Mind" eventually crossed over to the hybrid R&B/Hip-Hop chart, it did not crack the Top 25 on the Hot R&B/Hip-Hop Songs chart, which incorporates record sales and streaming numbers. Still, Banks remains adamant that the song can connect outside the Adult R&B audience. "This isn't just an urban adult record," he said. "This is a universal record." Just in case, he plans to name his forthcoming album Unpopular. The title should come with an asterisk: 11 million listeners already got him to No. 1.