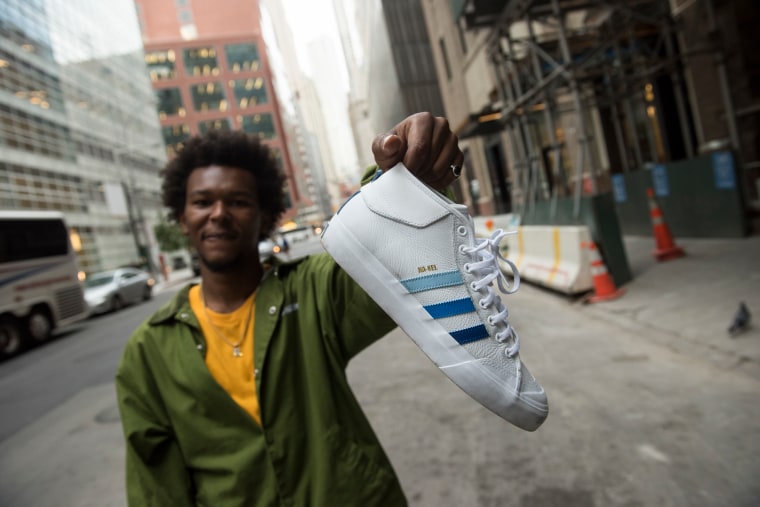 Images of the collaboration pro skater Na-Kel Smith designed with Adidas have been floating around the internet (mainly on his Instagram) for a while now, but July 1 marked the official release of his take on the Matchcourt Mid. The shoe is a traditional Matchcourt silhouette, with blue gradient stripes. It's a markedly simple shoe, especially for a dresser as colorful as Smith, who had to work actively to tone down his individual style so his shoes would be able to connect with a large audience. Here, Smith explains the process behind the shoe, and explains how design and skating go hand in hand.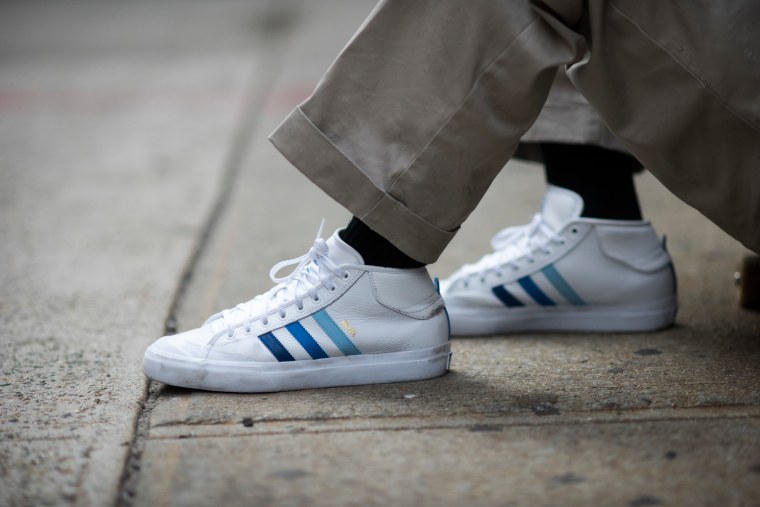 What was the design process like?
NA-KEL SMITH: Adidas came to me and were like, "Do you wanna do a colorway?" Then they sent me a couple options and I kinda brainstormed with a couple of dudes on the design team. I was on tour with Earl [Sweatshirt] and I was doing a lot of moving around.
Did you know what you wanted it to look like?
For the first thing I was like, "I really like white shoes." I only wanted to skate in white shoes. I wanted them to be regular, like super plain, cause I wanted it to be something that could relate to people. Sometimes I dress kinda weird, but not everybody would do what I would decide to do. So I was like, "Fuck, this is my first introduction to that world." Not only am I designing something, but it has my name on it.
How did you feel when you got the first pair?
That's kind've a big thing for me, this is the type of shit I've dreamed about when I was younger. A lot of people look at this like this is business, this person gets this because of whatever politics. But like, either way, I'm just super happy because I made it happen for myself. I dreamed of all of this and I planned it. I knew that this was gonna happen because I believed in myself, and now I really do have a shoe with my name on it. That's an Adidas shoe, that's one of the biggest brands. Like when you think of a shoe, you're only gonna think of like three companies, like three or four companies, and Adidas is in the top two.
Do you know when your next collaboration is gonna come up?
I got shoe coming next year that I wore to my Westchester BBQ. It's a pink shoe and I had my mom's name embroidered on the tongue. But that's like next year.
Do you want to continue pursuing designing?
I do. I love skating, so that was always first and foremost in my life as far as something I wanted to pursue. But, everybody, you sit there and you want stuff bad enough you start drawing and trying to figure out. You see everybody with a pair of shoes you're like, "Damn, I like this shoe, damn, this color would be sick" or like, "Damn, I like this shoe, but I would change this." Yeah, I'm just really passionate about a lot of different shit. I'm not gonna sit here and be like I've always wanted to be in the fashion world or design clothes and stuff, but I've got a good eye for it.
This is the time where I have products that represent me and I can have help with, so it kinda just fell in line for me. I really enjoy it. Like next to landing a trick, getting a physical version of something that came out of your brain is one of the greatest feelings.