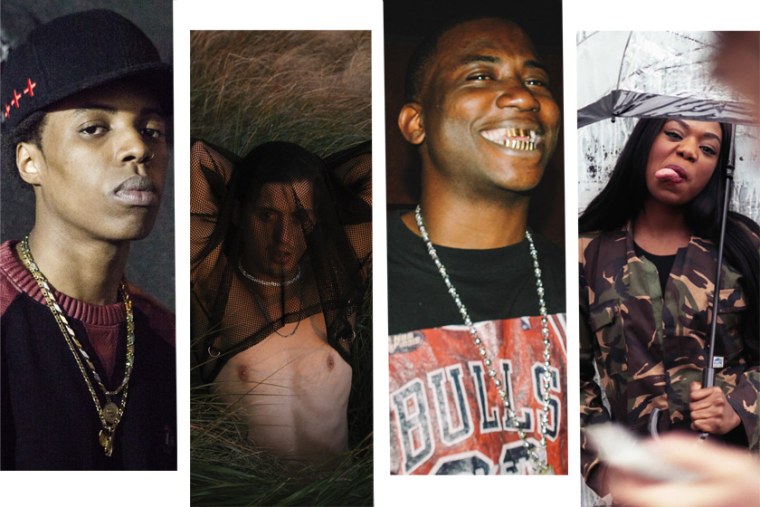 1. This one's made for rolling down car windows and pumping out loud: U.K. rapper Lady Leshurr makes sure everyone knows she's the talk of the town on her track "Where Are You Now?," which just got a shiny new pop art video.
2. James Vincent McMorrow has a gleamingly soulful voice, which makes the old school funk sounds on the moody "Rising Water" extremely irresistible.
3. OVO's Roy Woods dropped his debut full-length on Friday, and we can't get enough of his subtly thrilling vocals on stoner love song "Down Girl."
4. Portland rapper Aminé is another smooth talker. On "Caroline," he delivers a joyful, Tarantino-referencing ode to a fun as hell, mighty fine gal. The video's got Aminé and his boys eating Big Kahuna burgers in a parking lot. It's hot, hot.
5. German electronic musician Molly Nilsson's "Think Pink" is a synthy dream that must have come to us from some magical bouncy castle in the sky. Good thing it's down here on Earth where we can fully groove to it.
6. The ever-adorable Ryan Hemsworth tapped his old pal Mitski and singer Keaton Henson for "Wait," a tender song that showcases and shapes its three intwining voices with intention and care.
7. Arca's new album Entrañas is fully downloadable via Mediafire, but you can stream it here where it's best to listen as one twenty-five minute harrowing, glitchy enterprise. Play it at bedtime for ideal nightmare fodder.
8. It's Gucci Mane's summer, we're just living in it. New track "On Me" bumps. It features Young Thug, and a sample from Tupac's "Fuck 'Em All." I feel like Tupac when he made "All Eyez On Me," raps Gucci. Here's to more ice like this to keep us chill in this damn heat.
9. XL Recordings's 19-year-old Scottish producer prodigy Sam Gellaitry is all vibes on "The Gateway," the debut track from the kid's forthcoming album Escapism II. Vocal-less but somehow sugary sweet in an eerie way, this track flies high for three minutes that could easily turn into a heavenly loop trance.
10. Compton-born rapper Boogie debuted his song "Man Down" as a trailer for his new album Thirst 48. It's dark with orchestral highlights, and among the storm of sounds — gunshots, deep slo-mo vocals, trumpet — the man's signature flow powers through.
11. PARTYNEXTDOOR and Jeremih — cue the swoons — teamed up for "Like Dat," featuring Lil Wayne. They came in thirty deep for this one, as Wayne notes. Classic and moody; everything you'd expect from an epic collab like this.