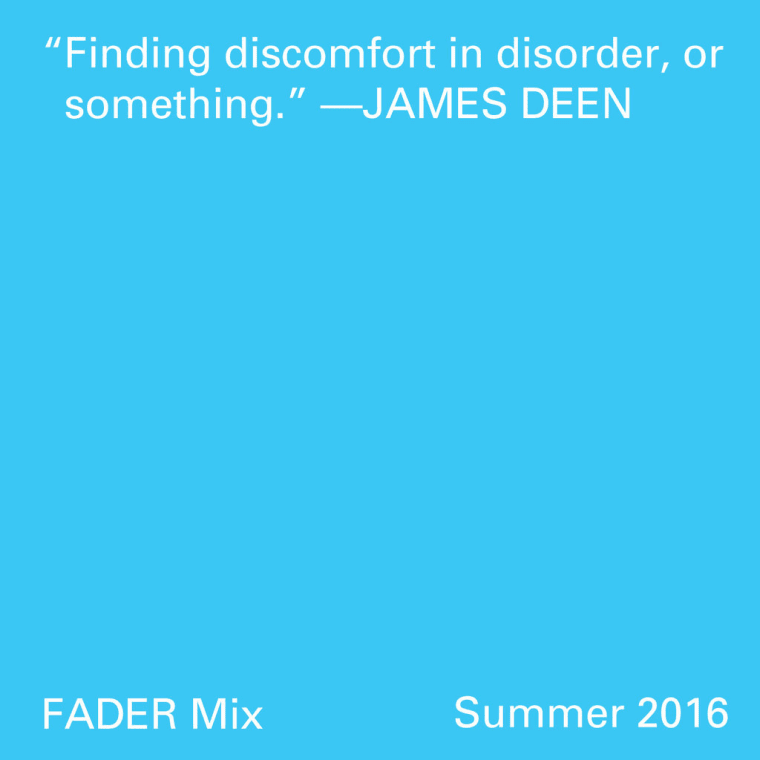 Visiting Vancouver was, for a landlocked city dweller like me, a strangely life-changing experience. Real life is mountains and ocean as far as the eye can see? What even matters when you're constantly dwarfed by nature? After that, I finally understood what people mean when they talk about just how different west coast life is. Today's FADER mix from Van City producer James Deen — not to be confused with the porn star of the same name — reflects this laidback state of mind. It starts out pretty dreamy, and flits between moods and tempos without warning. Before you really take in what's up, Deen's already onto his next sonic idea. And it's also lowkey patriotic, with tracks from fellow Canadians like Deebs, Ryan Hemsworth, Internet Daughter, and more.
Where are you right now? Describe your surroundings.
I'm sitting at my desk in my room, and its about 1:30 AM. My room is so disorganized and my bed is just three foamy mattresses stacked on top of each other, but I still love it. I guess it's finding comfort in disorder, or something.
Tell us a bit about this mix—what do you imagine people doing while listening to it?
I'm a big fan of mixes for when I'm at work or heading to work and need something long and curated to listen to. So with this one I wanted to have a mixture of all things. Tempos, moods, craziness and quiet moments. I find too many mixes by artists I like seem to just feel like DJ sets. They sound like if my Soundcloud stream played through and was mixed, or songs i would just hear at a club. That's boring.
What's the Vancouver music scene like?
All of the producers coming up right now are pretty close friends, which is great. Everyone supports everyone, it's nice. We all just have regular shit in common too, so it's never like this awkward forced relationship because we all make music. The nightlife around here isn't as supportive, but I honestly never leave my house so it's fine.
What's your favorite thing to do in Vancouver that you can only do in Vancouver?
I guess I could be normal and say, like, a hike or something, but I much prefer staying in. When it's raining, as it does quite often, I like to just lay in bed and watch cooking shows with my girlfriend. I do also enjoy eating tacos, and drinking spiked Slurpees in the park on a nice afternoon too though, hehe.
What's the last book you read that had a big impact on you? And why?
Probably High Rise, by JG Ballard. I think I finished it in about three days. It had this really obvious comment on societal classes, but its set in this borderline dystopian '70s England. A book hasn't had an impact on me in a while, but I came away from this one with just a different feeling. Hard to put into words. I haven't seen the movie yet but, I mean, Tom Hiddleston is quite the hunk so it should be good.
And finally, what's your favourite dish to cook and how do you make it?
Well my go to right now, and for the past bit, is various forms of scrambles and hashes, and scramble-hash combos. You can add anything, spice it however you want. My recent favorite lil' spice combo is chilli powder, cinnamon, and paprika. oooooOOooOOoweeeEEEee. But next meal I want to make is a classic mushroom risotto. mmMMmmmm.
Tracklist
Clairo & PHF - Living in the City
cutie fake british girl intro lol
Su Na - Untitled 14
Helica - Love and Caring
James Deen - i wish i made video games ost's
Kodak Black - This Life
Project Pablo - In The Locale
Deebs - Blooms
Faeriey - peaches are a good fruit, but if u were a fruit i know i'd like u better (prod. Falls)
Little Simz - Tattoos (feat. Tilla & Josh Acre)
Blac Youngsta - I Remember
Project Pablo - No Rush
xOxVxT - Paris (Acapella)
Tokyo Megaplex - Island Party
Brevner - Jane Doe (feat. RiFF RAFF) (James Deen Remix)
GRRL - Drop Ha
P.H.F. - I Tried (Instrumental)
Helica - Sunken
Ryan Hemsworth - Hurt Me (Original Version)
Kevin Gates - 2 Phones (Instrumental)
Ryan Hemsworth - Burying The Sun
Kodak Black - Big Bank
Blonde Redhead - For the Damaged Coda
Tokyo Megaplex - Yah Bootleg
Juelz, Landyn & James Deen - Rocket League
Weird Inside - Wild Lands (Demo)
Brevner - All We Know (Acapella)
James Deen - Grin (Instrumental)
iLoveMakonnen - Back Again (prod. Jim-e Stacks)
Internet Daughter - No ID
James Deen - Dwunk n Fudge
Migos - Jumpin Like Jordan (Rook Milo Bootleg)
James Deen & Landyn - Coupons
Dream Beach - Lavish Street Danger
Weird Inside - Little Angels
Sosamann - Splash 4 The Kash (feat. Sauce Walka)
Rook Milo - Weighted (Demo)
Juelz - onenightstand
Joe Peterson - Take My Candy, Take My Bones
Seakid Mollusk - Tumultuous Pink
Weird Inside - Crooked Teeth
Noscar - That's What U Get
Rook Milo - Hunned Pound Chain
Tennyson - Beautiful World (Acapella)
James Deen - moody outro :P