Serena Jara Is The New York Photographer Celebrating The Richness Of Trans Identity
Everyone from artist Ser Brandon Castro Serpas to rapper Quay Dash have posed for Jara's intimate portraits.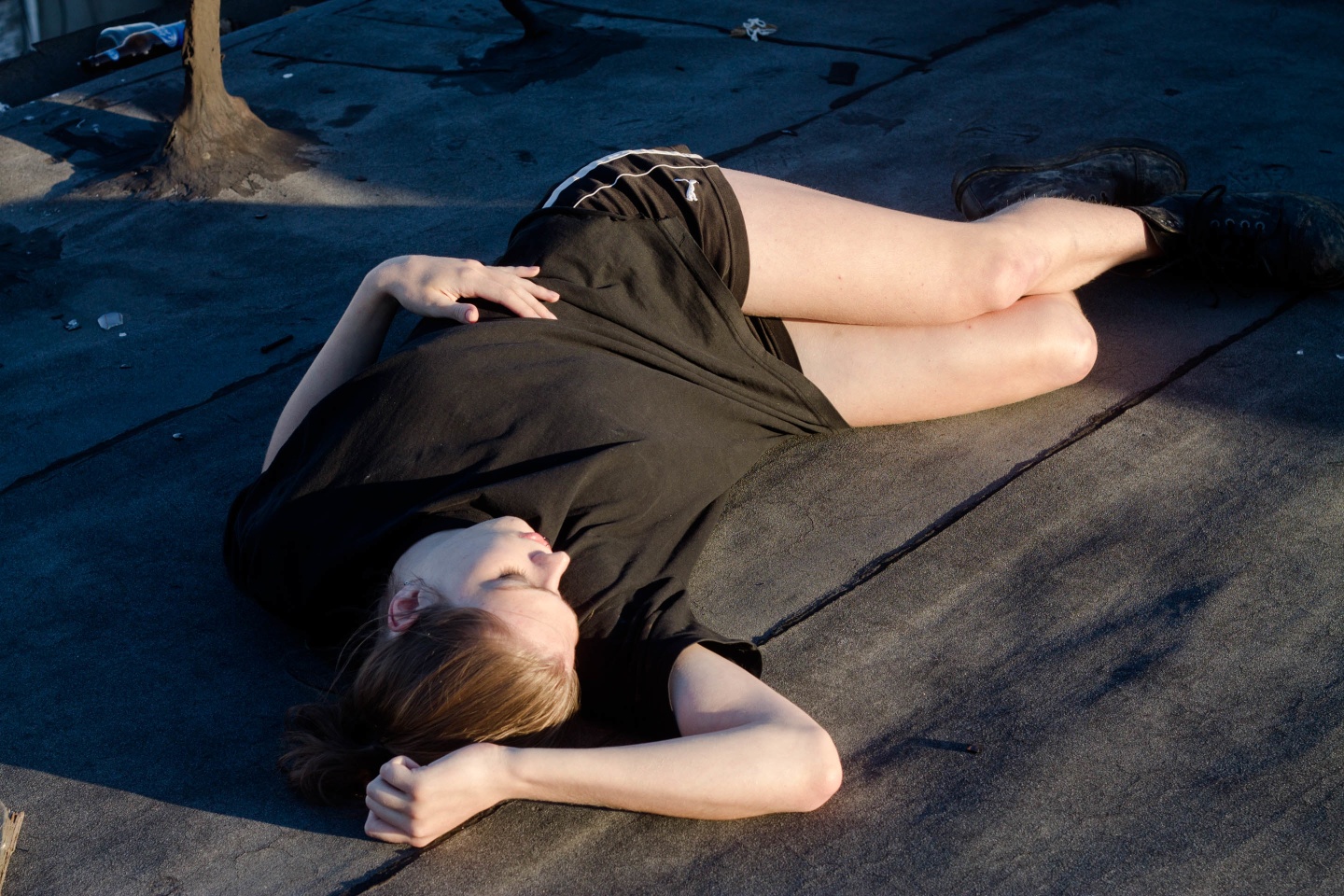 On a warm early evening in June, Serena Jara — a young New York photographer who emphasizes agency and self-identity to create captivating work — guided us to her cozy Bushwick walk-up. The NYU Tisch student was fresh off work from her day job in a Lower East Side printing shop, and began rolling a pint-sized cigarette as soon as she made it through her apartment door. Jara's glowing iMac screen displayed dozens of intriguing thumbnails of sensual close-up portraits. Later, she unrolled a stack of newly printed photographs, some composed with dramatic lighting and others spur of the moment snapshots of familiar faces.
Artist Ser Brandon Castro Serpas, designer Gogo Graham, and rap goddess Quay Dash have all posed for Jara's intimate photographs, often donning a grungy-meets-sexy aesthetic. "I'm about girls feeling themselves," Jara explained, which is clearly demonstrated by the emotion that emanates from her work, fusing provocativeness, vulnerability, and power. "The subject matter is always going to be about trans girls and gender nonconforming people," she continued, reinforcing the importance of collaboration, series, and intimacy in her practice. Here she discusses making space for subtlety and recognizing that there's no one way to be trans.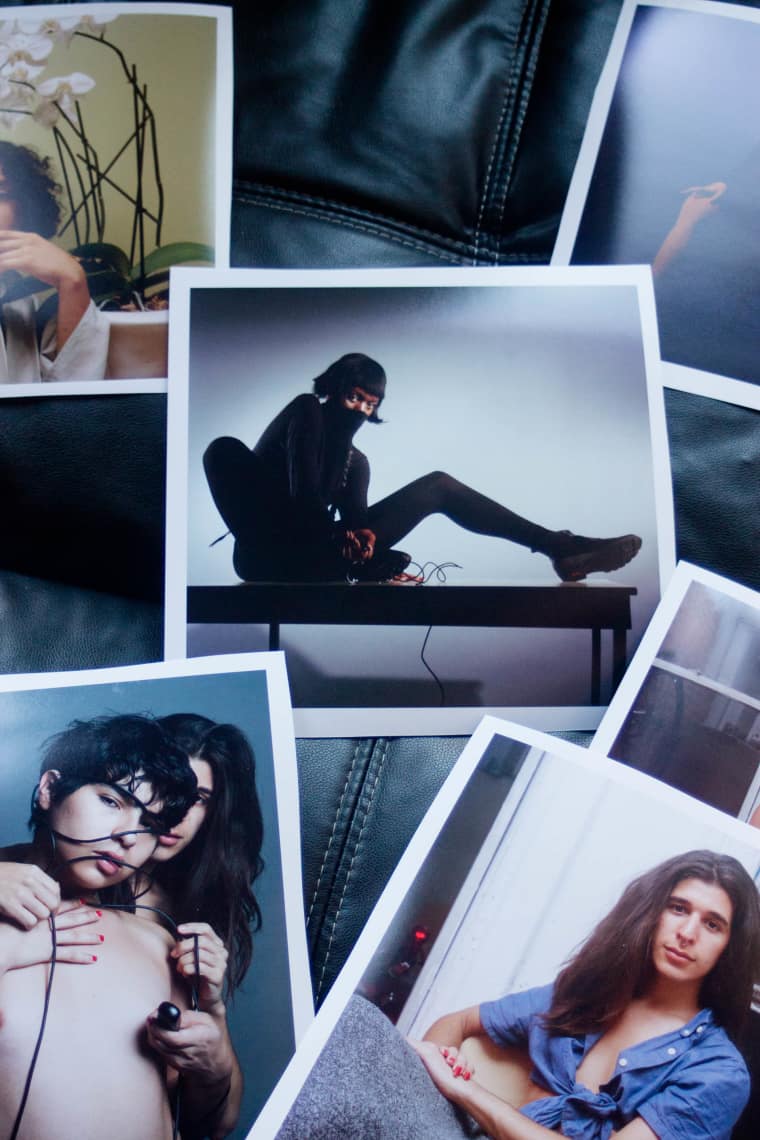 What cameras do you shoot your work with?
I use Mamiya C220, it's a twin lens. It's a square; I love squares. Sometimes I use a little point and shoot film camera, which I love to use when I can. For digital, I usually use a Canon Mark.
What are some of your major inspirations?
Well originally, I was a "mall goth" [cackles], so that's where it all started. I was really into industrial music when I was 13-14, then I got really into nosier, shoegazey music. Basically, if it was the soundtrack to a Gregg Aaraki [movie], then that's what I wanted to be listening to. I am really inspired by music, especially music that has a visual, cinematic element, which has always really held my attention. I really like David Lynch movies or like random, obscure horror movies that are really stupid. I like things to be a little corny, low-budget, like hidden gem type of things. I think among those types of inspirations came the visual element, plus being a very daydreamy type of teenager growing up in the midwest.
How do you choose your subjects?
Most of the time I will just ask someone that I am getting to know, or that I've known for a while. I like to think of things like, "Maybe this is a warm up for something that can happen at a different shoot." I don't like things to be too clear cut from the start, I like to see where the relationship unfolds. If I do have friends that are into that, it's something that I will explore with them over time. What I am most excited about moving into the future is finding ways that I can do these collaborations, whether it's photos or writing or making something new, like a collective or platform. I think I'm realizing that collaboration is really key for me as a trans artist.
Your photography boldly explores femininity and identity. Why are these themes so important for your work?
A lot of the bodies of work of mine that have been on my website, Instagram and Tumblr, the original start of all of that was me photographing myself a lot, trying on different looks to try and find a photo that I captured the way that I was trying to be. Like, how to see myself in the world and solidify that and have it be something that I could tell from my own standards looked good. Then from there, when I started meeting more trans people, [photography] became this process of finding a situation, a setting, an outfit, a gesture, or emotion that plays into how we build ourselves up and how we construct ourselves as trans women.
I feel like so much of our time is spent fighting people who are constantly tearing us down, over and over, daily, ongoing — it's exhausting to make it through the day. But ultimately, I want the photos to be this space for people to not have to fight so much and to have more room to let things come to the surface, things that are more subtle. I am really interested in seeing what happens when that element is taken out and you don't have to be on like your defensive mindset. What would we be allowed to show about ourselves if we had access to a different setting altogether? Rather than the daily relentless shit that we face.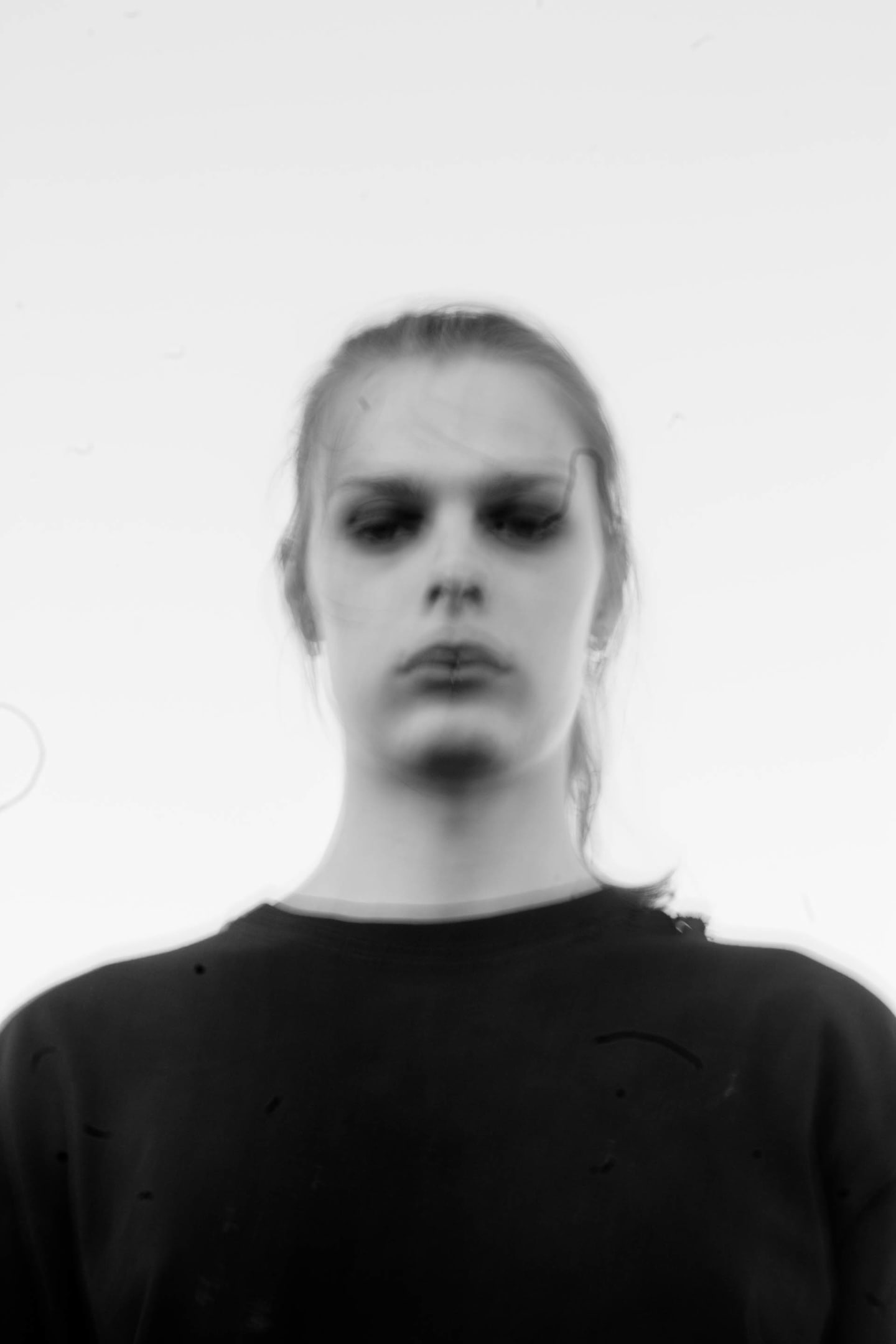 "There are so many different types of trans girls and non-binary, non-conforming people; there's no one way to be trans."
Why does subject self-portraiture play such a large role in your work?
With the cable release in the images, it's sorta symbolic — a visual metaphor of multiple things. Sometimes it is not even plugged into the camera, so I still take the picture, and [the subject] just uses it as a prop. Other times it is, depending on the functionality of the cable release, since it is old equipment. The point is, I really like seeing the girls in the picture look into the camera, like look right at me and stare me down and squeeze the bulb. It's exciting to watch that happen. The reason I am so into that is, obviously it started from a place of control and the desire to pass on that control to somebody else. Photography can get very purist, like, "Oh, this picture wasn't taken by the artist," but I never really cared about that. From there, it's transitioned into how this metaphor for control can be activated in the image, to start making people think more about people having their own story to tell.
Do you normally listen to music while you're doing your shoots?
Yeah, I always play music. It helps me feel less awkward and I think it fills the space. It helps me get in the mood, which I think helps other people get in the mood. I've been listening to my friend Quay Dash, she's everything. Everybody should go listen to her because her music is on a whole 'nother level. I've been listening to Total Freedom mixes, LSD's new mixtape which is great, a lot of Kitty. I love club music and electronic music and techno. I've also really been into Jasmine Infiniti's Soundcloud lately, she's this DJ in Oakland, I think, but she's from the Bronx. She's really cool.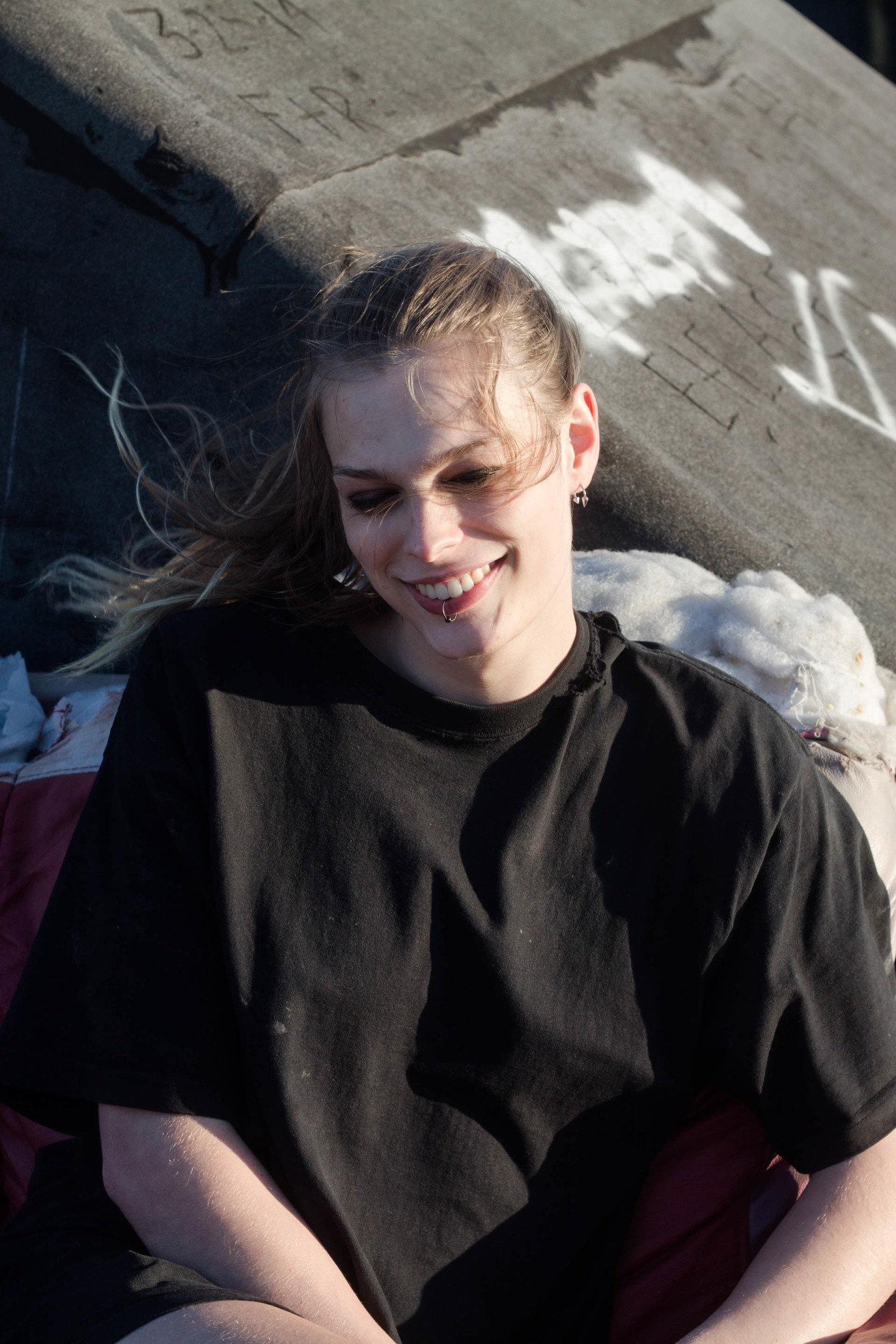 What do you want your viewers to take away from your work?

I've been thinking about this a lot lately. One of the main things I've been thinking about is growing up online and having access to different people on Tumblr who were making an image for themselves. I remember growing up and being a gay boy (or that was my impression) and seeing people online who were similar to me, but not gay boys, and seeing the ways that they actualized that for themselves. That helped me realize that there were other options available, other ways of existing and living beyond the bare minimum that I knew while growing up.
There are so many different types of trans girls and non-binary, non-conforming people; there's no one way to be trans. There's not a single trans experience, or a "normal" one. Which is one of the first things I learned while figuring out my own trans-ness. One of my friends, Kibele Selcuk, gave me the best advice that I've really held onto, which was, "You don't have to prove anything to anyone, but yourself. You don't have to prove your trans-ness to anyone but yourself. You have everything you need already, inside. It's there." It sounds corny or whatever, but I think that drove a lot of my photos towards letting people express themselves. It's like having these artifacts that let people know that they have options beyond whatever was obviously available in the first place. There are other ways of living and being a woman and being a feminine person.
What are you planning for your next project?
I'm working on a project with Cecilia Gentili, who is an activist and advocate. She's an amazing woman who has a bunch of history she lived through. She approached me with a project about trans Latina immigrant women; so many of her friends have lived through so much. This is to try and start conversations about their experiences and what it took for them to get to this country as undocumented immigrants and what they lived through as trans women in the '90s or 2000s. I really hope this is a longterm project. I'd also really like to start recording Cecilia because she's an amazing storyteller and actress; hearing her speak is everything, there's so much wisdom. I want to record her telling stories, then transcribe, then create chapters, like a testimonial. Then maybe from there, I'll try to make photos inspired from what comes up. I'm hoping to do this for my senior thesis, I need to get on that.