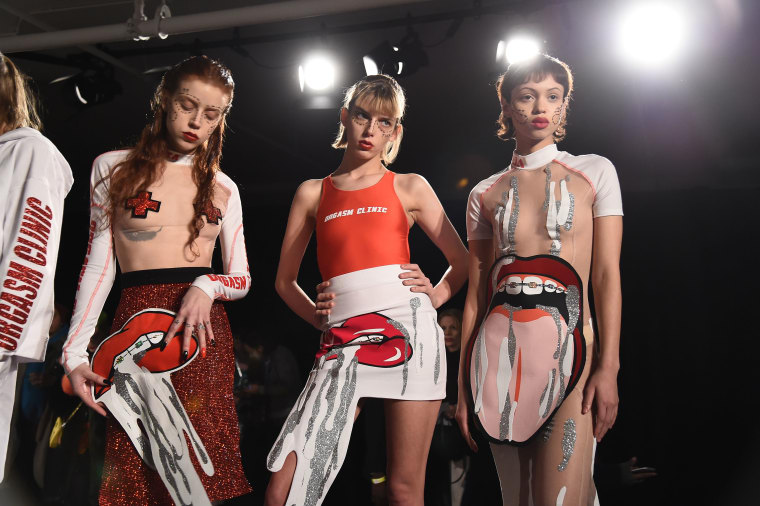 Last February, Namilia showed their second collection, "Feel The Heat," under MADE's fashion week umbrella, alongside heavy-hitters like Rihanna favorite Adam Selman. It was a remarkable feat for a brand still in its infancy. Founded in 2013 by Berlin based design duo Nan Li, 27, and Emilia Phofl, 28, Namilia is a small brand with big intentions: it wants to dismantle and reconfigure the way we view sex.
Li and Phofl have previously expressed criticism of female sexuality's role in pop culture saying, "unfortunately sexualization of women is deeply rooted in pop culture—when a woman presents herself in a sexual, beautiful or desirable way (make-up, underwear, exercise) she is automatically doing it for a man, to get recognition or approval and therefore it's instantly a sign of weakness" but at the same time they see "so many girls and women like Kim Kardashian, Miley or Rihanna using their sensuality to fight back against these gender cliches."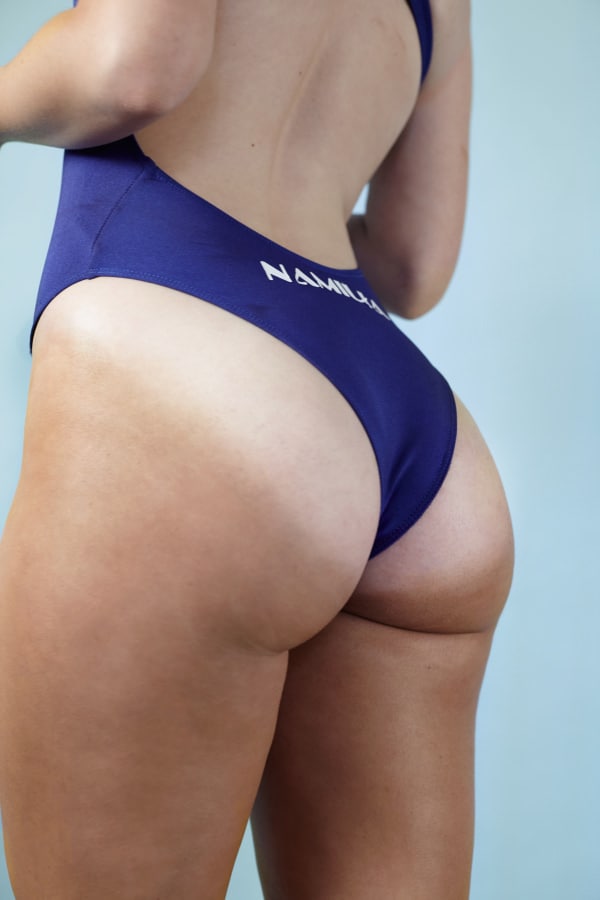 Namilia's adoration of these celebrities was represented quite literally in their first collection, "My Pussy My Choice." Avant-garde garments featured masturbation innuendos, phallic bras and a latex dress with an inflatable heart adorned with the phrase "think outside the cocks." Each look had a name: the Riri, the Amber, The Kim and the Miley — women who have been shamed for their don't-give-a-fuck attitude towards sex.
The bulk of their research for their first collection was conducted during Miley's controversial Bangerz Tour, and they were drawn to the way the pop star weaponised her sexuality through hyper provocative and almost threatening performances. Namilia approaches their designs in a similar way. These are not clothes intended for the male gaze — Namilia's sexuality is strong, difficult, and loud, and they're more likely to make you uncomfortable than turn you on. But rather than reading as heavy or leaden, the clothes have an inherent fun to them: inflatables, decals, and irreverent cultural references all have a place on Namilia's colorful, deeply enjoyable collections.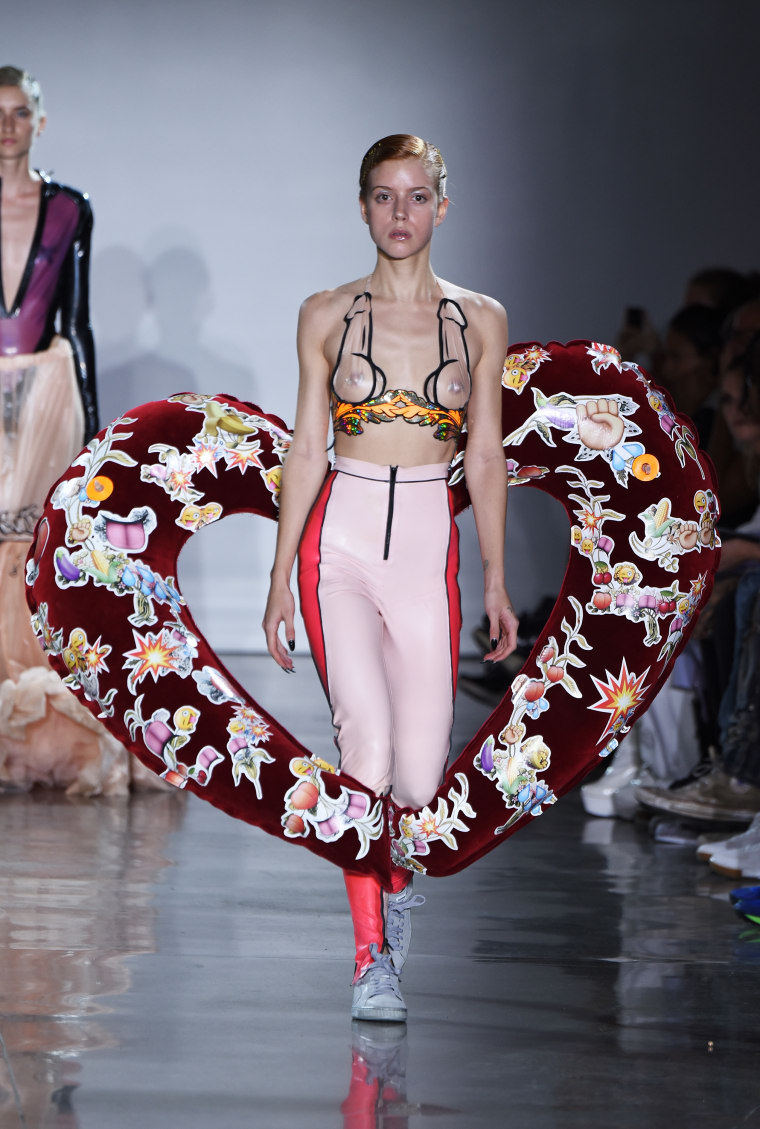 Over email, Li explains their second collection, "Feel The Heat," "celebrates feminine eroticism in its full glory and rebels against the common habit of dividing women into two categories of either their achievements in life or sexual appearance." The collection was seductively opulent; there were second skin jumpsuits with organza trains, an oversized tracksuit with garish lips dripping with an unknown glittery substance, and leopard print formal wear — the spots re-imagined as pornhub actresses pictured in supposed throes of ecstasy. On Namilia's website they describe the intended wearer of "Feel The Heat" as someone who is "proclaiming a contemporary form of youthful feminism; an absolute freedom to celebrate femininity, eroticism and sensuality in all forms."
Namilia's work has activist intentions. They say their goal is to use fashion to tell not just an aesthetic story, but also a political or personal one, adding "we think that it's a natural urge and responsibility of every creative or young person in general to question existing rules and expectations in order to evolve and to shape the future you will live in." They're particularly drawn to social media as an activist medium, which they see as the contemporary form of taking to the streets. An early statement on Instagram read, "I can be whatever, I can wear whatever and I can do whatever I want to. A celebration of the new girlhood which is about to change the way we understand and relate to gender clichés." And they're making good on it.