Why Kodak Black's American Story Is So Important
On Lil B.I.G. Pac, the Florida rapper shares a black perspective that's just as valuable as Kendrick's.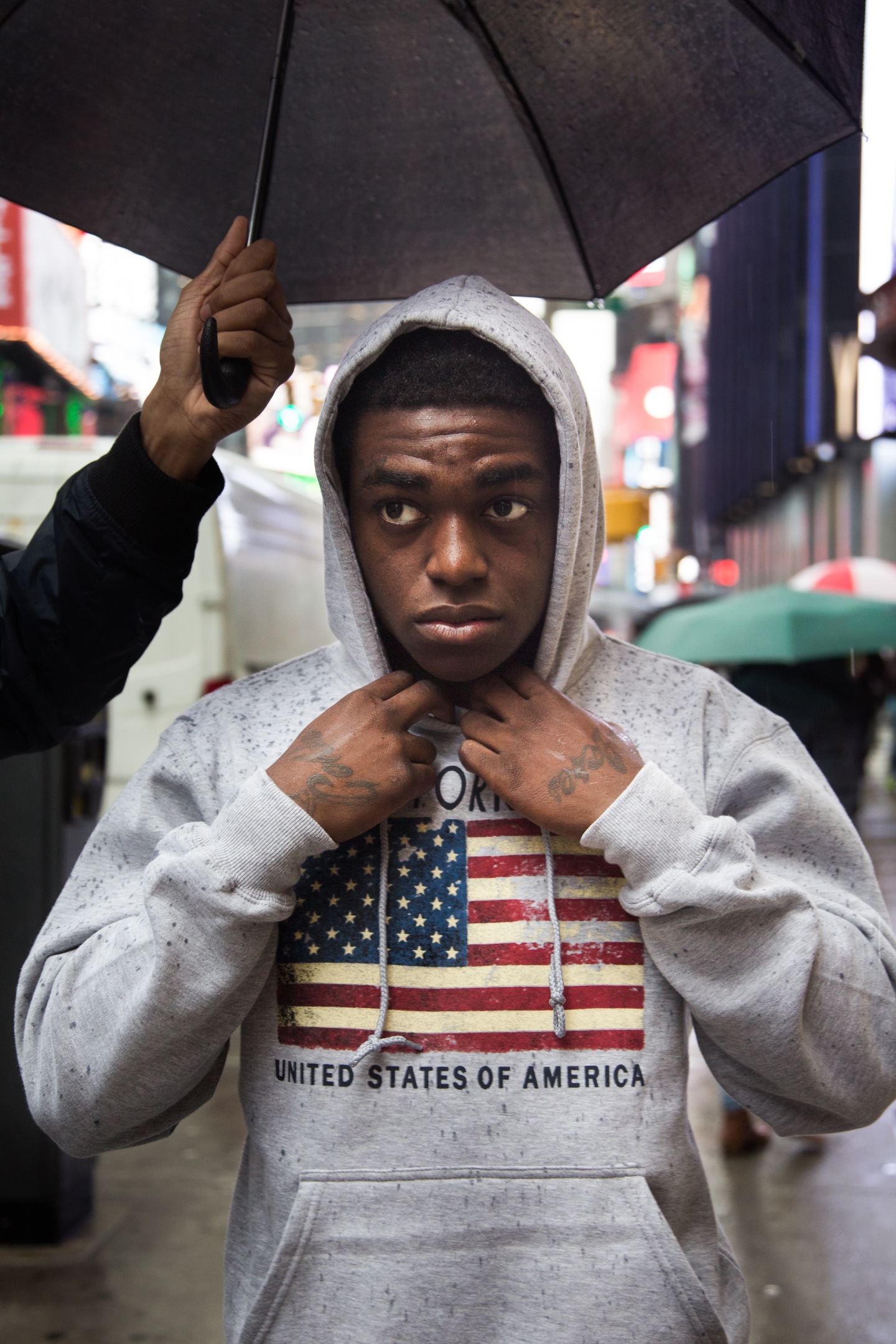 In these #woke times, the hip-hop artists who receive the most critical acclaim are often the ones who spit some sort of redemption rap or whose politics are clearly delineated. By many accounts, one of the most on-the-pulse hip-hop works pertaining to the black American experience in recent years was Kendrick Lamar's To Pimp a Butterfly — a beautiful, intricate effort that lends a comforting touch to black angst on the issues of police brutality, the need for self-love, and the continued trauma of living within a black body. But, while invaluable in its own right, Kendrick's perspective doesn't span the entirety of the anxieties that being black in America can often spawn.
Much diversity exists among black Americans. But while artists can be held to rigid standards when it comes to who can be considered a suitable voice for young black America, I'd argue we have a dire need for multiple voices, and no room to dismiss any. One essential emerging voice is Kodak Black, the teenage Florida rapper. Take a close listen to his recent tape, Lil B.I.G. Pac, and you'll find him addressing a number of issues that have concerned global black communities of late: redemption, mental health, self-care, and the willingness to share an occasional sense of helplessness in a way that's more descriptive than it is prescriptive.
At just 19, Kodak articulates the constant state of affliction that living in a poverty-stricken environment can mean. He makes emotionally intelligent observations in a manner reminiscent of teenage artists of the '90s, such as Mobb Deep and Lil' Wayne, whose voices were valued as genuine illustrations of life in their corners of America. Maybe the unfiltered nature of his music is due to the fact that Kodak is a first-generation American, the child of single Haitian mother. Maybe his nerve comes from having to skip much of his adolescence as a means to survive in the projects of Pompano Beach, Florida. Whatever the case, Kodak's playful demeanor in the interviews he's given so far shouldn't distract from the lyrical and emotional complexity of his four-album catalog — especially his latest offering.
"When it comes to who can be considered a suitable voice for young black America, I'd argue we have a dire need for multiple voices, and no room to dismiss any."
Taking in Lil B.I.G. Pac reminds me of a 2005 book by researcher and educator Joy Degruy, titled Post Traumatic Slave Syndrome: America's Legacy Of Enduring Injury and Healing. Degruy uses six years of field study in places where people of African descent were colonized (including parts of the U.S., the Caribbean, and South Africa) to liken the effects of systemic oppression to those of Post Traumatic Stress Disorder. She lists symptoms that include: a feeling of foreshortened future, diminished interest or participation in significant activities, outbursts of anger, difficulty staying and falling asleep, and feelings of detachment from others. Degruy points out that these symptoms were never collectively addressed by the U.S. government and, as a result, the fallout from that trauma is ongoing.
On the Lil B.I.G. Pac song "Can I," Kodak runs through, in a lullaby fashion, many of the uncertainties that some descendents of colonised black people constantly replay in their heads. He wonders whether he'll be around long enough to truly father his kid. He tells himself that once he attains success, people will be waiting to snatch it right back from him. He asks himself whether he should run in response to a woman telling him that she loves him. While none of these are foreign concepts in rap, when measured up against Degruy's work, it's not hard to understand why they become conventions in the music. In terms of its sound, Lil B.I.G. Pac doesn't lean on much of what's become expected from Southern rap. Instead of rampant 808 drum sounds or key play popularized by producers like Zaytoven, Kodak borrows inspiration from the pulsating, echoey, bounce-building early music made by the Louisiana rappers he's been likened to, such as Lil Wayne and Boosie Bad Azz.
Like those guys before him, Kodak hits energetic highs and permits himself moments of helplessness. Mid-head bob on "Purp," in a low register, Kodak delivers the line, Lord knows I'm blessed but sometimes I feel cursed. Later, with infectious force, Philly's PnB Rock delivers the hook on "Too Many Years," a somber look into America's prison system. The song carries an especially heavy weight, given the fact that Kodak is currently in prison, facing previous charges of robbery, false imprisonment, and marijuana possession. Why we keep on falling victim?, Kodak asks. Then there's "Today," which I'd call a self-care jingle, but one devoid of luxuries like naps and spa time. Instead, all Kodak wants is to be able to walk around freely with his gun concealed, shop without interruptions, and not be Kodak Black, the rapper who has to always take pictures with fans and perform in front of crowds.
Since bubbling online and receiving an infamous Drake co-sign in 2015, Kodak's legitimacy as a rapper has continuously been questioned by hip-hop fans across social media. When he made the cut for XXL's annual Freshman list last month, the criticism accelerated. Beneath Kodak's Freshman freestyle video are YouTube commenters describing him as a "trash rapper" and praying for the return of "real MCs." These are criticisms that effectively breeze by, or totally disregard, the details within his work that reflect hip-hop's long history of environmental storytelling.
For the same way we need tracks like Kendrick's joyous "Alright" and Beyoncé's emotionally commanding "Freedom" to boost our morale, we also need Kodak Black. And Future, and Chief Keef, and anyone else whose music we love to bounce to but simultaneously write off as detriments to our collective progression because they rap about popping pills, womanizing, and shooting guns. While those topics can make listeners squeamish, they are a reality of the struggle that many black people experience in this country. It's unfair to expect every person who's raised in environments where such things are normalized to rise above them in one miraculous swoop. Each aforementioned artist's music has value because of what it lends to the narrative of our plights and triumphs. "Alright" and "Freedom" wouldn't feel so damned good at protests, concerts, or in our living rooms if there wasn't a mournful "Too Many Years" or a dark "No Flocking" as a counter balance. There's a long history of trauma that has led to the experiences of rappers like Kodak and there will be no true victory or liberation until we value our whole story.