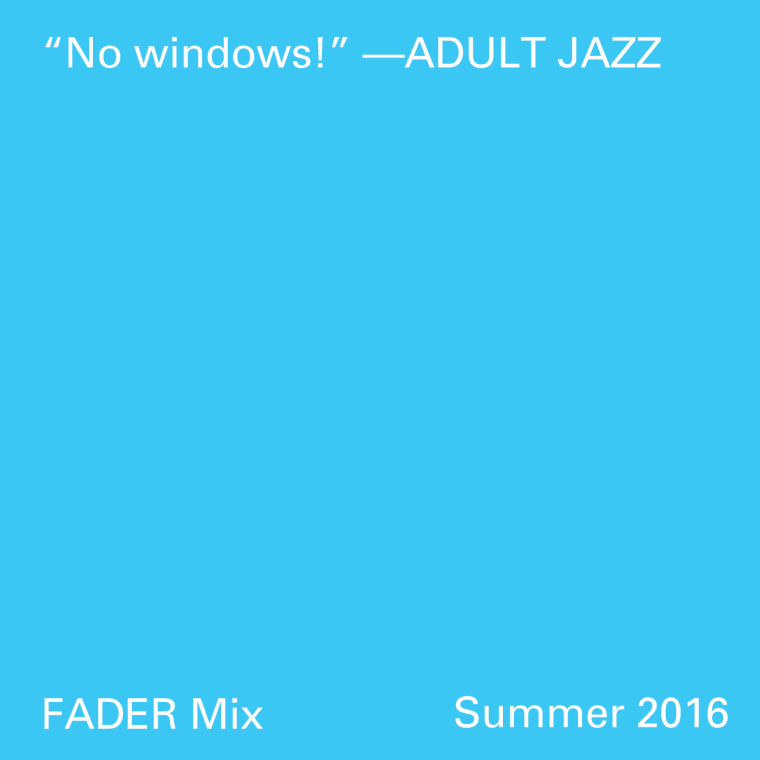 Adult Jazz songs are stubborn, and they never sit still. Across Earrings Off!, a new project that Tri Angle released in May, drums fidget and strings quiver. Harry Burgess's voice, sometimes warped by machines, bends and stretches and oozes like a splat of candy-colored slime. The arrangements are all over the place, but they never feel misleading or intentionally unpalatable. Theirs is the kind of experimental music that just feels natural, like how even the most ridiculous dreams seem possible while you're sleeping and lost in them.
The U.K.-based band's new FADER Mix — which features tracks by various side projects, a theme song from a radical audio play, and one bizarrely poignant TTS monologue that almost made me cry — stumbles forward with a similar organic restlessness. Listen to it below, and read an email interview with Burgess and his bandmate Tom Howe about what's been up since their GEN F profile in 2014.
What's your earliest music memory?
Harry: I remember my dad's Yamaha keyboard that we still use on stage from when I was about seven. Organ sounds and writing proto-ballads. I remember the music from a youth musical my aunt directed about the Pied Piper of Hamelin. I remember lots of 80s/early 90s Van Morrison in the back of a car in the Lake District- when he was melding Christianity and Buddhism and Nihilism in big pan-spiritual broth.
Tell us a bit about this mix — what do you imagine people doing while listening to it?

Tom: This is a mix of some of our friend's music and a couple of our side projects and collaborations. In our last year in Leeds finishing off Gist Is, I lived in a weird grade ii listed house for cheap rent. Our musician group of friends hung out there a lot as it was isolated and spacious enough to make lots of noise. Though there was a lot bubbling around, everyone kinda kept themselves to their own projects. Then some of us moved to South London and started collaborating a little more, whilst others continued to do their thing in Leeds or elsewhere in the world. We're talking about putting some of this stuff out on our label, Spare Thought, at some point, which would be exciting. I put it together on a sunny May bank holiday afternoon but I don't really know what people will be doing when listening to it!

Earrings Off! came out on cult electronic label Tri Angle. How did you link up?

Tom: [Label founder] Robin Carolan got in touch just after the release of Gist Is. We all met in London early 2015 whilst we were recording the EP. We're huge fans of the label – for me personally as a producer it's pretty difficult to not have been influenced by it and I think everyone in the band connected to the creative freedom of the artists on the label. The songs on Earrings Off! are more extreme and the production more electronic than Gist Is, so Tri Angle felt like the ideal label for it.

What's changed for Adult Jazz since we last spoke, which was just before Gist Is was released?

Tom: We've all moved to South London after playing some shows around the first record. It took a bit of adjusting and the EP reflects this a bit. It's an exciting place to liv, though. We recorded Gist Is in between a farm in the Scottish Borders and our flats in Leeds. This one was made in between a small studio in Forest Hill and the slightly Kafkaesque living room in our old flat in South-East Lewisham. I don't think it was especially conscious and most of the time you work within your means, but it seems locations influence the sound of the music a bit more than was intended at the time. Earrings Off! certainly feels tight, heavy and dense- no windows! A few of the tracks in the mix came about around this time.
What's exciting about the experimental music world right now? Who do you think is pushing sound forward?
Tom: I like a lot of the extreme experimental electronic music coming out recently. Tri Angle is good for that. A few other artists like Arca, Micachu, and Katie Gately stand out too.

Harry: Playing with staging feels like fertile ground for me at the moment, so I need to look into people who are doing that. Choreographed performance seems helpful for experimental music as it's another access point, and, if that side of things are familiar or welcoming, it means the sound can be less so. Or vice-versa. Just another parameter to make contrast, or mitigate less pleasing sounds.

What's the last book you read that had a big impact on you?

Tom : I was reading The Boy Who Could Change the World: The Writings of Aaron Swartz around the time the U.K. voted to leave the EU. He was a computer scientist, activist, and writer. The story of his trial and death is particularly sad. He did a lot to protect freedom of information (amongst other things) at a very young age, and reading some his writings aged 14-21 it's pretty difficult to see, given his political ambitions, how he wouldn't have changed the political landscape more than he already has. The squabbling that has followed the vote over here could do with some Aaron Swartz clarity.
Tracklist:
G Bop Orchestra - Music for Water Births Volume 1
TEEMS - Untitled
TEEMS - Untitled
Dan Jacobs - Wet Chrome
Joanne - WMT [Edit]
Adult Jazz - Here's How It All Began Theme"
Anna Meredith - Taken (Adult Jazz Remix)
???
Bank Holiday - Bank Holiday 1
Makeness - 14 Drops
Adult Jazz - Hammer Doctor Nodding
Harry Burgess - Hammer Doctor Nodding (excerpt) [TTS by YakItToMe]
TEEMS / Thought Park - Lucky
Well - Resilience
Glad Hand - Shape Your Fever Close