There have been some huge releases in hip-hop this year. But Gucci Mane's release from federal prison might dwarf them all. After he came home in late May, he got right to work, recording his new album, Everybody Looking, in just six days. This past Friday night, on the day the record came out, he took to Atlanta's legendary Fox Theatre to let his friends celebrate alongside him.
It took a few minutes for the spotlight to find Gucci Mane once the curtains parted. But there he stood, a lean silhouette in the shadows, patiently awaiting his star turn. Lord knows it's been a long time coming. Whether the darkened stage was meant to build anticipation or simply the fault of someone who forgot to flick a switch, it felt symbolic of the self-described "hell" from whence he's finally emerged.

The retrospective started with Gucci stalking the stage to the opening chorus of "Classical," the operatic intro from 2010's The State vs. Radric Davis: Ah-ahh-ah-ah-aaah, Gucci, Gu-u-u-cci/ Nothing's going to stop my reign. And till this point nothing has, except for the Mane himself. But after a decade of hits and career-threatening misses, everybody's favorite underdog looked rehabilitated and ready, svelte and drug-free, glowing in black and gold from top to bottom. Even his jet-black shades bore the outstretched wings of a golden eagle in flight. Across a number of wardrobe changes, his aesthetic remained elevated somewhere between Greek god and Ghostface Killah.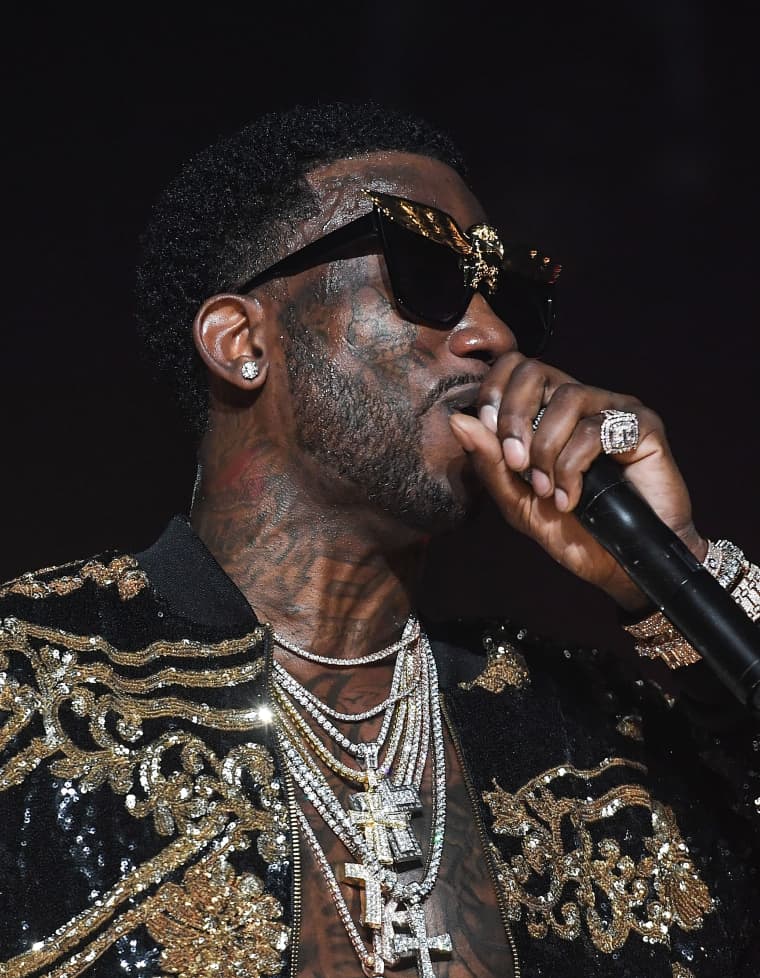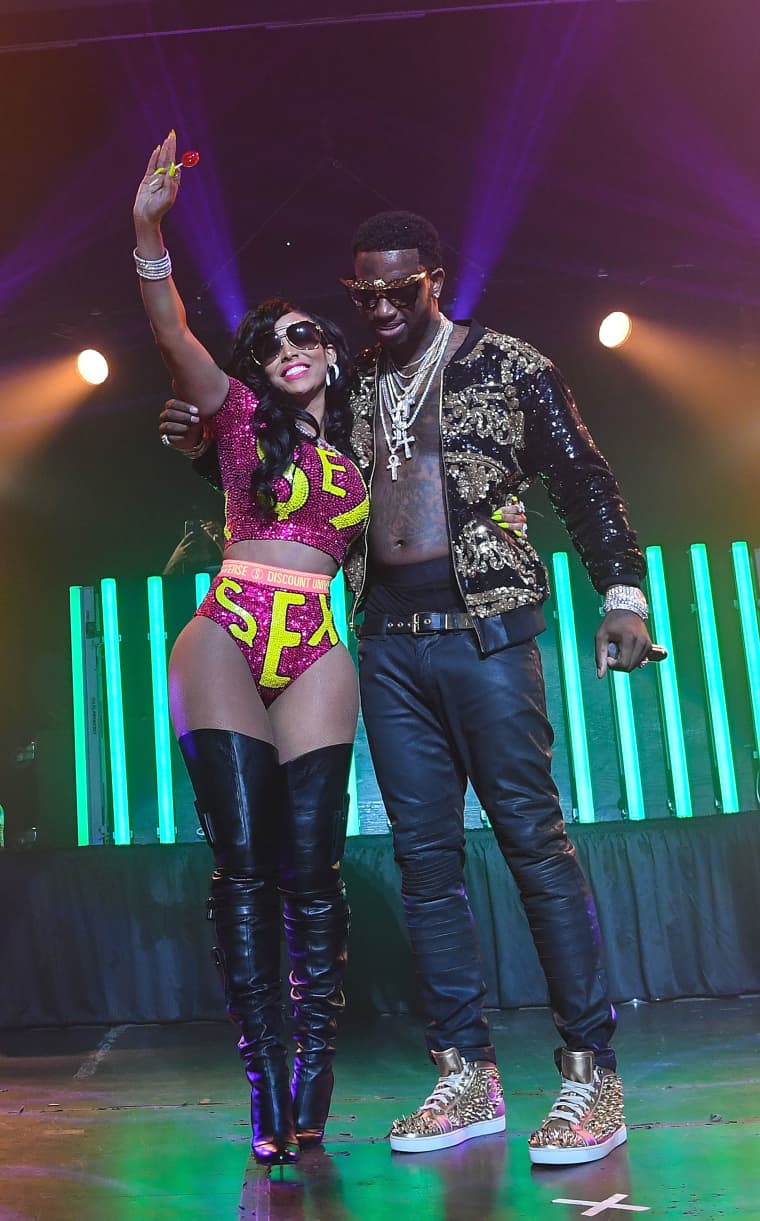 "Take a picture cause you're witnessing history right now. Glad you could be a part of it," Gucci told the crowd, as DJ Holiday cued up "Photoshoot." Longtime producer-partner Zaytoven joined him, too, as he ran down "First Day Out," from 2009's Writing on the Wall, followed by the radio hit that made the underground legend a "Lemonade" expert before Beyoncé.
Keyshia Ka'oir, the model, entrepreneur, and girlfriend Gucci credits with holding him down while he served his bid, came out as he dipped into his ratchet reserve ("I Think I Love Her," "Freaky Gurl," "Wasted," "Beat It Up," "Go Head," "Nothin On Ya"). Watching them onstage together felt like an intimate peek into their personal lives and their professional hustles. Besides helping him maintain his new healthy lifestyle, Ka'oir — who wore a sequined body suit that literally spelled out "SEX" — markets her own line of waist erasers. Her time onstage had to be a boon for business.

Throughout the night there were appearances by some of rap's biggest and burgeoning names, among others who owe a direct debt to the school of Guwop. #IfItWasntForGucciMane, after all, half of them might have no career. Gucci made way for solo sets from 2 Chainz ("No Lie," "Muhfuckin Right," "Watch Out"), Future ("Stick Talk," "March Madness") and Drake ("Energy"). The latter two also performed their hit "Jumpman" together before Gucci and Drake gave a preview of what their future 6'ers collaborative project with performances of "Back On Road" and "Believe It."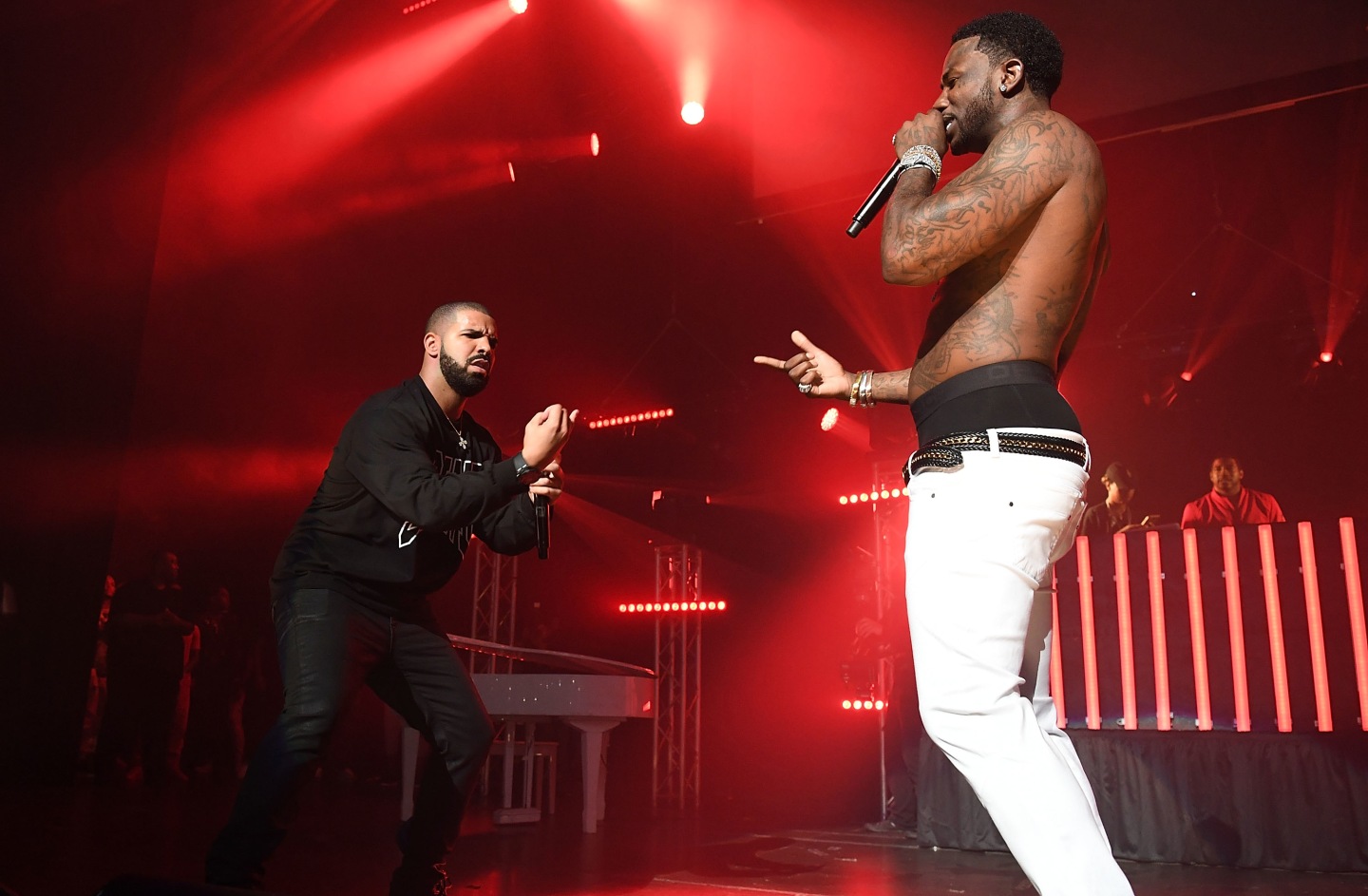 Young Thug was noticeably absent when Gucci performed "Guwop Home," a song off the new album on which Thugger appears, but there were also sandwiched-in guest sets from O.J. da Juiceman ("Make the Trap Say Aye"), Peewee Longway ("Sneekin and Geekin"), Young Dolph ("Get Paid," "Preach"), and Fetty Wap ("Trap Queen," "My Way"). Gucci couldn't help but smile like a proud papa as he watched all his children.

Gucci's loosest moment came halfway through the show when DJ Holiday cued up what he said was his personal favorite, "My Hood," Gucci's ode to East Atlanta's Zone 6. It transcended the stage, especially considering how much his old neighborhood, and the city as a whole, has changed in the time he was away. On the weekend Gucci got out, a friend and fellow writer shot me a text asking which one of us would be the first to write about all the things Gucci won't recognize upon his return to new Atlanta — an inside joke about how gentrification continues to reshape the last black mecca's urban landscape, as police sweeps black children into the system by night while developers usher in an increasingly whitewashed reality by day.

Most events at the Fox, typically a home to traveling Broadway shows and pop concerts, don't require ticketholders to pass through metal detectors before entering the venue. Ironically, the last big rap concert the venue hosted happened one year ago when Jeezy, Gucci's former nemesis, celebrated his 10-year anniversary. So forgive me for making a concert out to be something more. But it is. When the show ended after "First Day Out the Feds," it almost felt like Freaknik '96 as people spilled out onto Peachtree Street.

Earlier, inside the venue, women in chunky stilettos climbed over the railing into the pit to get closer to the stage and dance on chairs. Dudes in fitted brims blew thick blunt smoke in the air. Someone wearing a backwards Marlboro hat dipped inside a plastic baggie for a toot of powder. Meanwhile, Gucci ran through raps rife with references to drugs he doesn't do anymore.

The disconnect between his former and current self seemed most apparent in a performance that often came off mellower than expected, even mechanical at times. As the night went on, his pacing back and forth across the stage and timed pauses to face the crowd became routine. But it's worth considering how out of his element he must've felt, being fresh out the Feds and without the one crutch he's depended on his entire career. A sober performance? Maybe so for the man onstage. But a thrill nonetheless, as an underground legend returns and grows again, taking it one stage at a time.