Chicago Footwork Crew The Era Announces Debut Stage Show, IN THE WURKZ
"Everything isn't literal, but throughout the show you'll see things that represent us coming from practicing in alleys to an actual art gallery."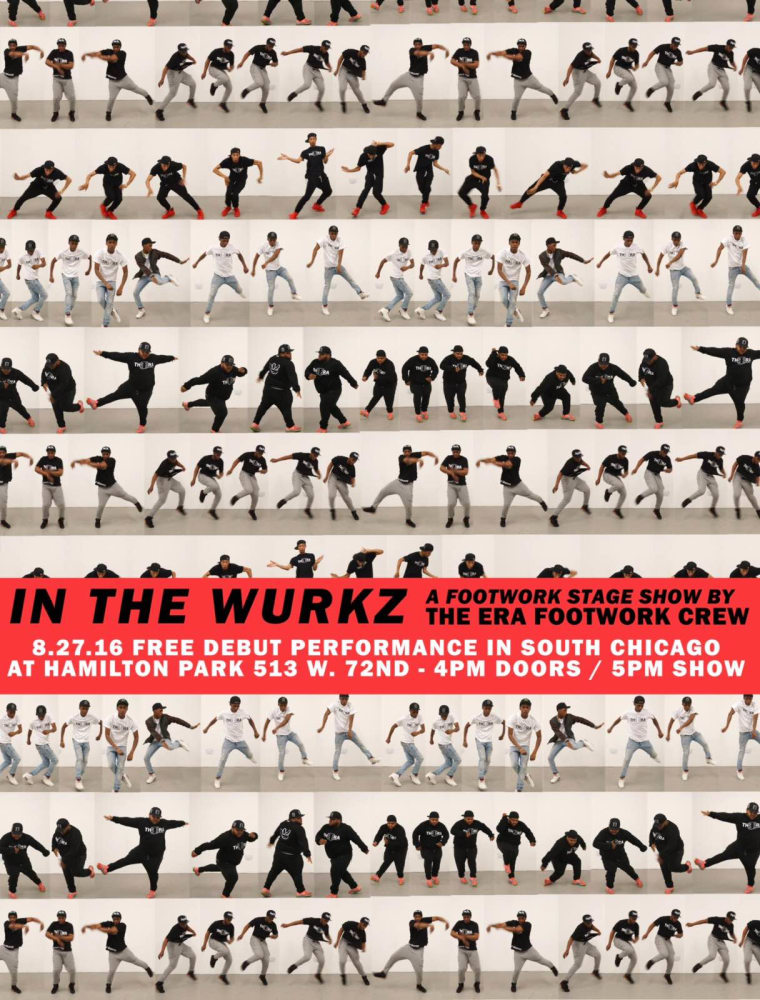 The Era is a Chicago footwork dance crew that started out in the city's Southside. They've danced alongside Teklife's DJ Spinn and the late, great DJ Rashad, and have even made a cameo appearance in an Al Pacino movie. Last year, Chicago filmmaker Will Glasspiegel made the crew the subject of a feature-length documentary called Meet The Era and included scenes with the crew touring with Spinn and Hyperdub's Kode9 in Japan. Now, The Era is bringing a fresh perspective to footwork with their debut stage performance, IN THE WURKZ.
IN THE WURKZ will feature new choreography, music videos, and performances by The Era, although they stress that everyone should leave all expectations behind on what the show will look like. Ahead of the debut performance in Chicago on August 27 (deets via the flyer above), the group's founders LiteBulb and Chief Manny explained to The FADER what inspired their stage show.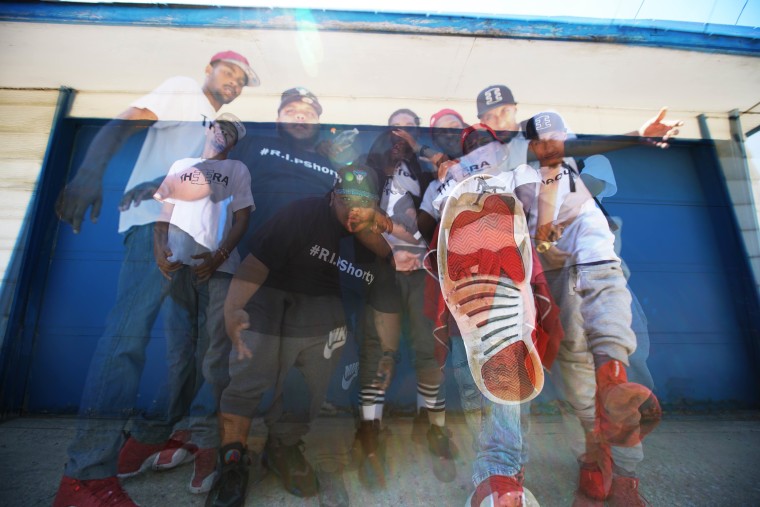 LITEBULB: We created IN THE WURKZ as a way to give a voice to dancers [and] to showcase daily footwork experiences and stories we all grew up doing, showing our world through the eyes of a footworker. Empowering ourselves and dancers beyond because we do far more than that name could ever exemplify. We're footworkers. It's what Miah and DJ Rashad would of wanted, our brothers. The purpose is to also to change the perception of dancers worldwide in any industry, but especially ours. We're showing the world that dancers don't have to submit to the ordinary career path set for them and they can create a multitude of opportunities through creating businesses off of the skills they already have, collaborating with other artists and making their own path. The show is free on the Southside, which is important to us. By debuting the show for our communities first, it allows us to show the deep connection to our culture and submerge the newcomers to our world. Should be dope!
Chief Manny: In the beginning as The Era, our mission was to create a stage show. As a street dancer that comes from a background of battle cliques, our idea of success as a dancer was to develop stage show content, initially. As a group, we knew that being a background dancer or playing any small roles that's supportive of a bigger artist wasn't our lane, so we just knew this was it. During this entire time there has been so much going on, from traveling and performing with Teklife DJs, to shooting music videos with Chicago artists, and even finding new things about ourselves as a group that defines who we are now. So while developing content for IN THE WURKZ, our vision became clearer for who we wanted to be as a footwork crew.
We started diving more into being able to tell stories about what its like being a footworker from Chicago, which is a lot of what IN THE WURKZ represents. Everything isn't literal, but throughout the show you'll see things that represent us coming from practicing in alleys to an actual art gallery. This will not be your typical stage show. The Era as a group found new lanes for footwork dancers and we're adding those elements to what people would normally call a stage show. Have no expectation to what you'll see. We might not dance at all.
IN THE WURKZ will take place August 27 at Hamilton Park and will be free and open to all.