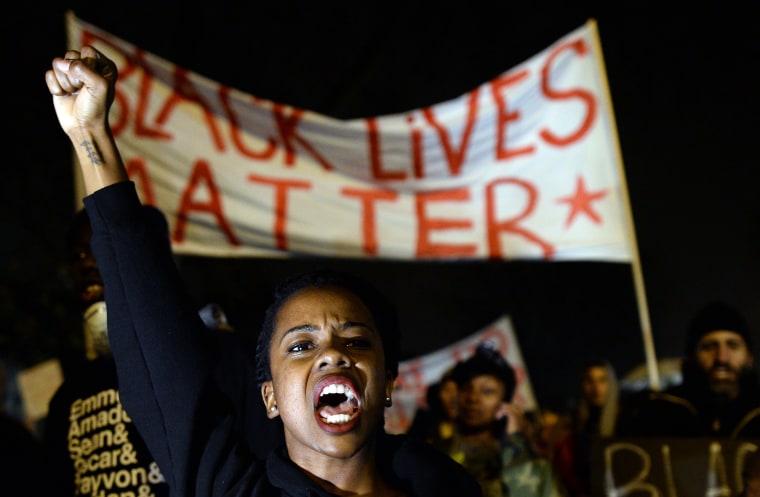 On Monday, the Black Lives Matter movement — which is made up of various civil rights organizations, justice-oriented nonprofits, and working-class people — detailed, for the first time, a united platform that seeks to establish the movement's core aims.
Backed by more than 25 organizations — including the Million Hoodies Movement for Justice, Color of Change, the Ella Baker Center for Human Rights, Baltimore Bloc, and the Black Lives Matter Network — the platform is mapped out across six demands: to end the war on black people, reparations, invest-divest, economic justice, community control, and political power.
Released on The Movement for Black Lives (M4BL) site, the statement began: "Black humanity and dignity requires Black political will and power … We demand that the government repair the harms that have been done to Black communities in the form of reparations and targeted long-term investments. We also demand a defunding of the systems and institutions that criminalize and cage us. This document articulates our vision of a fundamentally different world. However, we recognize the need to include policies that address the immediate suffering of Black people. These policies, while less transformational, are necessary to address the current material conditions of our people and will better equip us to win the world we demand and deserve."
According to the site, the overarching demands were culled from a year's worth of meetings between local and national groups, survey feedback, and research. The platform "does not include every policy Black people should be working on, but elevates those for which there was shared energy and action in this political moment," M4BL clarified.
Though the preservation of black life has always been at the root of the Black Lives Matter movement, for years it has foregone an official agenda, instead operating under a shared sense of action and urgency as individuals like Tamir Rice, Yvette Smith, Michael Brown, and Ezell Ford, among dozens and dozens of other unarmed black people, were fatally shot by police.
"Though the goals are purposefully lofty, it's a significant move towards harnessing the power of local groups into something bigger," Collier Meyerson noted on Fusion.