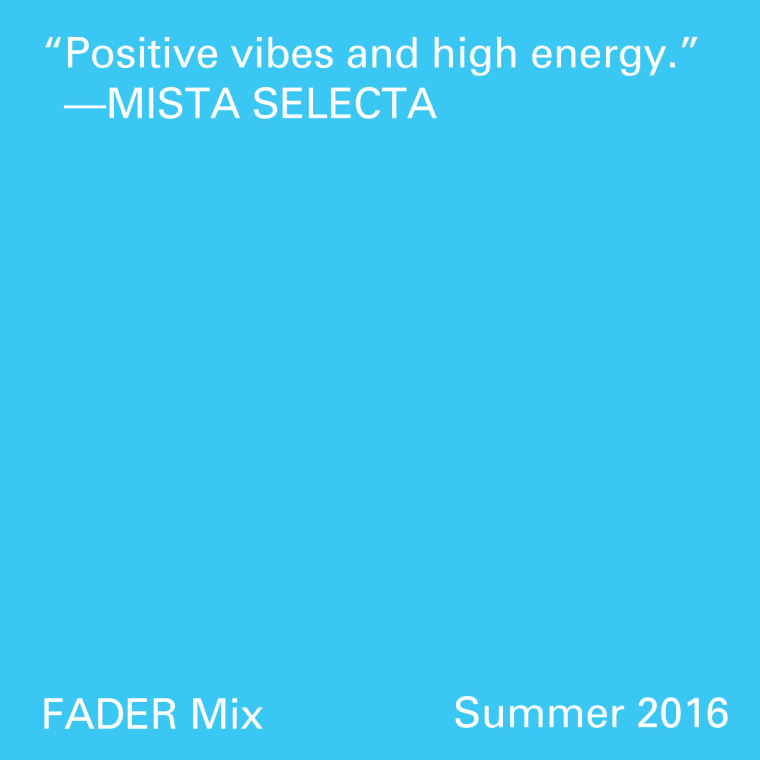 On any given night on or around Washington DC's U Street, from Tropicalia to Flash, you'll find some of the happiest people in the District on the dance floor, courtesy of Mista Selecta. The DJ and producer has got a knack for giving the crowd just what they want, or didn't know they needed (he once busted out a go-go set during an afterparty at U Street Music Hall, and everyone went nuts). He's also known for throwing a very special party with DJ Mane Squeeze called Jungle Fever, celebrating a love of all people, good times, and good music in the city.
"Positive vibes and high energy" is just what we get with Mista Selecta's FADER Mix, which comprises a special selection of songs from his favorite DC-area artists and producers, including DJ Detroyt, Lance Neptune, HI$TO, and more. Get to know him below, and dive into this non-stop mix of bouncy R&B, hip-hop inspired club cuts, and more. You'll be sweating by the end, no doubt.
Where are you right now? Describe your surroundings.
I'm on a completely full flight headed to L.A. Pretty much everyone is asleep. I'm about ready to do the same.
Tell us a bit about this mix — what do you imagine people doing while listening to it?
I imagine girls cleaning their house on a Sunday morning, breaking out into a dance session and actually getting nothing cleaned. I imagine people riding in their car and having to pull over to bust a move. I just picture overall good times.
What is the music scene like in DC right now? Who from the city/area are you excited about or listening to right now?
The DC music scene is crazy! There are so many amazing artists in the area with great music and energy. I'm really excited about Kelow LaTesha, Rezt, X||Z , DJ Detroyt, Ciscero and Lance Neptune, just to name a few.
Where's your favorite spot to eat/hang after a night out in DC?
Steak & Egg (aka Osman & Joe's) for sure.
Tell me a bit about Jungle Fever DC — how and why did it start?
Jungle Fever is a party that was started by Mane Squeeze and myself back in March 2013. We started it because we wanted to create a party that would bring together all types of people who were open to different types of music. Everyone who comes out to JF has a good time — there are always positive vibes and high energy. We just want to spread the love.
What's the last musical project/ musical experience that had a big impact on you? And why?
I'm very inspired by every musical experience I have, whether I'm a part of creating it or just observing. There are many experiences that have impacted me greatly but the one that stands out most is seeing Jazzy Jeff live. It changed my life.
What are you working on right now? What's in store for you this coming year?
I'm working on a lot of music, both solo and collaborations. Look out for some new releases the in the next few weeks! I've got a set Trillectro Festival coming up in a few weeks. I'm really excited about the upcoming Jungle Fever parties that we are planning. Big surprises in store!
And finally, what's your favorite thing to cook and how do you make it?
Chicken! I cook it up with peppers, onions and then I throw it on a bun with cheese and sauce. Or I just stir fry it with vegetables and mix it in with some rice.
Tracklist:
The Pink Walls - Tried 2 Show You
Telepopmusik - Don't Look Back" (Gianni Lee Remix)
Hi$to - My Love
FXWRK x Kilbourne - I Can't Escape" (Native Sun ReFix)
Mista Selecta - Katara
DJ Detroyt - Work It
Jah Guardian - Die on the Dancefloor
Blaqstarr ft. Rye Rye - Shake It to the Ground
LSDXOXO - Lady Vengeance
El Niño Blanco - Club Maluco
Mista Selecta - They Come, They Go
Menor de Chapa ft. MC Ombrinho - Salguiero E O Caldeirao (Munchi Remix)
Hi$to - Drop (Pick It Up)
Flash Frequency - INF
Lance Neptune - WaterFlakeDrop
Andrea Valle x Gianni Lee x Mattie Free - Oblivious
The Pink Walls - Float
Sheera - Intense
Che - Slow Down
Sylo - Wannabe
Tony Kill - Pretty Brown Yeah
X||Z - Lay Up