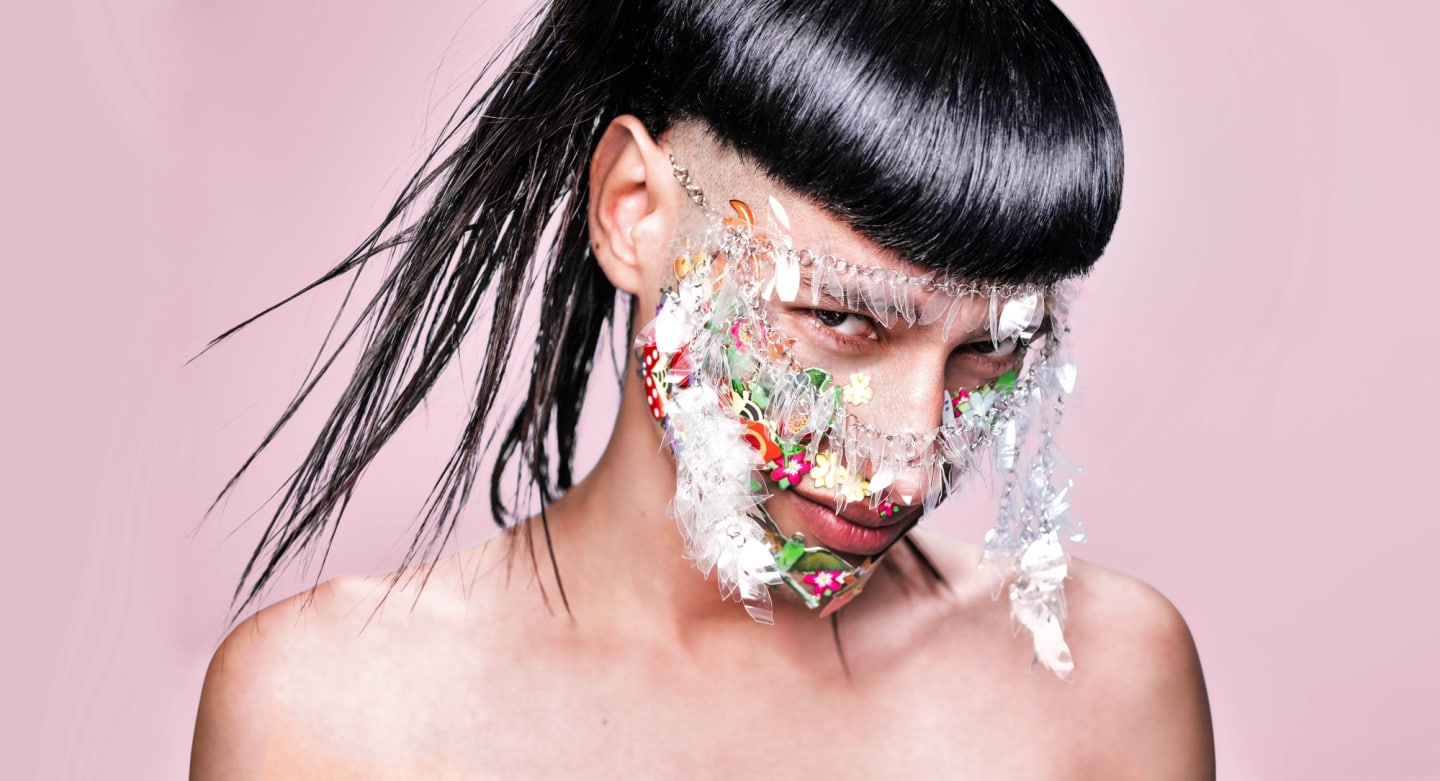 From your first click on one of his wild videos, Jaloo's pride in his visual identity is unmistakable. In his self-directed video for chilly electro-pop single "Ah! Dor!" the Brazilian singer/producer is bound by rope and a skimpy BDSM leather outfit against a marshmallow-colored backdrop, intoning the Portuguese lyrics with limbs flailing like a beetle on its back. For the joyous "Insight," he bathes in decapitated dolls' heads, flexes gleaming thimbles on his fingers, and wears playful devil horns. If you were to attempt to summarise his aesthetic, you might say he looks like the outré J-pop icon Kyary Pamyu Pamyu had undergone a queer baptism.
Born in the tropical climate of north Brazil's Amazonian region of Pará, and currently living in São Paulo, Jaloo's distinctive approach to music has gained him a wide fanbase since the release of his self-produced debut album #1 last year. It's a varied release which takes the playful roughness of Brazilian electronic genre tecnobrega and reworks it with global sounds, whether murky electronic beats on "Vem," or scrappy pop melodies on "Tanto Faz." In São Paulo, he's so well known that he can't walk down the street without being cornered for selfies and Snaps, but appreciation has come from international sources, too. Recognizing that Jaloo's work has been compared to that of Grimes, last year Claire Boucher showed love on Twitter for his "enchanting music" and "beautiful visuals."
But for many fans, Jaloo represents much more than simple aesthetic appeal. He's perhaps the most prominent out queer musician in a nation where over 40% of the entire world's anti-LGBTQ violence occurs. In the past few years, Brazil has seen a rise in homophobic and transphobic hate crimes coinciding with the increasing power of the Christian right, with congressman Jair Bolsonaro suggesting that parents should "beat the gay out" of their children. A statistic quoted in The New York Times this July noted that a gay or transgender person is killed almost every day in Brazil, giving the nation the highest LGBTQ murder rate in the world.
I spoke with Jaloo, who's unflinchingly polite in conversation, in a long conversation on Skype this July. With the assistance of a translator, he explained what it's really like to be out, proud, and gender-fluid in a country where the fact of your existence can automatically place a target on your back, and his hope that his music can inspire Brazil's queer community to live a life without fear.
---
JALOO: Brazil is a very homophobic country. Everywhere is dangerous, and we never know when a threatening person will curse or beat you, or abuse you in some way. But the LGBTQ community are really defiant and brave, despite all the prejudice.
I grew up in the Amazon region, in a town called Castanhal in the Pará region. I have a small family, with only two sisters, and we were really really poor. My dad was a security guard who worked nights, and my mum was, and still is, a school teacher. In America you can have a normal life while working as a teacher, but here in Brazil it doesn't give you stability. Teachers get a really small salary, and it's difficult all the time.
I always felt that I was gender-fluid, and that I could wear anything. It was hard in Castanhal, though. As a teenager I had long hair and people were always saying, 'Oh my god, are you a girl or a boy? I don't know.' I was confused about my sexuality, and I didn't know how to deal with it. Eventually I cut off my long hair.
People in north Brazil are actually more used to having trans people, compared to mid-west Brazil and the south. I would compare the attitude in the north to that of Thailand, maybe. It's an interesting thing, but Brazilian-Indian culture has always been more open to trans people and gender fluidity. Personally, though, I was always shy when living back home in the north, and I didn't have any relationships there.
I didn't have much interest in music as a kid, and my only connection to it was video games like Sonic The Hedgehog, and their soundtracks. Then at 18 I got a computer and the internet, and a friend introduced to me some electronic music which really opened my mind. When I first heard Björk, that was when I realised that electronic music can have depth, intensity, and be powerful. My favorite album was always Debut, because it's so simple.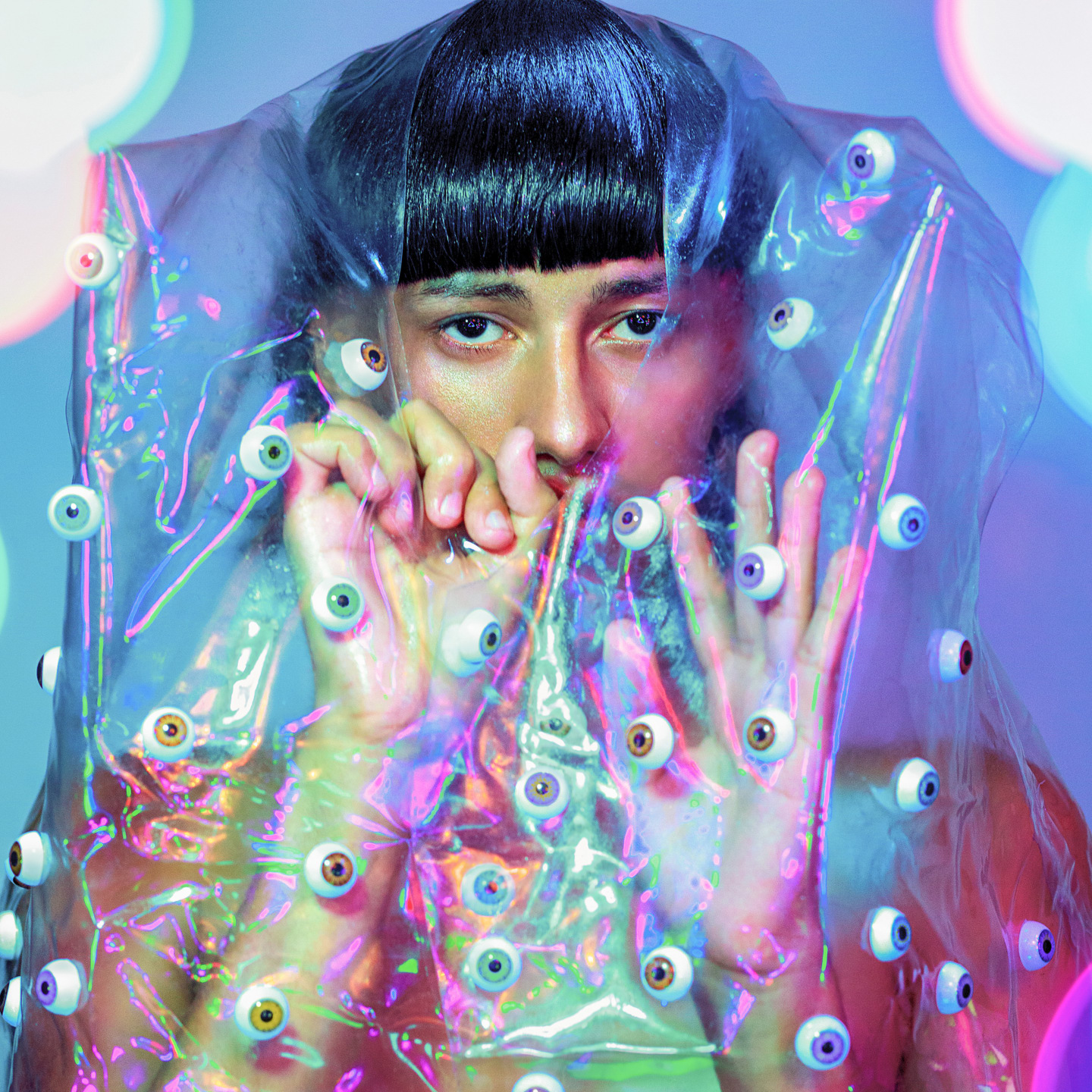 "The LGBTQ community are really defiant and brave, despite all the prejudice."
I moved to São Paolo around five years ago. Here, people dress how they like, do what they like, they hold hands and act like it's their right to do it. After moving here, I started to feel like I understood myself more, and my confidence improved.
I was hired to be a producer in a studio, working on rap music and baile funk. And I love baile funk — I need it! I love it so much that I worked with Deize Tigrona [on 2012 single "Prostituto"], a baile funk artist who has worked with Diplo as well. In my spare time, I started to do remixes in the style of tecnobrega, which is actually from Pará originally and is the main movement of electronic music in Brazil. Tecnobrega is kind of kitsch, and you don't need many resources like computers or apps to make it. I was really inspired by [Pará-based four-piece band] Gang do Eletro, and [duo from north east Brazil region Itinga do Maranhão] Fruto Sensual, which means "Sexy Fruit." What Fruto Sensual do is get an internationally successful pop song and make their own tecnobrega version, with Portuguese lyrics.
"I'm always getting messages from girls and boys about how my music helps them go through things related to their gender and sexuality, and how it makes them braver."
It was 2013 when I was just getting to know Miley Cyrus. I was amazed by her, and wanted to cover her song ["Wrecking Ball"] in a tecnobrega style, translating the lyrics into Portuguese. With the way I sang the lyrics, it was from the perspective of a girl to a boy, I didn't change them. And so for the video [above] I wanted to be cute like Miley — I wore lipstick and feminine clothes, and we shot it in Roosevelt Square, which is an LGBTQ-friendly neighborhood with a lot of gay bars and drag queens.
My mom never liked my music or production when I lived with her, and she never thought I could do this for a living and be famous. But now she's the biggest fan, and she's also accepting of my sexuality and gender fluidity. I came out to her when I was dating my first boyfriend in São Paulo. We spoke over the phone, and I emailed her pictures of us together. Then, we went to Pará to visit, and my parents had to deal with it in person. It was OK actually, it was fine.
I wrote my song "Ah! Dor!" after I split up from my first boyfriend, in 2012. We were together for two years, and this song is about what was left at the end of our relationship: suffering. With the video I tried to make suffering beautiful, so I mixed BDSM outfits with the naivety of pastel colors. I'm also wearing makeup that reminds you of a Brazilian-Indian style, which is my roots. These communities use a lot of body and facial ink, made from natural stuff. But in this case, I was actually inspired by looks by Alexander McQueen, which in turn were inspired by Brazilian-Indian culture.
Before, I used gender-fluidity as inspiration for my look, but for the next album I'm going to choose only one gender to follow in my visual concept. I'm not going to say which one! It's a surprise. I would say that on my first album [#1, 2015] I had a naive vision about love, sex, and relationships. It was really pure and innocent, in a way. I've had so many experiences since then, and so I think my next album will be an older and wiser approach to the same themes.
I think things are getting better for LGBTQ people in Brazil. Our current mayor in São Paulo made the avenue pedestrianised on Sundays, so it feels a little more free to walk around, and I recently played a show on a truck at the gay pride parade here. It was amazing! Of course, we still have some horrible news, some tragedies, but they seem to be fewer. And yes, there are homophobic people, but there's a saying in Brazil which goes, "Dogs that bark don't bite."
Through my art I feel more comfortable to be who I am, with the long hair that I now have for the second time. It feels good this way; I don't want to cut it. I'm always getting messages from girls and boys about how my music helps them go through things related to their gender and sexuality, and how it makes them braver. It's so emotional for me, but it's also really fulfilling. That makes me inspired to continue to do it and continue to help the LGBTQ community in some way.