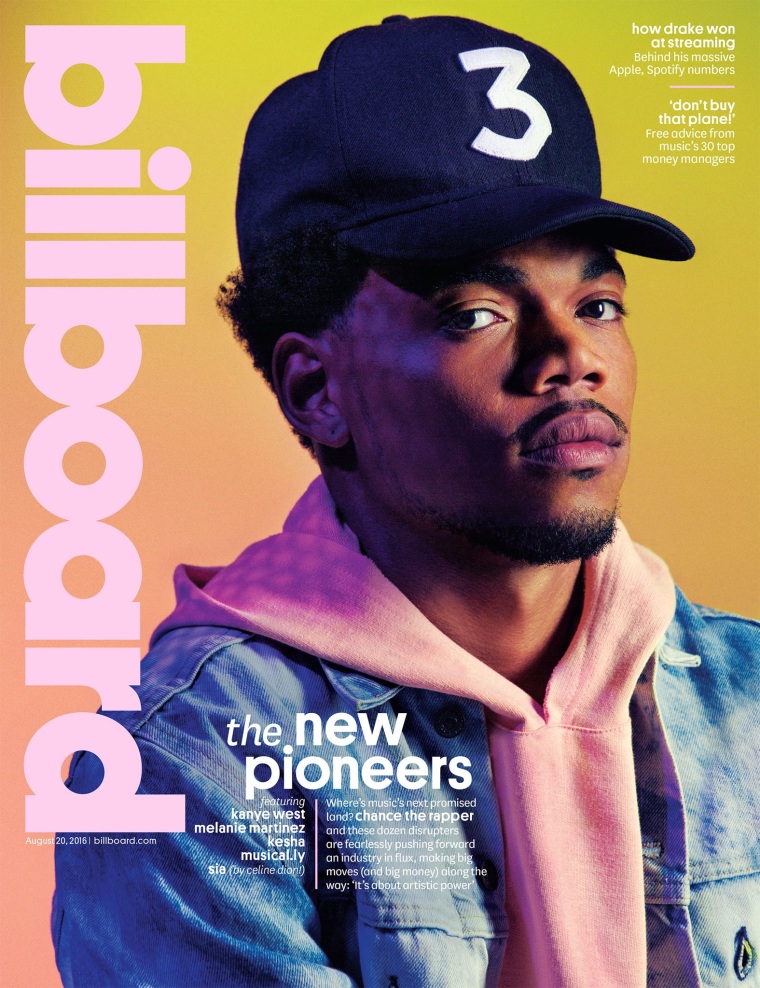 Fresh off releasing a new track for Nike and the Men's Olympic basketball team, Chance The Rapper has graced the cover of Billboard. In the feature the Chicago rapper talks family, drugs, Kanye, police brutality, and so much more. Check out some quotes from the piece below and read the whole thing here.
1. To complete Coloring Book, Chance took a leaf out of Kanye's book.
Chance wrote parts of five songs on West's The Life of Pablo, observing how his idol ("I'm literally Kanye's biggest fan") rented out an entire studio and acted as ringmaster, simultaneously directing different rooms populated by writers, engineers, producers, seamstresses, even magicians. "I watched him knock out six, seven songs that way," says Chance. "I stole that." To finish Coloring Book, he rented out the Chicago studio and with his team slept there overnight on inflatable mattresses.
2. He believes the police should be policed.
"There's a larger conversation we need to have about the role of police officers, their relationship to the people as enemy or executioner, when they're not supposed to be either. There's also not enough pressure on internal organizations that are supposed to police the police and on judges in the justice system who are supposed to make reasonable decisions."
3. When he moved to L.A. in 2014, he developed a Xanax habit.
"He moved to Los Angeles in 2014, after the success of Acid Rap, and developed what he describes as a bad Xanax habit. 'I don't want to present it as a Behind the Music thing,' he jokes. 'I looked up and months had passed, and I hadn't made enough music.' He also found that he belonged back in Chicago: 'I missed a lot of weddings and funerals.'"
4. Acid Rap made him realize he had a responsibility as an artist.
"He also has become less open with his drug and cigarette use. 'Kids would tell me they tried acid for the first time listening to Acid Rap, asking me if I wanted some. I realized the responsibility of being a popular artist.'"
5. Today, his girlfriend Kristen and their baby daughter give him strength.
"'I understand how black women are represented in rap music, how being a baby mama is perceived,' he says. 'My girlfriend and I are very conscious of how many people in our situation don't think it can work out, when it can.'"