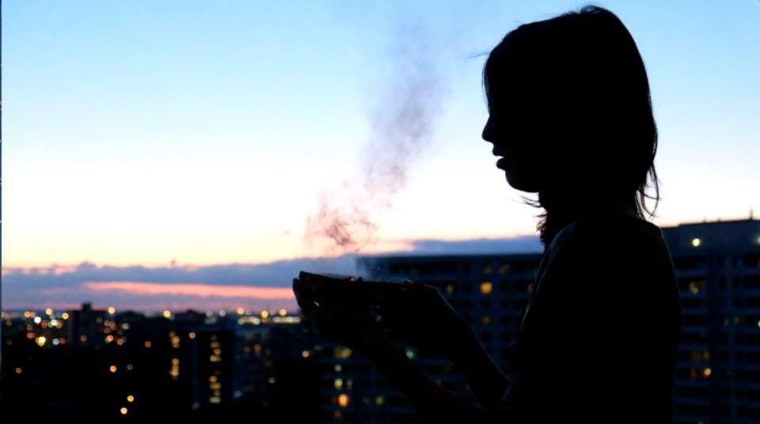 Over the last few years, Indigenous rights movements in Canada and beyond have leveraged social media and other digital platforms to increase the visibility of their people. Revolutions Per Minute (RPM), started in Toronto by Jarrett Martineau and friends in 2011, has been a crucial in documenting and boosting a new wave of Indigenous musicians making contemporary sounds. Five years after its start, RPM is moving into a more IRL space with its new RPM Live series. The first of four RPM Live events will take place in Toronto at Burdock Music Hall on August 26, with DJ NDN (of A Tribe Called Red) and Mob Bounce.
And today marks the launch of RPM Records, which is, according to Martineau, maybe the first of its kind: a label for contemporary, cross-genre Indigenous music, run by Indigenous people. The first release is the Time Limits EP, out today, by Toronto producer Ziibiwan. It's bright, curious, meditative electronic music, that's a little reminiscent of Bonobo. "Loon" is premiering today on The FADER. Martineau talked to us about the Indigenous music scene, and why RPM Records needs to exist.
The RPM.fm site has been really successful in curating emerging Indigenous music from across Canada, and further afield. What do you hope the live series will do?
When we started the RPM site in 2011, A Tribe Called Red was only just getting a bit of notice. People were starting to pay a bit of attention to Tanya Tagaq — we saw this real interest in Indigenous music that hadn't been happening before. And when you get out of the realm of those artists — who are dope and who we support — there are all of these artists, ones we'd never heard of before. A cool part of the RPM project has been seeing all these young kids coming in with, like, lo-fi bandwidth and access to a Soundcloud account, making music in whatever community that they're from. And we've been a bit of a supporting space for that, to nurture new talent.
Also when we started there wasn't anything out there focusing on Indigenous music that wasn't corny or draped in eagle feathers and dreamcatchers and stuff. The main motivation was to create something the community could get behind, and I think we've done that pretty effectively on the digital side. But we wanted to see how we could expand offline with the artists we've been building with across the country. The live series is an organic outgrowth of that.
What changes have you seen in terms of the perception or opportunities for Indigenous music in Canada?
This is the transition I've really witnessed: before, there was work being done in a more insular way, from within, and for the native community only. RPM has always been interested in not only inviting people into that space, but also expanding it from within. We want it to be by and for indigenous people, but not exclusive. Before, you weren't seeing Indigenous artists being nominated for the Polaris Prize or getting on mainstream media. There's a real interest from people outside of the community as to what is happening, especially younger artists doing more interesting work that's not the expected, stereotypical stuff people associate with whatever 'native music' is.
What's behind this wave of artists: is it the impact of Tribe's success, or the platform RPM provides? Or is it just better connectivity in remote communities?
Since the '60s really, we — as a larger indigenous community — haven't produced somebody at the scale of recognition as a Buffy Sainte Marie. There have been artists who are popular within the Indigenous community, but haven't been able to break out. When you get artists like Tribe, and Tanya, who have been able to push out and across communities, it puts more opportunity in front of other Indigenous artists to follow suit and do something different. There's a level of receptivity on the part of multiple audiences that wasn't there before. And the younger generation is more adept at working with whatever tools are available. There's an ease with which people can step into the game. There's this guy Wolf Saga who made his name doing remixes for other artists and he's built a huge online fanbase through Soundcloud. You need that presence of Indigenous people on those platforms. You need enough of that critical mass, and that's only happened in the last couple of years.
So the label, RPM Records, is another level of infrastructure to help push these artists through.
It's about providing a conduit for artists to continue doing innovative work. Straight up, there's not really — that i'm aware of at least — another contemporary Indigenous label. There are definitely labels out there, and even ones who have supported acts and put out like early Tribe work, like Tribal Spirit, as well as folks who are doing traditional music, and pow wow music. We're not opposed to working in that space at all, but the point of departure with RPM has always been that we are interested in artists who are working across genres, and are inspired by aspects of traditional stuff but are pushing the boundaries. We're starting a label in response to the fact that we've had so many artists come to us with projects being like, 'Here's something that we've made but we're not sure where to go with it.' Or, 'Would you guys be able to help facilitate this?' We get that all of the time. There is a lot of talent here and we should be working to cultivate the community on that side too.
Is this a Canada-specific community you're talking about?
Our RPM crew is now mostly based here in Toronto, but we have been spread out across the country before. Most of our focus, at least in the early days, was primarily Canada because that's our first line of connection but, for me, the larger vision of RPM is to look at the global Indigenous music community because there are so many interconnections that are there already. It's maybe a cliche the way Indigenous people talk about not recognizing state borders or whatever else, but especially culturally and in terms of the arts, there really is that movement. We've built connections with a lot of artists across Turtle Island and also internationally.
How are you curating the RPM roster?
We've been looking at artists that are really developing a unique voice within the genre or style that they're working in. Ziibiwan is just coming into his own voice; he's doing some really interesting work with electronic production and incorporating elements of his culture. To me that's the seed of something that's going to continue to grow in a lot of really cool ways. The next project is with an Anishnaabe writer and musician named Leanne Simpson; her album is more of a hybrid of stories and songs recorded with a live band, and it's really lush and full and cross-genre. It's totally different. We don't want to be bound by that, by working with artists who are making one sound.