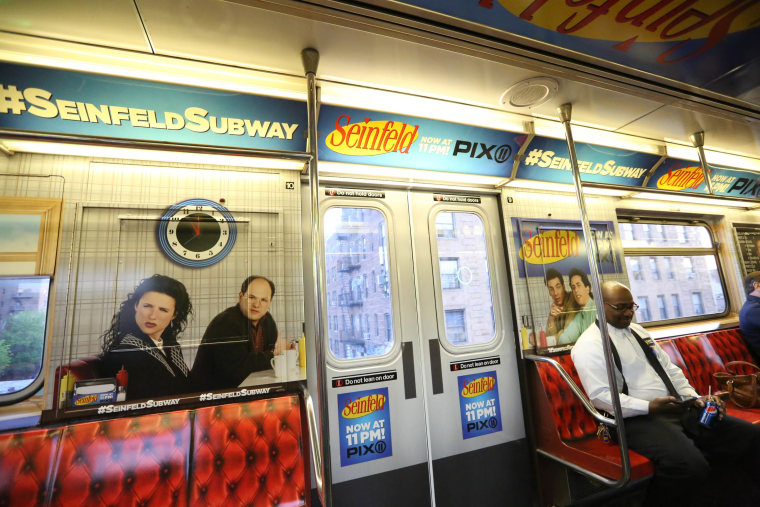 Earlier this week, Donald Trump hired a new chief executive to run his presidential campaign. His name is Stepen Bannon, and he was most recently employed as the executive chairman of the conservative site Breitbart News, a bastion of Trump support throughout the primaries and the presidential campaign. He's also served as a surface warfare officer in the Navy as part of battle groups stationed in the Arabian Sea and in the Persian Gulf, and has directed and produced films that promote a conservative agenda. But who cares about all that! Via The New York Times, here is the important bit:
After attending Harvard, Mr. Bannon became a banker at Goldman Sachs, focusing on media deals. He reportedly still receives royalties from reruns of the TV show Seinfeld, thanks to one of his previous transactions.
!!!!!!
According to a 2015 Businessweek report, said transaction went through a boutique investment bank that Bannon had founded in 1990. One of his clients, Westinghouse Electric, was looking to dump the firm Castle Rock Entertainment. Ted Turner was an eager buyer, but reportedly didn't have enough cash to pay Bannon outright. And so:
In lieu of a full adviser's fee [from Turner], the firm accepted a stake in five [Castle Rock] shows, including one in its third season regarded as the runt of the litter: Seinfeld. "We calculated what it would get us if it made it to syndication," says Bannon. "We were wrong by a factor of five."
Look, it goes without saying we all love Seinfeld; it goes even more without saying that we all want new episodes of Seinfeld on NBC. But — friends — at what cost?! Starting right now, every time you watch a Seinfeld rerun, you are implicitly supporting the Trump campaign.
But! If we all agreed to stop watching Seinfeld on TV, then they'd stop showing Seinfeld on TV. And Bannon stops getting checks. Ergo. If you really want to watch Seinfeld, don't do it on TV. Come over my house instead, I have them all on VHS.