FADER Mix: salute
A bold, brazen mix for the brightest of summer days from the British producer.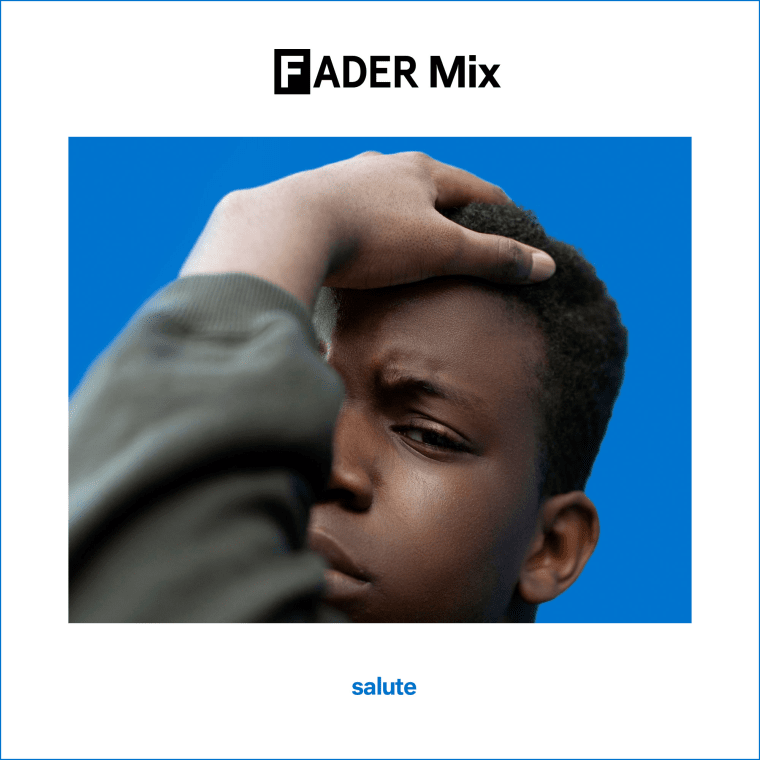 20-year-old producer salute makes the kind of neon-lit synth music that you can't help but crack a smile to. You might have burst into a particularly wide grin when you heard his collaboration with D.R.A.M., the heartfelt, bouncy electro-soul cut "One More Chance," or watched his diversity-championing "Storm" video. But his catalog on the whole spans many influences, from hip-hop and R&B, to dubstep and drum & bass. In his FADER Mix, the Austria-born, Manchester-based producer blends Kanye West and Aaliyah with choppy synths and birdsong, sprinkled with plenty of his own sun-kissed productions. Crank it up at your BBQ, and look out for the release of salute's debut mini-album My Heart 37 Adventures on August 19.
Where are you right now? Please describe your surroundings.

I'm in my apartment in Manchester in my very cozy bed. I've just cleaned up, so the only way I could describe it is pristine. Only moved here a few weeks ago and everything is coming together nicely.

Tell us a bit about this mix — what do you imagine people doing while listening to it?

Cycle through town or in the countryside. It's big and synth-y, aggressive, but then there are some soft bits too. Contrast in mixes is extremely important for me.

What did you open this mix with and why?

The opener reminds me of my drum & bass days — my digging era. I would find new music every single day. I was so so hungry for it, I couldn't get enough of it. "Tear Down" blew me away when I first heard it. In the drum & bass world, Break is known for his use of funk elements, I love that. It drops into that Alix Perez tune, but I'd really recommend listening to the tune in full.

You grew up in Austria — what kind of music was big over there when you were a teenager, and did it influence you?

Mostly electro, then drum & bass, and dubstep. I hate saying this, but when I started listening to drum & bass at maybe age 13, my friends didn't like it. It just seemed too out there and fast paced. As soon as we all turned 16 though, and started going out, everyone was like, "Have you heard of this artist before?" And they'd play me a record I'd heard years ago. I was never a dick about it, but I feel like a lot of people were just following a trend.

Drum & bass is still a massive influence — sound design-wise more than anything. My mix-downs are always quite aggressive and harsh, I think that's because I used to listen to all of that sort of stuff.

What was it like collaborating with D.R.A.M.?

Amazing! We met for the first time when he came to London last week, it was so good to finally meet him. Probably one of the nicest people I've ever met through music, so smiley and genuine. His voice…damn.

What are you working on right now?

Bits and bobs — production for some exciting artists as well as starting drafts for my album. Taking it slowly right now; My Heart has totally drained me.

What is the best dream you've ever had? The worst?

I always forget my best dreams! I need a dream diary or something. My most vivid nightmare was one that I had as a kid. I was in an underground garage, and suddenly, a massive car came driving towards me. I turned around to run towards the exit but the door had disappeared, leaving me standing by a thick concrete wall. The car sped up relentlessly; needless to say, I wet the hell out of my bed that night.

And finally, what's your favorite dish to cook and how do you make it?

Right now, it's savory pancakes and sweet potato chips. Mince meat, onions, garlic, tomatoes, chill power, salt and pepper, feta cheese, and gouda — basically make a type of non-liquid bolognese, if that makes any sense. The pancakes are actually more crepe-y than pancake-y, it just tastes a lot better when the batter isn't absolutely attacking your mouth. After making the crepe, put some of the juicy meat filling in, fold in half, put gouda around the edges, and let it melt. Mmmm. Thank me later. Tip for the sweet potato fries: don't use too much oil, and add a little corn starch for that real crispiness.
Tracklist:
Die & Break, "Tear Down"
Alix Perez, "Chroma Chords"
Knx., "wntwrk"
Aki & Takeo, "True Colors"
Aaliyah, "Rock The Boat"
Ramzoid, "Nature Nature"
salute f. Vanessa Elisha, "Real Cool"
Travis Scott, "A Team"
salute, "ID"
salute f. Krrum, "Weigh It Up" (acapella)
Mura Masa, "Bae"
GEOTHEORY, "Don't Stop"
Kanye West, "Father Stretch My Hands Pt. 1" (intro)
Karma Kid, "Fuck, It's Dolemite" (tease)
Karma Kid, "Man Of The Year"
Fono, "Levitate"
Jimmy Edgar f. Rochelle Jordan, "Dreamz Come True"
Dorian Concept, "Ann River, Mn"
Billie Black, "Floating" (prod. by salute)