Like his idol, Prince, Frank Ocean seems to have spent his three-and-a-half-year absence not just creating new music, but quietly watching the transformation of American culture, including the rise of the Black Lives Matter movement.
One part of Ocean's new "Nikes" video, in particular, pays tribute to three deceased cultural figures, including A$AP Mob's A$AP Yams and rapper Pimp C, both of whom died following accidental drug overdoses, and Trayvon Martin, who was shot while visiting his father in Sanford, Florida in February 2012. "RIP Trayvon," Ocean croons. "That nigga look just like me."
This isn't the first time Ocean has made paid tribute to the 17-year-old shooting victim or the Black Lives Matter movement as a whole. Back in 2012, the R&B singer shared an image of himself in a black hoodie with his hand, fixed in the shape of a gun, held to his head. That post has since disappeared from his Tumblr along with any commentary on the issue, but it certainly didn't mark the end of Ocean's commentary on Black Lives Matter and police shootings.
Ocean seems to have been especially moved by the 2014 shooting of Mike Brown. At the height of the controversy surrounding Brown's death, Ocean posted a video of a compilation of TV news interviews with the four witnesses to the shooting 18-year-old in Ferguson, Missouri and, in reaction to a photo of a black woman standing beside embattled Missouri governor Jay Nixon at a press conference, wrote a blistering piece of social commentary: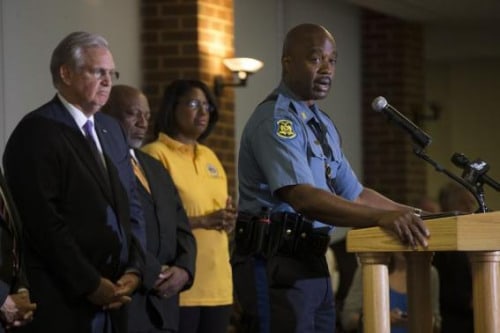 "You see that black woman standing up there?" Ocean captioned the image. "I wonder if she was called to stand behind the governor because she's black. I wonder if I'm supposed to think Missouri's government is pro-black because of her being stood up there with those other black men being all black and everything. I wonder if she was off the clock while she stood up there. If she was off the clock..then I wonder if she was getting paid for her time off like the guy who shot Michael 6 times. What's that guy's name by the way?"
Knowing Frank Ocean, there's likely more commentary to come on the current state of black lives and black bodies in American culture. But for now, it helps to know that in that gut-wrenching image of a stonefaced Trayvon Martin looking out from beneath a white hoodie and in the explosive reaction to the death of Mike Brown, Frank Ocean sees not just two lives cut short, but his own legacy.