What Celebrity Children Represent Now
The market for kidswear is big business, but its pint-sized stars stand for something even bigger.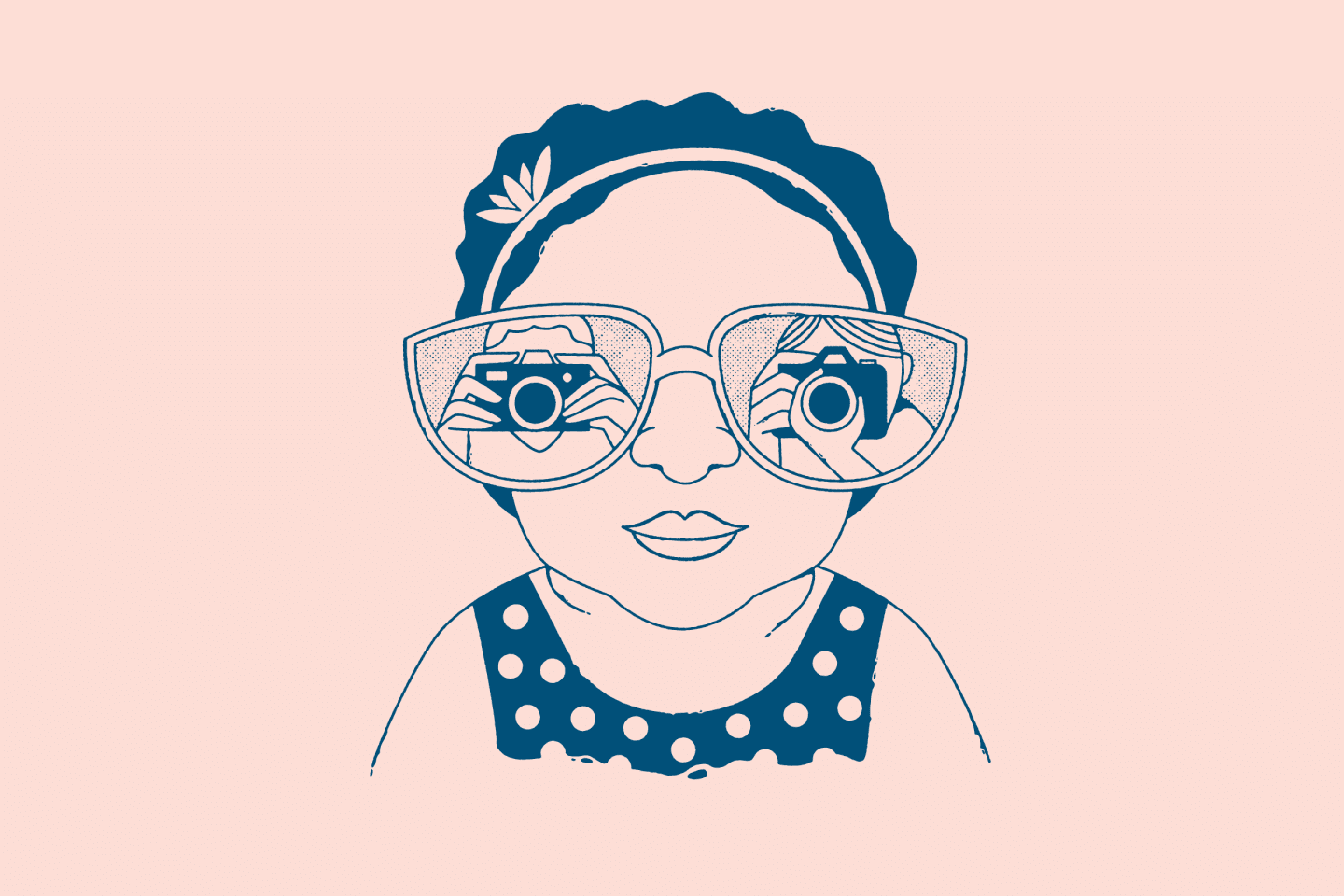 It's jarring to think that North West — admirer of mermaids, tutus, and the movie Frozen — is already 3 years old. Even Kim Kardashian, a meticulous historian of her family's day-to-day life, can hardly seem to believe the passage of time. In a video posted to Instagram in June, Kim, aboard a yacht with her husband Kanye, gathered her squirming daughter on her lap and cooed, "Are you not gonna get any bigger? You're not gonna get any taller?" North, clad in a printed one-piece swimsuit with red ruffles along the straps, happily gave in with a simple "K." Fortunately for Kim, and for those of us who live for around-the-clock updates about celebrity children, large swathes of the internet essentially function as a North West scrapbook, an ever-expanding catalogue of her daily hairstyles, outfits, activities, and facial expressions.
North is hardly the first person to undergo meticulous public scrutiny from the moment of birth. The eager, modern market for celebrity baby content took its current form in 2006, when Vanity Fair saw a 60 percent rise in sales after putting Suri Cruise on its September cover. Vanity Fair didn't pay her parents Tom Cruise or Katie Holmes for the image, but two years later, when People wanted dibs on the first photos of Angelina Jolie's and Brad Pitt's twins, they came with cash in hand — a reported $14 million. Several famous offspring identifiable by their first names steadily trailed in their wake: Angelina and Brad's child Shiloh, David and Victoria Beckham's son Harper, and, of course, Beyoncé and Jay Z's daughter, Blue Ivy. Since then, the influence of celebrity children has extended beyond print journalism and into a blossoming, recession-proof economy: children's wear.
According to a Global Industry Analysts report, the world's children's wear market is expected to balloon by 2020, pulling in an estimated $291 billion. GIA attributes this growth — a 50 percent increase from today's levels — to recovering economies, increased disposable income, and a flood of luxury brands entering the market.
Winnie Aoki, the Australian-based designer responsible for the $2,000 dress Blue Ivy wore to her grandmother's birthday, specializes in kid couture. Aoki crafts dresses from confectionery layers of tulle, sequins, and luxury fabrics under the label Mischka Aoki, named after her own 8-year-old daughter. The dresses, which can take up to 300 hours to craft, frequently come with five-digit price tags. According to her website, Aoki started the brand after she realized there weren't any clothing options "good enough for her daughter"; for her, "clothes represent style and luxury at the same time." While it may have been difficult to locate high-end designer clothing for children in 2008, when Mischka was born, the line's explosive popularity — Aoki has dressed not just Blue Ivy, but North, Penelope Disick, and Suri — is an indicator of the steadily increasing desirability of luxury children's wear.
Since 2010, designers like Gucci, Dolce & Gabbana, Chloé, and Lanvin have launched pint-sized mini-labels (Baby Dior, founded in 1967, was ahead of the trend). Designer kids' clothing often mimics its grown-up label's defining aesthetics on a smaller scale, and smaller budget. A frothy pink crépe shift dress for your little one by the French label Chloé might cost $246, but that's a relative steal compared to the $1,650 adult version.
The rapacious growth of the luxury and mid-level children's wear industry is aimed squarely at parents, especially those who consider their kids to be avatars of their own wealth and success.
While the market for practical mid-level children's clothing includes more casual brands like J.Crew's Crewcuts or Bon-Ton, a trendier leader in that space has emerged in Kardashian Kids, launched in 2014 by Khloe, Kim, and Kourtney and carried everywhere from Toys-R-Us to Nordstrom. While not as cool as North's customized Palace and Supreme streetwear, Kardashian Kids offers objectively of-the-moment clothes, miniaturized versions of what the Kardashians themselves wear, or, at least, wore in the early seasons of Keeping Up with the Kardashians. But these dip-dyed rompers, wet-look pleather leggings, and plush faux-fur capelets rarely top $30.
Working alongside brands like Kardashian Kids is an Instagram community of fashion-minded parents known as "Instamoms" who tirelessly post colorful, high-contrast photos of their children posed in mid-level and designer clothes. Angelica Calad is one of them, a former fashion marketing major who runs @Taylensmom, an IG account that has invited its 130,000 followers into the lives, and more specifically the wardrobes, of 3-year-old Taylen and her younger sister, Aleia. Calad, who employs a "full team" that includes a publicist for her two daughters, recently completed a day-long Snapchat takeover for Kardashian Kids, though she maintained she has never promoted clothing brands for cash. Instead, she said she makes money from companies like Amazon and Starbucks, which have tapped into Taylen's influence via sponsored posts that can run a brand up to thousands of dollars. "I don't charge any [fashion] brands because I truly believe in the reality of my page. I don't believe that my fashion sense needs to be sold."
Calad describes Taylen as "the largest kid influencer in the southeast region of Florida," and though she dresses her girls for daily shoots, she insists each one has "their own little style." "I know some people will be like, 'Well how do you define somebody's style at 6 months old?'" she said. "You don't, but you do see the things that they're comfortable in." Which raises a more important question: who are these clothes even for?
In Kids and Branding in a Digital World, published last year the media theorist Barrie Gunter argues that the success of designer diffusion lines "play[s] on the idea that parents are the source of earliest social learning for their kids," thereby encouraging parents to project their own brand valuations onto their children. This isn't necessarily a bad thing, as Gunter hypothesized, unless children become "overly sensitised to a need to be seen as trendy and fashionable and where self-identity is centrally defined in terms of commercial brand associations." A few years ago, a 2010 study published in Psychology & Marketing found that children can identify child-oriented brands like McDonald's or Disney and assign them value as young as 3 years old. Attention to clothing arises later, in tandem with puberty, when tweens begin to use clothing to attract romantic attention. So while it may affect children, the rapacious growth of the luxury and mid-level children's wear industry, one that sometimes emphasizes form over function, is aimed squarely at parents, especially those who consider their kids to be avatars of their own wealth and success.
Kim and Kanye have been subject to accusations of dressing their daughter according to their own agenda, but there have also been more serious criticisms, like that they are sexualizing her wardrobe. Somewhat paradoxically, there's also been a substantial amount of noise about North's gender-neutral streetwear ensembles in all-black. In October of 2014, gossip site Hollywood Life polled its "Hollymoms" with a serious inquiry: "Do you think it's strange that Kim and Kanye don't dress Nori in pink?" Beyoncé faced a different set of accusations — grounded in racial bias — when a change.org petition regarding Blue Ivy's afro, titled "Comb Her Hair," made the internet rounds in 2014.
Often, the way people talk about celebrity children, and celebrity parenting, reflects deeply-held prejudices. Yet these kids have the ability to gently (with their little hands and adorable chubby cheeks) push back against racial stereotypes and gender norms. Before Blue Ivy and save for Jaden Smith, no celebrity babies had afros because there were no black celebrity babies of this generation. Buried in the exultant praise for Shiloh Jolie-Pitt wearing a suit is the dark reality that up until only a couple years ago, Jolie and Pitt would have been widely raked across the coals for enabling their child's non-traditional gender presentation.
These children also provide us with newer, more flexible models of American childhood, ones not restrained by gendered clothing or Eurocentric standards of beauty.
While the Instamom network and luxury children's wear market can be exploitative (i.e. dressing their children in order to exhibit their own sense of style and financial security), it also facilitates an enduring fascination with its tiny celebrity beacons of social progress. Like a ford in the internet's relentless river of outrage and tragedy, the ubiquitous North, Blue Ivy, and their ilk allow us to experience simple moments of joy. Perhaps more significantly, these children also provide us with newer, more flexible models of American childhood, ones not restrained by gendered clothing or Eurocentric standards of beauty. They don't have straight blonde hair or blue eyes or size zero moms; they are quite simply, to millions of followers, carefree black kids.
A coworker of mine who closely follows North's daily movements explained how her initial affection was an extension of her appreciation of Kanye's work: "I always thought the world would be a better place with more of him in it," she said, "and North is more of him." But ultimately, it was his daughter's happiness, her serenity amidst chaos, that continued to endear her. "She looks like a happy little human — like someone I could've been in an alternate life."