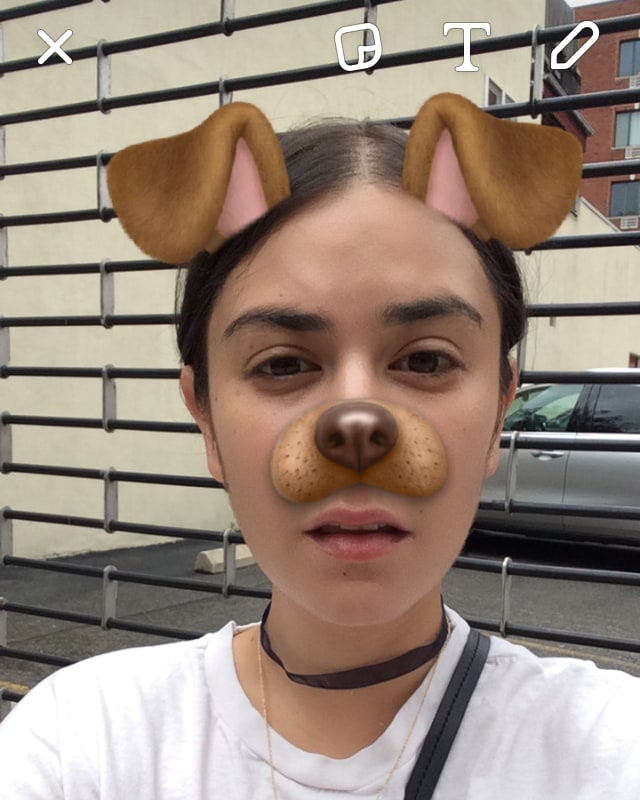 Recently, to celebrate my 29th birthday, I gifted myself an expensive facial serum that claims to brighten skin and protect it from the surrounding world.
You could, I guess, call the purchase an attempt to reproduce in reality the fictional appearance of my face on Snapchat, where a range of beauty filters smooth over blemishes, enlarge eyes, thin the nose and jaw, and warm or lighten the tone of skin. (The app also offers a rotating stable of filters that distort your appearance comically, which I feel less drawn to.) With its built-in ephemerality, Snapchat is commonly understood as a place to enjoy being yourself, flaws and all. But given the tools, apparently, I'd rather appear in public with no flaws.
On first glance, that impulse seems like a totally bad thing — like one that indicates I've fallen prey to narrow standards of beauty, or a general pressure to look young and good. And, in fact, it might be. But I take pleasure in filtering my face because the result feels familiar, even when it looks uncanny. I know I don't actually look digitally airbrushed, but after years of subtly manipulating my appearance online, I am used to imagining myself as a more alluring version of myself. Snapchat's too-perfect version of me is transparently false, which makes it feel, to me, almost more honest than a candid photo.

I take pleasure in filtering my face because the result feels familiar, even when it looks uncanny.
For this year's Fall Fashion issue, we spent time with a group of people trying to see and bring to life their idealized selves. After three years in the federal pen and a life of unrivaled fuckery, Gucci Mane is adapting to sobriety and surviving his legend. In Los Angeles, following two albums of carefully manufactured cool, Charli XCX is trying out her true self — someone who just wants to have fun. Joanne the Scammer, the fictional creation of Florida loner Branden Miller, is a product of Miller's reckoning with his own identity and a reflection of how isolating the world can be. And in Germany, friends of Denis Cuspert, the jihadist formerly known as rapper Deso Dogg, reflect on Cuspert's failures, and how they propelled him to seek a life of terror and intimidation.
In all of their stories, there's some wishful thinking — that the best possible versions of ourselves are the ones people will see. Like I play around with the idea of appearing faultless, Gucci imagines he will remain sober, Charli envisions an intellectual life as a "dumb" pop star, Denis Cuspert wishes to feel righteous and strong, and Joanne scams herself into lasting cultural relevance. The truth is probably more complicated, and certainly subject to change: to maintain sobriety can be a daily struggle, making pop music does not necessarily make anyone more popular, jihadists hurt people in their quest to make the world better, and even scammers get scammed.
"You have a sickness," my partner told me recently, referring to my habit of almost constantly taking selfies with my iPhone camera. Unlike what I do on Snapchat, these pictures have no filters and no setup. I think I take them because I'm bored, or to literally check in on what I look like: if my hair has fallen in the right place, or if that expensive serum is doing anything. Or maybe I take them because I am trying to figure out who I am, so that as it changes, I don't lose track, and can maintain control. I don't post these selfies on the internet, or send them to a group chat. I don't share them with anyone.