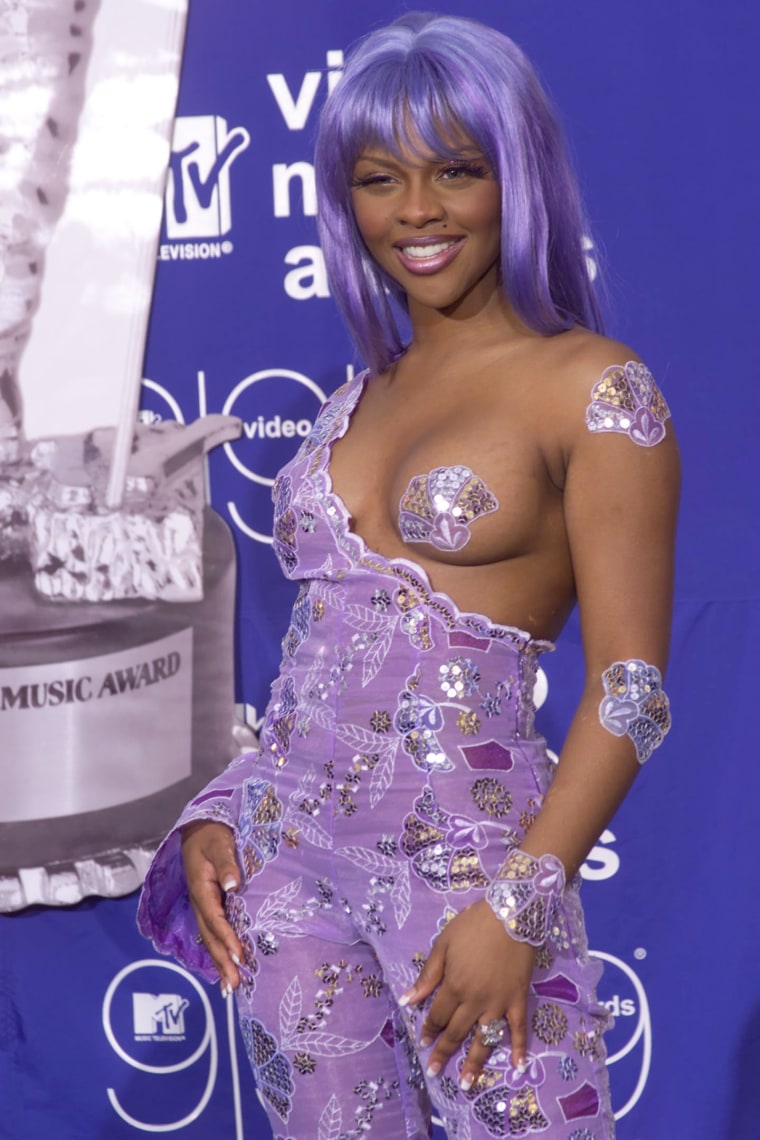 It's difficult to overstate the impact that Misa Hylton, superstar stylist behind some of hip hop's most iconic looks, has had on fashion. Absurdly distressed denim, head-to-toe primary colors, playing with designer labels to the level of parody — that was all Misa. Ahead of the 2016 VMAs, we wanted to pull her aside to ask her about that look, you know, the Lil Kim in a one-breasted purple suit look, and how it all came together.
What we got was a picture of a more creatively unbridled time, when celebrities weren't afraid of an anonymous army hiding behind Twitter eggs. Here, Misa Hylton talks about the past, laments the present, and, most importantly predicts there will be a big shift towards creativity, individuality, and authenticity coming around the bend.
What was the energy like getting ready for the VMAs in the late '90s, early '00s?

MISA HYLTON: It was just such a great time, Kim was at the top of her game, she was expressing herself and her style in her music in a way no one had seen before as far as a female artist. All eyes were on her, so we were all really riding high off the energy at the time. We were so kind of naive to the history we were making, we were just in our own zone, being authentic. You don't know until later how dope things were.
Did you know you were doing something different?
Of course, we knew we were different. And it was fun and we were confident in it, we didn't overthink anything. We were just really doing us and having fun and having a great time. It was about being colorful and stylish and edgy. It was a time of really being free.

Can you talk about the process that went into Lil Kim's iconic 1999 VMAs look?
Missy Elliott had an idea that inspired me to create it. We were hanging out kicking it and talking about fashion and music and she told me, 'If I was Kim I would always just have one titty out and be like, fuck it.' And I was like 'hmm...interesting.' So I tucked that in my memory bank and the next big event that we had was the MTV Music Awards, so I pulled that inspiration out and brought it to life. I used Indian bridal fabric and had it custom-made and collaborated with the glam squad. So we decided to keep it going with the colorful wig, before that we'd been doing a lot with the primary colors so we decided to try out the pastels. And we did the lavender wig with the lavender one-piece suit with the titty out.
And we loved just doing things like that and being out of the box. That was one thing that was really great about that time, just being able to be creative with no pressure, no social media. It was really a great time to be an artist and someone who was very creative. There was so much freedom.
You made history.

We shot the "Quiet Storm" video featuring Mobb Deep that night, we left the VMAs and didn't go to any parties. We just went straight and shot that video all night. So that has to be my favorite moment. We created this great look that we didn't know was gonna be such a hit and then went and did something so hip-hop with Mobb Deep that night. It was just a full day of creativity and flavor and fun.
I feel like there was more creativity back then, in awards shows. Do you still watch?
I do if there's someone I want to watch. I feel like fashion is cookie-cutter now. There's a lot of recycling, one person does something, then five more people do it, and it's kind of boring sometimes, but I do love music and I do love fashion, so I always find my way to watching.
Do you think people are less creative or more afraid?
I think it's fear. I think that you have to have courage to be yourself and to stand in your power and to express yourself in a way that may separate you from others. These days, there's a lot of critique, there's a lot of criticism now coming from people who are hiding behind their computers, usually just a lot of little kids! I wish people would wake up and realize that. It's just mean little kids or people who have no knowledge of fashion and history and things like that.

Do you think DIY is the way to rediscover that creativity?
I think we experimented with an accessible mix of runway and DIY. But what happens now is everyone wears the same thing. Every fashion stylist is trying to get these pieces. And someone wears it but no one cares anymore, they'll just try to get their client in the same thing again. We didn't do that then. If someone else wore something, it was off limits. It was corny to do that. So now it's like, 'who wore it best?' But it really seems like people don't mind today, it's almost like 'she wore this?' now 'I have it too.' 'You wear Balmain?' 'I'll wear it too.' Your look is just as important as the music for an artist.
It does feel like there's something missing now.
I feel like things are gonna change, though. I feel that there are some really creative people who want to make a stance and show who they are, I just think there's a new wave coming. I love Teyana Taylor, I think she hasn't gotten her just due yet. I love Lana Del Rey, I haven't seen much of her recently but I love her. Christian Combs and Niko Brim, those are my sons but parents have no choice but to stand in their power. I just appreciate great style. Anyone who's doing anything different or authentic, I just love it.
And last question, how did you feel when you saw Diana Ross cupping Lil Kim's boob?
Sweating bullets. I think my underarms were like a waterfall. I was like, 'Don't knock the pastie off, Miss Ross, please!' I was really nervous but excited at the same time. I mean who wouldn't want to be fondled by Miss Ross?