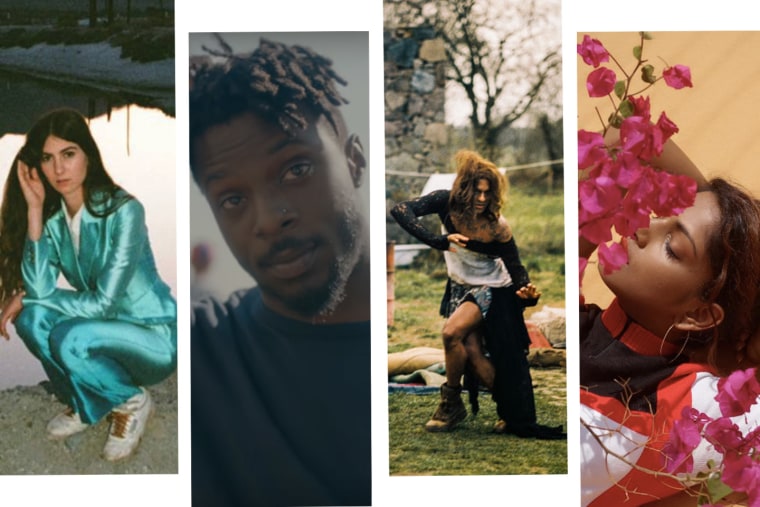 1. We're more than hyped on Bronx native Princess Nokia. Her cool-as-hell tape 1992 is full of gems, all beginning with the steady-flowing "Bart Simpson," a loud and proud declaration of self.
2. Mykki Blanco's long-awaited debut album arrives this month. Its second single, "Loner," is smooth (but not too smooth), features Chicago R&B singer John Deaux, and is about feeling helplessly alone in a toxic headspace. Leave it to Mykki to say what we all sometimes feel — and make it sound beautiful.
3. A collaboration that was destined to happen: Sia and Kendrick Lamar linked up for "The Greatest," yet another soaring pop anthem from the veiled hitmaker.
4. Sampha shared another new one off his forthcoming album, "Blood On Me," and it's ablaze with passion. A few days later, he performed it on Colbert.
5. In post-"Fade" haze, Teyana Taylor is hot right now (well, always, but right now too). This week we got a gilded video for her "Champions Freestyle." It goes. 🔥
6. Shortly after Isaiah Rashad hit us with The Sun's Tirade, he dropped a video for the sweet, breezy "4r Da Squaw." It finds Rashad and his son dancing on the boardwalk and lamenting lack of funds.
7. Fun fact: Rage Against The Machine frontman Zack de la Rocha was on the cover of The FADER's second issue in the company of Reverend Run and DJ Premier. 16 years later, he dropped a brutal, El-P-produced track called "Digging For Windows."
8. According to her interview with Annie Mac, M.I.A. "put [her] aggressive side to rest" to make "Freedun," a floaty song she thought was "too mainstream-sounding" until Zayn Malik added his glorious Top 40 pipes to the mix.
9. Melancholy folk extraordinaire Bon Iver recently returned from a long, long winter. "33 'GOD'," off his forthcoming 22, A Million, is a weird one for Justin Vernon — the production is more expansive than ever, and Vernon pairs his falsetto with digital voices for an eerie effect. With it.
10. The exceptional voice of Natalie Mering — the woman who is Weyes Blood — never ceases to sweep us off our feet, and "Do You Need My Love," with its vintage, Joan Baez-meets-Nico vibe, is no exception.
11. Yves Tumor's delectably heartbroken "The Feeling When You Walk Away" is fully indebted to late-'60s soul and R&B, but it has a certain spookiness that almost feels futuristic.