Stormzy's Mom Breaks Down The Personal Secrets Behind Her Son's Public Success
In an extract from Hattie Collins's book, This Is Grime.
Author and journalist Hattie Collins has documented the scene from its earliest days and through to its current global success. Her book, This Is Grime, is out now and is the first oral history of grime, narrated by the artists who have shaped the genre. That means Skepta, Wiley, Dizzee Rascal, and Kano alongside the new wave of MCs like Stormzy and Novelist.
Speaking to The FADER via email, Collins explains that she's dreamed of writing the book for years. "For a long time, no one was interested in my book. Publishers told me it was 'too niche,' or 'unsellable.' Undeterred, I gave it another go last year for reasons not entirely altruistic. A close member of my family had just been diagnosed with a terminal illness, I'd been through a break-up, my brilliant aunt passed away. I wanted to do something for myself."
Fortunately, this decision coincided with a huge upturn in grime's popularity both in the U.K. and U.S. "There are many reasons for the scene's current renaissance," Collins says. "The co-signs from Kanye, Drake, and Pharrell, play a part. The return to its roots, stylistically, sonically, and so on, is also key. It was also hugely helped by an influx of new talent. But mostly, this is a classic coming of age story. For grime, now entering its teenage period, these are its golden years. It's never felt a better time to be a grime MC; the possibilities are endless and the opportunities plentiful."
In an edited extract from the book, Stormzy and his mom break down his success.
---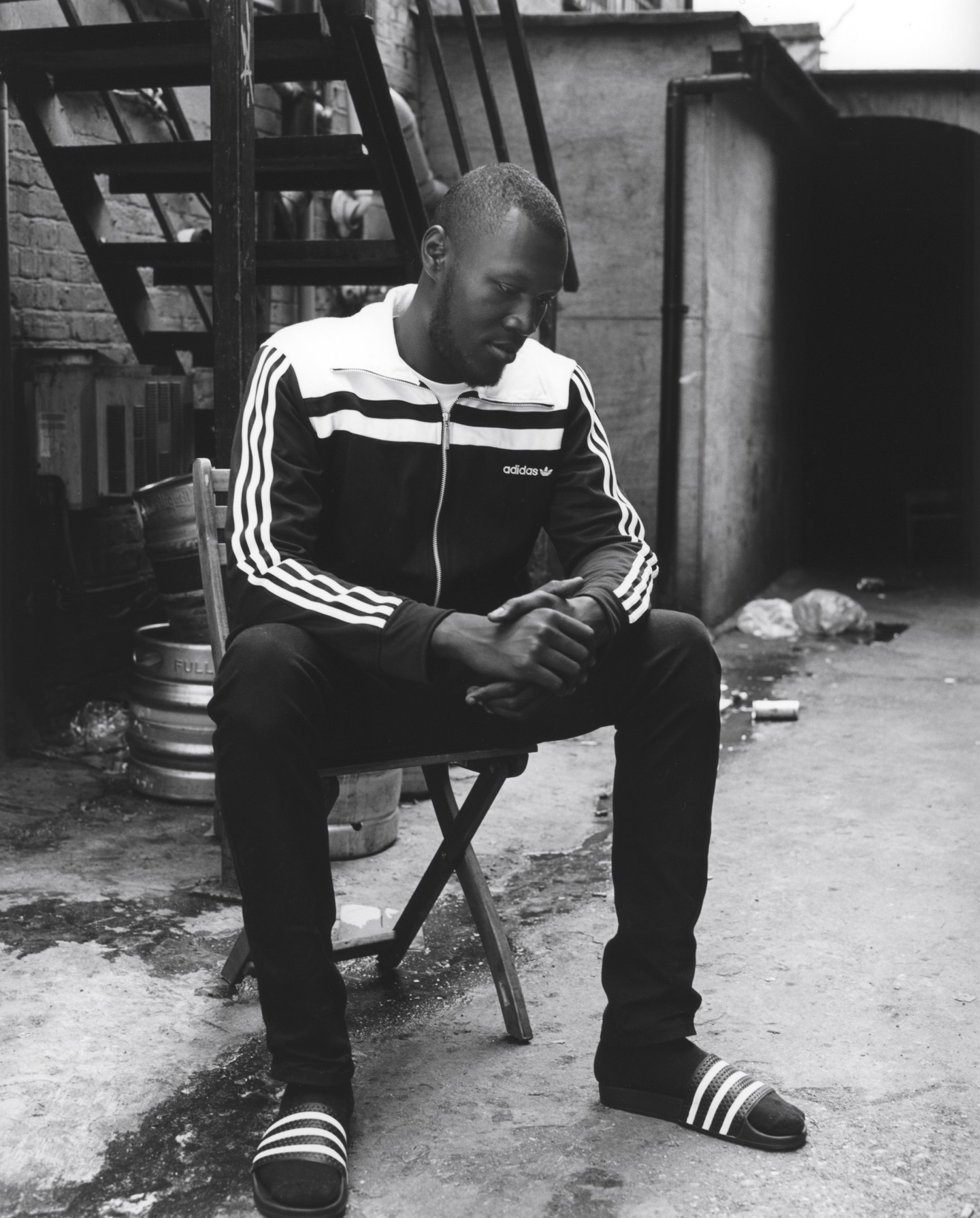 MISS ABIGAIL OWUO [Stormzy's mom]: I call him Stormzy. Sometimes Michael, sometimes Stormzy. Sometimes he phones me and I say, Hello Stormzy and he says, 'Allow it mummy' [laughs].
STORMZY: There's was a few key moments. I had the #wickedskengman series and after part 3, Skepta saw it, Wiley, Professor Green, Wretch 32, a lot of the bigger heads. Then there was the MOBOs and then Jools Holland was mad. Then the Fire In The Booth cypher was another mad one. It was weird 'cause I had my buzz and then I did the cypher. I was in a room with 10 other MC's and I think people thought, 'O.K., he can actually go bar for bar with them.' From there, it's just been mad. So, so mad. I think I came out at the right time, it was the right timing. I didn't plan that obviously, it just happened.
"When he sets his mind on something, he has to do it. I don't distract him at all. I just let him go." —Stormzy's mom
MISS ABIGAIL OWUO [Stormzy's mom]: I don't see him. If I want to see him, I have to book an appointment! Sometimes I want just for us to have a mother and son talk. Even sometimes when he comes — he loves jollof — Stormz I've cooked you jollof, and he loves okra, so I cook him okra — but now my son doesn't have time to eat it. Because of his passion for what he is doing, when he sets his mind on something, he has to do it. I don't distract him at all. I just let him go. I don't worry about him. If I worry, I worry for nothing.
With me, all I do is pray for him. I don't have sleepless nights. No, no, no there's no point. He's caring. He's a good son, oh, my boy is a good son. My son, he's not a bad boy. Right from school, he's top of the class. When I go to all his parent meetings, which I go to, [it's] good comment, good comment, good comment. But yes, then, he's a teenager. When they're out there, you don't know what they're up to. So when they're out, I'll call him and sometimes I said to him, When you see a group of children fighting, don't stand there. I said to him, Me, I have eyes all over the place. Sometimes he'll be standing somewhere and I'll call him and say, Move from where you are. 'Mummy, how do you know…' I told you, I have eyes all over the place. Oh yes. Yes.
STORMZY: I'm just about doing your thing, live and let live. I couldn't care what another MC is saying or doing. I couldn't care about the politics, all that social media stuff, that's all secondary. I'm doing what I'm doing. Go on your journey. I'm trying to make it, and you try to make it as well. I need to make music – I need to be the best and I need to win. For me there's no other option, I've got to make it happen.
"Me being me is what got me here."— Stormzy
MISS ABIGAIL OWUO [Stormzy's mom]:: Michael is very intelligent. He is a boy who has always said, 'This is what I want,' and he gets it. Not in a bad way. He was always the leader of his friends. If you follow him, you will fly. And the friends always followed him. By the time they are catching up, he is somewhere else, he is gone.
STORMZY: I told her off at the ["Know Me From"] shoot. I had to though man. She kept on getting it wrong. The one that she got it right, that was the only time she got it right!
MISS ABIGAIL OWUO [Stormzy's mom]: You didn't tell me what we were going to do!
STORMZY: That's me when I'm in work mode though.
MISS ABIGAIL OWUO [Stormzy's mom]: From what I can see today, my son he will go far. He's still so young. I can say when he's thirty, he will be doing so many things, not just music. He went to do an engineering course and he got all distinctions. Yes! All distinctions. Distinction. Distinction, distinction. His sister explained to me he was doing music — I had no clue. No clue! I said, This boy, I want this boy to go to Oxford. He said 'Mummy, you don't understand what I'm doing!' But then, look, here he is at Oxford! I'm very proud of him. Very proud.
STORMZY: I'd be embarrassed to change because of fame. Fame is a deep subject, it's not real. It's this whole facade. Also I'm not 'famous,' but if we're talking in terms of popularity], I can go online and tweet a video and get love, but these things can't shape you. Me being me is what got me here. The most important thing is to remain a good person, a good human. Forget music or fame or popularity, just being a good decent human and a polite human is way more important than being the guy. Me being a good brother or a good son or a good friend or a good human means more than being a top MC.
---
This Is Grime is out now via Hodder & Stoughton. The launch event with Stormzy, Novelist, and JME is at London's Rough Trade East on September 13.