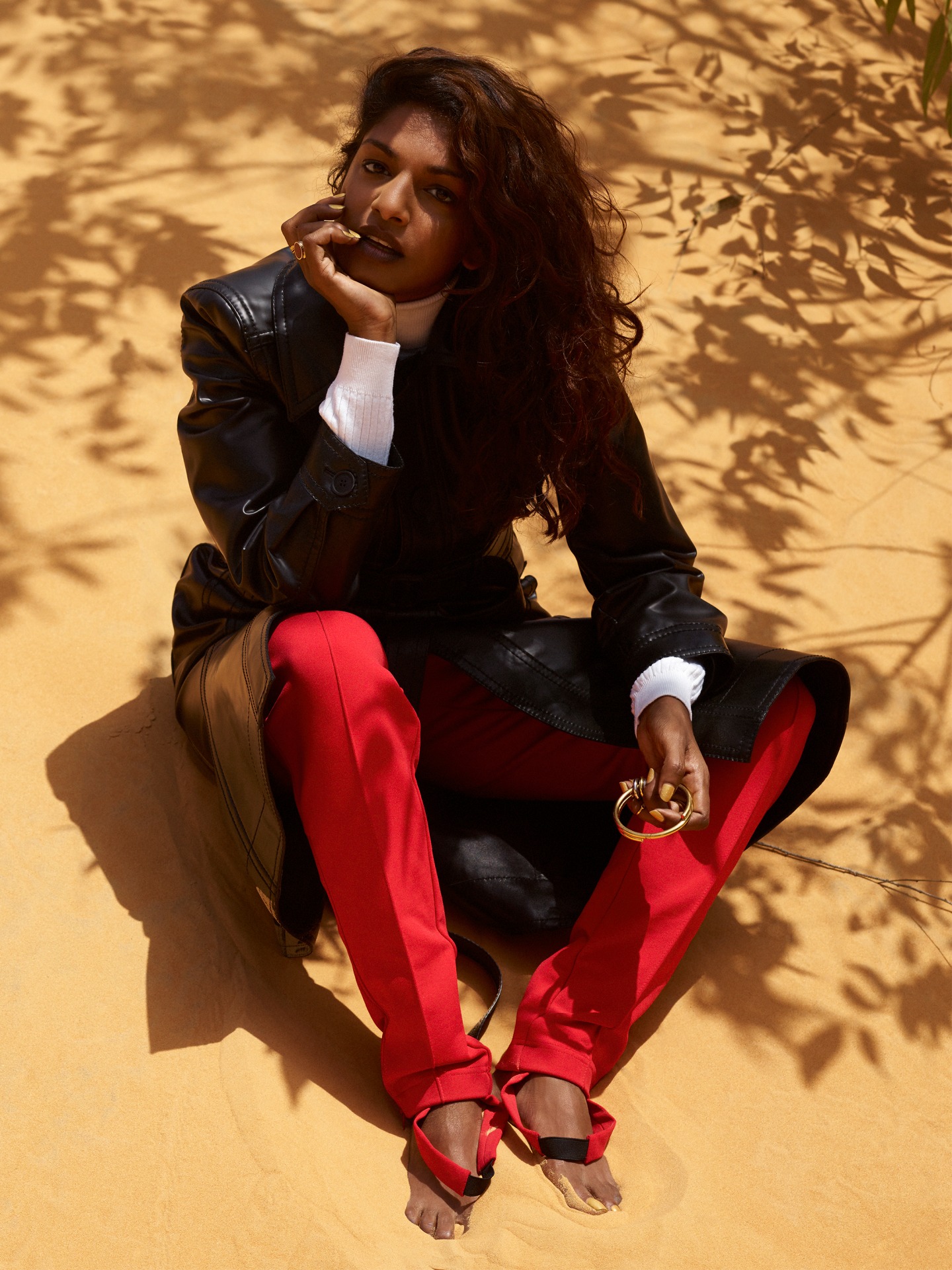 On an uncharacteristically chilly London day in early September, Maya Arulpragasam's mind was dominated with thoughts of color. Sitting in a hotel suite wearing a loose-fitting lamé slip dress cut to expose her sternum, several fine gold necklaces, and a paper-thin khaki robe, she rolled up her left sleeve and extended her forearm. "It's really tan," she said, gesturing to her skin. "It's not, like, golden."
Arulpragasam, who makes uncompromising and politicized music as M.I.A., had just returned from a video shoot in the Himalayas for her recent Zayn Malik collaboration "Freedun." "It's just direct sunlight in your face," she said of the mountain climate. "It takes all the yellow out of my skin. If you go to the Caribbean you get a different tan, if you go to America you get a different tan. If you go to different parts of the world, you get a different color."
M.I.A.'s music is similarly prismatic, drawing from the global South, diasporic communities, and the West, to create oddball collisions of sound. Through five albums (her latest, AIM, is released this month), her work has finessed new forms from, say, a 2,000 year old drum rhythm, or a sample from punk progenitors Suicide. On her button-pushing debut single on XL Recordings, 2004's "Sunshowers," she infamously and bizarrely invoked the P.L.O. over a beat that, perversely, felt too good not to dance too.
As a self-identified Tamil refugee who's lived between Sri Lanka, India, the U.K., and U.S.A., M.I.A. has been fiercely outspoken about human rights issues. But her desire to act as a conduit for different cultural struggles has made her a lightning rod for criticism, from both consumers and corporations alike. In the past it's often been easy to take her side — like when the NFL sued her in 2012 after she flipped the bird on stage with Madonna at the Super Bowl. But given the surge in understanding of identity politics today, it's become more difficult to co-sign all of M.I.A.'s headstrong outbursts, most notably this April when she appeared to diminish the importance of Black Lives Matter with an indelicately phrased comment in London's Evening Standard.
Even so, it doesn't take a M.I.A. stan to work out the aim of her work is to unite, not divide. And while she says that the cohesive, melodic AIM is her last record, she still speaks with the conviction of someone who's only just been given a platform. In an hour-long conversation — which she started recording at one point in case she "says the wrong shit" — we discussed how pop got political, the debate surrounding her cancelled appearance at Afropunk London this year, and how this latest album reflects her newfound sense of ease.
---
Why did you want to collaborate with Zayn Malik on your new record?
I like Zayn because...he's going through something really weird, isn't he? I think it's really interesting. He's coming out and going solo in a time where the world is getting more and more divisive. The pressure on him is more and more, because of the the fact that he's half-Pakistani, and he says shit like #FreePalestine [on Twitter].
There isn't a precedent for a Muslim pop star like Zayn.
Yeah. [He's] not American Muslim either. You can have [artists like] DJ Khaled or French Montana coming from inside America, but this is different because he's slightly [more] connected to the rest of the world. He's transitioning from not talking about something, to having to carry all the pressures of somebody who embodies all these things. Even if he's not playing that card, we project all that shit onto him.
As someone who self-identifies as a refugee, do you relate to the pressure to represent a whole identity?
The difference between me and him is that I'm not shy about it. I've done it from day one. I went into the ring saying, This is what I am. So when I get knocked down for it, I just get back up and do it because I know that it's hard.
With me, it was always, Yo, I'm an anti-hero. I'm never gonna play the game. So if you got into me because you disagreed with George Bush and came to my show in 2005, it wasn't a hidden thing. I think that's the difference between me and [Zayn]. But that's also why I'm not a huge selling artist, or I'll never have the same platform as a pop star, or be given that much power — because they know that I say crazy shit.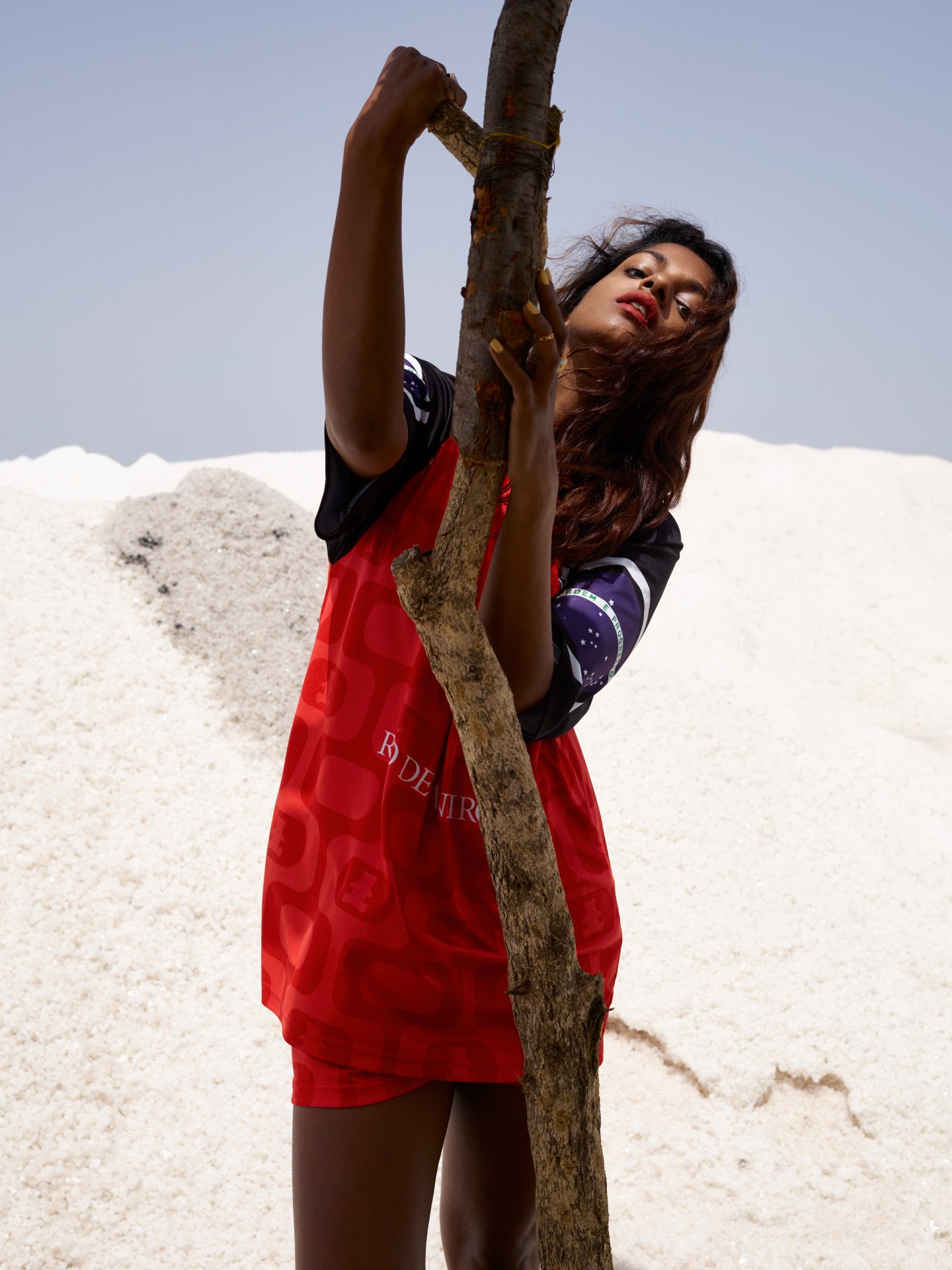 "[America] called me 'the other,' stabbed me in the back in the New York Times, and told me to fuck off."
Your new song "Finally" has a sense of ease that I haven't heard in your music for a while. When did you write that song?
I was in Jamaica in December, and I just had the most perfect day. I'd been in the studio with Blaqstarr and ADP, and then I went and got lost in the world. I went back and ["Finally"] just happened. I was really happy, and hadn't been for a bit because I was breaking up with someone. I felt like I'd hit a point of euphoria, with all the people that I knew and that I was with at the time.
So are the more chill songs on AIM a reflection of feeling more stable?
It was coming to terms with the fact that I hadn't been single since 2007. And now I am, and I have a kid, and this is what I am. My friend was like, "You can't ever be with anyone because you're just too extreme and too vast as a person. Your story isn't just, 'Oh you're poor and you made it.' It's like, 'You're [from] a political Sri Lankan family.'"
The [Sri Lankan] revolution went down in my musical lifetime, and people saw that it was difficult for me to find myself through that, and stick up for Tamils. I was doing [activism] at a time when it wasn't fucking trendy, and I got really penalized and I had to sacrifice my musical career for it.
Do you feel like you had to give up your musical career because you were too outspoken?

Well, I was constantly put into a situation where I had to choose between success and sticking up for people. But it's really difficult because on the one hand, America did embrace me when I first came there. American culture influenced who I was when I was growing up, as with British culture, as with Indian culture, as with Sri Lankan stuff, as with Caribbean stuff. I was actually living out the melting pot ideology that America used to sell itself on. I was that.
After the Sri Lankan war came to an end, I took myself out of the game. I was like, Don't accept me without my politics, 'cause my politics is important to who I am. Maybe I didn't fight hard enough to make my point, 'cause since then, it's just become even easier to remove politics from everybody. If you want to go make it in America, you have to remove the politics.
Really? These days, it's cool for pop stars to be political.
Yeah, but only internally. If you're inside [the U.S.A.] talking about the inside, and talking about how you perceive the world, everything is from your own privileged position. Then it's all great, and everything is like, amazing.
But everything isn't amazing for a bunch of marginalized people in the States. It's super valuable to speak about the specific struggles of the black community, or the queer community, or whatever.
It is super valuable. But when you're in...Aleppo, any issues coming from within America is still [from] a privileged place. It just is, you can't deny that.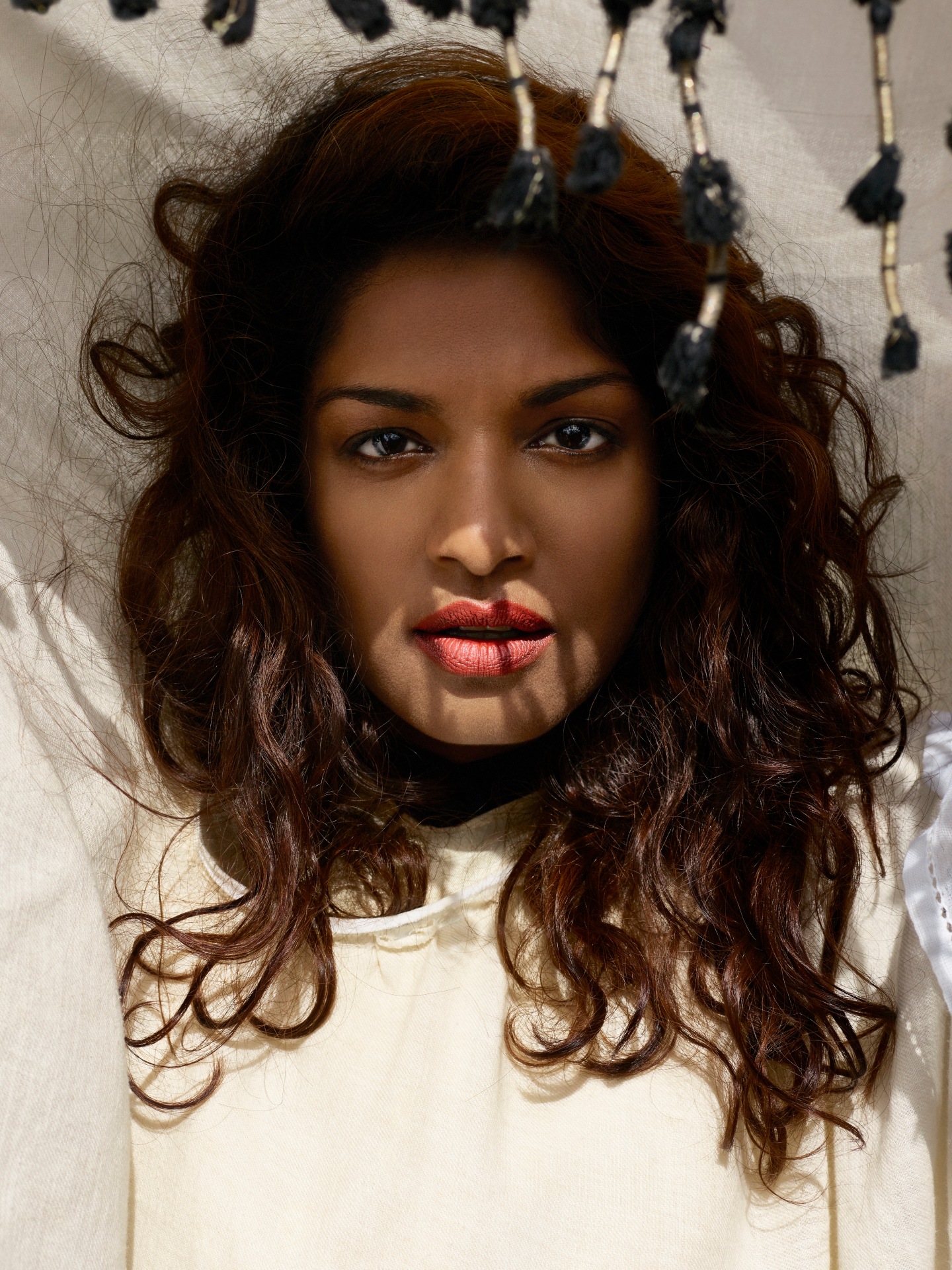 "I know the issues that black people face in America. I knew that from the day I arrived in England. It's not rocket science."
There's a line between showing solidarity with other marginalized folks, and then respecting people's need for their own space and communities. The conversation around your appearance at Afropunk London threw that into relief.
Yeah, but we have to look at the bigger picture. "Stay in your lane" works in America, but it doesn't work in England. We have our own histories and past. We don't have a big enough black population in England, nor an Asian population in England. Much less Mexicans or Latinos. It's [there], but not as big as in America.
And in 2010 when I said, Please let me talk about myself, please let me talk about my struggle, and Sri Lankans' — [America] called me "the other," stabbed me in the back in the New York Times and told me to fuck off. My white American ex-boyfriend, Diplo, got used in that article to do that to me. They used him to say, "I told her not to talk about politics." They wrote that hate piece, and they kicked me out.
Was there actually a link between you leaving the U.S.A., and that piece in the Times?
It all fed into the same thing. Those was the articles they were running on me in 2010, and nobody was giving me any awards.
So, I can turn around five years later and be like, If you only promoted American artists in the last six years who were draped in American flags, then let them talk about the world! If that's the space they're claiming, let them have the space, and let them talk about the number one pressing issue in the world today, which is: 65 million [refugees] are fucking homeless, don't have a face, don't have a race, they're being oppressed and pushed into slavery. Modern day slavery. They are the modern day untouchables. If you can relate to oppression in any way, you should be able to understand that.
I've been talking about them from day one, and I've been talking about black oppression. I have not shied away from that. From day one, in 2005, when everyone was listening to, like, Nelly, I was talking about Public Enemy. If you read my first FADER article in 2004, I was talking about intellectual black empowerment, knowledge records, because I had to contribute back into the black community. Like, Hey, don't forget these people. [That's] the reason why I sang on top of a Dead Prez record on [2004 mixtape] Piracy Funds Terrorism.
I know the issues that black people face in America. I knew that from the day I arrived in England. It's not rocket science. [Black people] are very much part of my life. And it's not like, Oh, I'm gonna exploit it. I've been so careful to be like, No, every record I make is about equal appreciation of all cultures, unified and layered so they co-exist. Purely to reflect that, actually, co-existing can be possible. And I think this is why it was really important, for example, on a track like "Boyz," to take a 2,000 year old drum beat, which is called "dupping."
That sounds like "dabbing."

And the main dance to it actually is like dabbing! If you look at Duppa bounce in the "Boyz" song, the move is literally the same. It's 2,000 years old. I took it to Jamaica, and they loved the rhythm, and they got on it, and then you took that back to [other countries], and then took it here and there....I just learned that as a human being, people connect to shit.
[But] what happens with the way things are processed into popular culture, and who benefits...say, if it's a white pop star. For example, Justin Bieber's video where all the girls are dancing. When I go to the Caribbean everyone hates it, because they're like, 'Oh, fuck, look at all these girls dancing like black girls, but there's no black girls in the video.' And I'm not happy with that either. I look at it and go, Yo, that's fucked up.
You've often avoided emphasizing your more commercial tracks. On ΛΛ Λ Y Λ, "XXXO" was a brilliant pop song, but it was overshadowed by the "Born Free" video. Why did you pull focus from…
Having hits?
Right.
I'm just a terrible decision maker! [laughs] Some songs are just so easy, and they're the ones that I don't give credit to. I think me and Wes [Diplo] made "Paper Planes" at like 10 in the morning — I'd just woken up. He was making the beat, and I was in bed, and it just happened. We did it in like 20 minutes, therefore, I was like, Surely that's not it.
My favorite songs on Kala were ones like "20 Dollar" — and "Bird Flu," which is where I put my attention into a single. The song structure was so random; nobody had heard a beat like that before. But it was the thing that I'd pushed myself the most on. I was like, When I made this song, this was like fireworks going off in my brain. And also "Boyz," which I worked on for ages, and incorporated more human beings in the process of making it. To me, there's more of my life in it. I know that they're not the world's favorites. That's just who I am.
---
AIM is out now on Interscope.