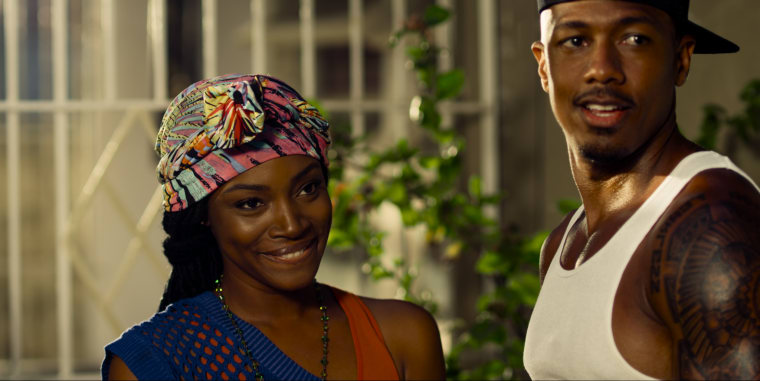 Dancehall music has engaged mainstream attention this year, once again, and so it is either fortuitous or prescient that a new feature film centered on the music and dance culture of modern Jamaica debuted at the Toronto International Film Festival this week. King Of The Dancehall stars first-time director Nick Cannon, Canadian singer Kreesha Turner, Collie Buddz, Busta Rhymes, Lou Gossett Jr.,, Whoopi Goldberg, and the stunning Jamaican actress Kimberly Patterson in a breakout role. Beyond the plot, which loosely engages the international drug trade and Jamaican street politics, King Of The Dancehall is above all a story about loving another person, and dance. Sure, there are cameos from contemporary musicians like Beenie Man (who narrates), Barrington Levy, and Ky-Mani Marley, but the soundtrack is secondary to the movements of young dance crews, choreographed with the help of Toronto's Jae Blaze. This film builds on the legacy of others like Dancehall Queen, that situate the social and cultural lives of young Jamaicans squarely within the dancehall.
This year's TIFF featured many offerings from black filmmakers, and Cannon called it "an honor" to be able to premiere his first original movie at the fest. "It's our job to take control of our narrative and tell our stories," he said, on the red carpet. "It feels like a new renaissance in filmmaking." The FADER spoke with Cannon and Kreesha Turner about why it was important to make this film, and the legacy of Jamaica in pop culture today.
What side of Jamaica did you want people to see with this film?
KREESHA TURNER: People know Bob Marley, reggae music, jerk chicken, and they only see the resorts. When I lived in Jamaican I lived in Kingston, in Spanish Town, and when I go there the only place I want to go is Kingston because that's where the culture is the richest. On Monday nights, I wanna go to the dancehall at Susie's and make sure I learn the hottest new dance. I understand why people don't get to go see it because often you need a local to show you these places, but in this instance I got this opportunity through film.
America loves dance films; why did you want set this one in Jamaica?
NICK CANNON: Why not? I mean, why hasn't this been done before? That's what I felt as soon as I stepped foot in Jamaica. I couldn't understand how such a rich culture had never been shared with the whole world before, especially when you think about everyone who has borrowed from it: the number one song from Drake today, Justin Bieber's video, all the dance moves mass media falls in love with from Beyonce stem from what's going on in Kingston. And then when you think about the passion that's involved wth Jamaican culture, it's like, they're not sitting around waiting for things to get all pretty: they want it raw and dutty. That should be shared in the way of Dirty Dancing or Saturday Night Fever. It doesn't get any more passionate than Kingston, Jamaica.
What is something new that people will learn about Jamaica or dancehall culture from this film?
CANNON: You're gonna learn the history first and foremost. I take a unique approach in how I chose to tell this story because I used real footage, real artists, and it's based on a true story too. In Jamaica they dance to a different beat — the upbeat, and so you're going to see me do a lot of stuff! Also, dance brings us all together, and I talk about that in the film. I show that no matter what class you're from — uptown or downtown — when you're in the dancehall everyone's equal, and it's how you choose to express yourself that makes you stand out.
Kreesha, this seed of this movie started with a trip you and Nick took to Jamaica. What was it like to walk into a club with him there?
TURNER: You know, Jamaican's don't business! They're like, 'Oh, ah Nick Cannon dat? Alright!' So they were cool and that allowed him an opportunity to witness an environment without too much disturbance; like viewing something in its natural habitat without any foreign obstacles. Jamaicans behaved the way they normally do.
How do you think this film will enhance how we talk about dancehall in 2016?
TURNER: As a cultural ambassador — someone from Edmonton, Alberta and Jamaica — I'm so excited. It's brilliant and really coincidentally timing! Jamaica is one of the most musically influential nations in the world. Throughout the entire globe, there are pockets that are constantly in touch with what goes on in the dancehall community, from Germany to Japan, to different parts of Africa like Ghana. There's a love for reggae and dancehall that many people don't even know about. And because Caribbean music is now coming back into the mainstream, there are so many things that make this the perfect time to educate people on where this music, this vibe, and these dance moves come from.