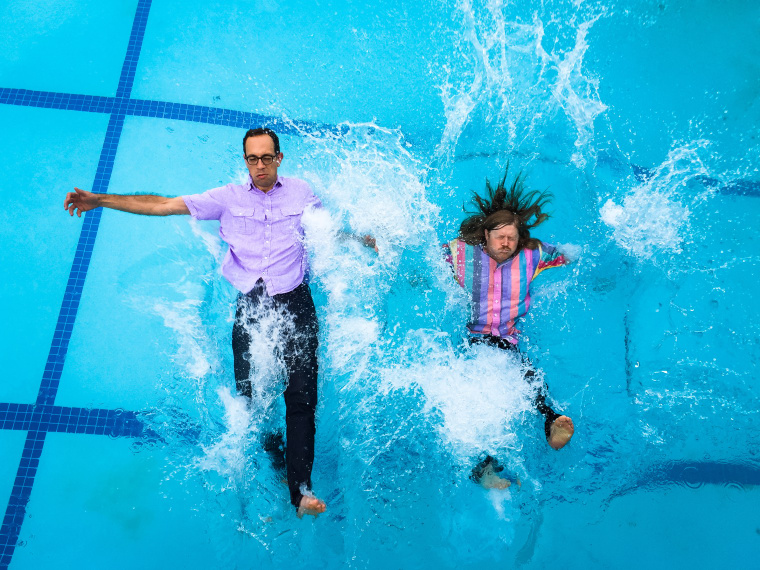 If you catch the sweet feels of The Smashing Pumpkins in their mid-'90s prime from this deep sigh of a guitar-electronics jam by Baltimore duo Peals, your ears are not lying to you. "Punk Migration" features the deft touch — and vocals — of guitarist and TSP co-founder James Iha, and is a dreamy highlight from Peals's new album, Honey, due out tomorrow. If you're new to them, the band is made up of William Cashion of Future Islands and Bruce Willen, formerly of Double Dagger, and they make silken instrumentals that will speak to your insides. (Bonus: check out the illustrated video for "Become Younger" and tour dates below.)
"'Punk Migration' was originally almost ten minutes long with two distinct parts," Peals told The FADER over email. "We weren't quite sure what the song needed, so we sent a rough draft to James, who we met on tour in 2014. We thought he might add a guitar part or two, but when he sent us his tracks, James had added multiple layers of guitars, synths, bass, piano, and voice. While mixing with Chester Gwazda we decided to cut the original, dancier intro, and the song became a more meditative moment on the album."
Friends Records will release Peals's new album Honey on September 16.
Tour dates
September 15 - Richmond, VA @ Gallery 5 (w/ Moss of Aura)
September 16 - Baltimore, MD @ The Compound (w/ Moss of Aura, Small Sur)
September 17 - New York, NY @ Trans Pecos (w/ Moss of Aura, Skyler Skjelset)