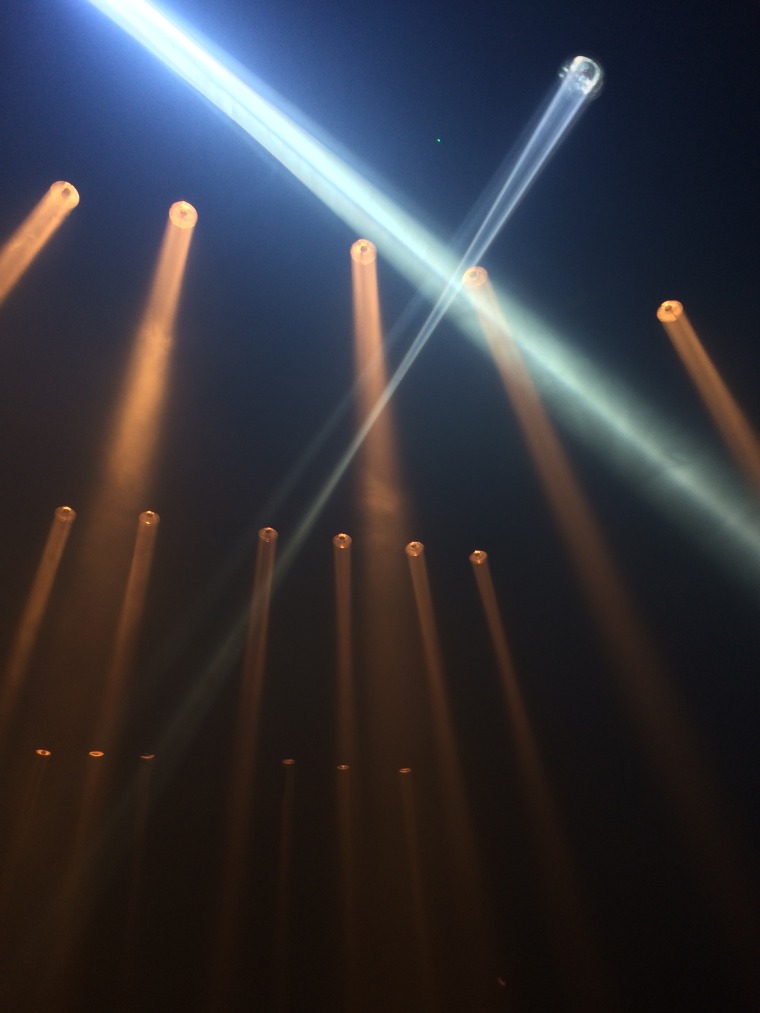 Last Wednesday night, Babyfather — the grime-meets-hip-hop side-project of London visionary Dean Blunt — performed live at Output in New York's tourist-friendly Williamsburg neighborhood. I like seeing Blunt perform because it's impossible to second-guess him. Last time I saw him, at a solo gig earlier this year, he flooded Market Hotel in smoke and white light, isolating each member of the crowd in their own little clump of cloud to soak up his dub vibrations. This time, as someone close to me suggested with a smile, he seemed to be playing the air-conditioning.
Those on the main dancefloor were blasted with an ice-cold breeze, and the club's many lights were trained on the audience instead of the Union Jack-draped stage. Somewhere in the darkness in front of us was Dean Blunt and his Babyfather partner DJ Escrow. Their voices — Blunt's heavy and weed-slow, Escrow's a cheeky geezer twang —indicated as much. All we could see, however, was one another — and boy, it was awkward. There was lots of shuffling, some nervous giggles, some off-the-beat dancing, but mainly just lots of fixed faces attempting to convey a single sentiment: I get it. Blunt and Escrow weren't the only ones putting on a performance, it seemed. In-between puffs of a fragrant blunt, the former dropped lines about an ex he suspects of racism, and the night clicked into focus. Under white supremacy, black bodies are scrutinized and subjected to often-fatal violence. For a couple of hours on a school night, the spotlights were trained on the largely white crowd, daring us to deal with the uncomfortableness.
Today, Babyfather dropped a fizzy new joint called "Pressure Freestyle" — the audio's just over a minute — that provides further context to both Blunt's recent comments about Black Lives Matter. For the mandem/ I put my neck on the line/ Put my neck on my line/ I put my fucking neck on the line/ Only for the mandem, he says in a tone that lives up to his name. It's as tense as it is short, and those 30 seconds of dead air that follow sound that much louder for it.