At first, Atlanta's Shawty Lo planned to be behind the scenes. But while working in a management role with local artists like Fabo and Mook B, Lo began to dabble in rapping of his own. It became evident that the infectious drag in his voice was special, and in 2004, he became a member of snap music's trailblazing group D4L. His legacy as a hitmaker, both in his group and solo, made him one of the Southern rap's most beloved figures.
On Wednesday, the world mourned the life of Shawty Lo, after he was killed in a tragic car accident.
Yesterday, we caught up with D4L's charismatic frontman Fabo to talk about where and how Shawty Lo's influence began. He shed light on the importance of Shawty Lo in the snap era, Atlanta's music scene, and how his authenticity propelled him to be a rap legend and pioneer.
---
FABO: D4L had come from three different neighborhoods. I was actually friends with Shawty Lo's sister, and I was in a bad spot one time and I ended up in his presence. I let him know my situation and he kind of pulled me in, pulled me under his wing, and we went from there. This was somewhere around 2003. I already knew him, everybody knew who he was way before then but this was the first time I ever had a chance to get in the same room with him and have a conversation.
Music came into our relationship in 2004, when Shawty Lo got really interested in me at the Pool Palace. He used to come there and we all knew him, but I was one of those local dudes that used to get on stage. They used to hold contests and I found myself going at it with one of Shawty Lo's groups every week. [Laughs] The pool palace was the spot and if you couldn't make it at the Palace, you couldn't make it anywhere. We were the Palace legends at the time without even making, "Betcha Can't Do It Like Me" and "Laffy Taffy." I had a song with Dem Franchize Boyz called "Money," and me and K-Rab had this song called "Welcome To The Palace Where It Goes Down Every Weekend."
Shawty Lo started to build a studio around the talent that he had, which at the time was me, Lil Mark, and Mook B and we just went to work. Basically, it was all about the grind and he was always standing over us, trying to let us know that this was it. I always knew that he felt like we were going to make it. I remember when we used to ride around listening to Jay Z's Blueprint, and he'd have to play it over and over and over. That was his thing and he was always like, "Man, we're gonna be like these dudes right here." He inspired that in us and we went after it.
I remember Lo being locked up when Jeezy and these other cats were out. They were already doing what they were doing, so when he got out, he was already in the forefront of trying to make us look like we were what was already going on in music. He put his all into it and it paid off with "Laffy Taffy." We were what you called a "no sleep gang". We were late-night cats. We'd go to the Pool Palace and clubs like that, and then we'd be up at 3 or 4 o'clock in the morning working. Guys like K-Rab, the Dem Franchize Boyz, Lil Jon, The Great Yola — all of these cats came up from the same cul-de-sac. Shawty Lo was there for all of us because he was that dude that you could go to for anything and he put a lot of stuff together for us.
When Jeezy came along, he kind of told our story because we were real street cats. It inspired us being around him. It kind of brought us into the forefront because Jeezy put us in his videos, too. When D4L came out, Lo was telling us, "You've got to do something different because they're already on this! You've got to do something different!" We worked everyday at something different.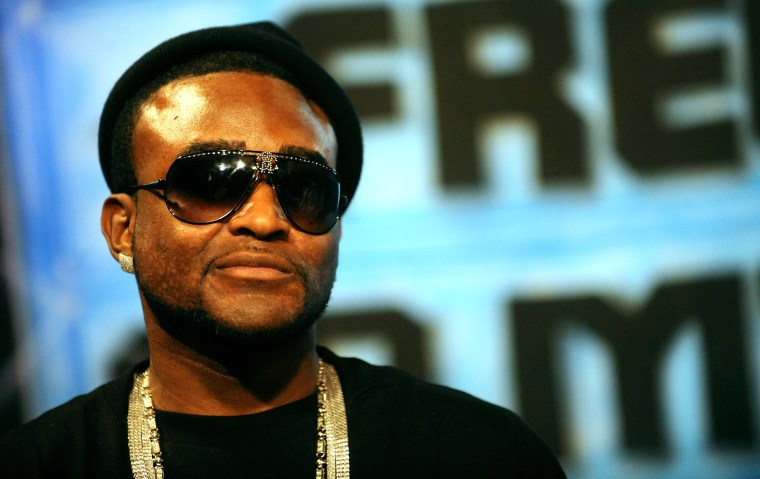 When I was growing up everybody danced so when were coming out, Lo just wanted to make sure we had a dance to go with all of our songs. When we did "Betcha Can't Do It Like Me," he wanted to incorporate the dance that we were already doing at the Pool Palace into our music. It was a dance that my granddaddy used to do. [Laughs] I was doing it in the talent shows and it kind of carried on. It was important that Shawty Lo did that because of where we were and where we're from. It was always bad stuff going on so you want to smile sometimes. You want people to laugh and smile with you when you're enduring so much pain. Lo was always laughing and pranking people and I guess it was just to keep your spirits up. He had high spirits.
When we started making songs as a group, I think we were just making music to eat. When we were making music, we were just making it for the Pool Palace, for the people who were around us. You had a lot of guys from Atlanta who were making music at the time but nobody was really on over on our end of the city. We had T.I. and other people who were representing, but these guys were huge and we didn't see them on a day-to-day basis. We were mingling with the regular population and this was what they wanted at the time and it just blew up.
We respect hip-hop. We'd ride around listening to Jay-Z's Blueprint. I can name every song off of All Eyez On Me. We grew up just like they did but we lived differently lifestyles and in different places. You have a lot of people who I like to call the "hip-hop guards." They stand out there and they say, "They're destroying hip-hop," but we didn't pay it any attention. Hip-hop is evolving. Look at Lil Yachty! These guys are great. Now I'd ask, "Wait, why didn't you stay around and protect it?" Because music changed on you too. It's fun, it should be fun and should help and encourage these guys. That's what was missing from the snap era, you had a lot of guys that would say, "I don't like this." So what can you do to help it? You just want us to go hungry now because you don't like it?
When Shawty Lo started to make his own music apart from D4L, he changed the game. We were street cats, all the way around. If you met any of us while we're doing "Laffy Taffy," you immediately knew that we weren't who you thought we were. I guess that what always was on his mind. He'd already had the song called, "I'm The Man" that was already brewing the whole time "Laffy Taffy" was out. I think that was just him saying, This is what we're really about. Your kids don't need to do this. From 2007 to 2009, I basically went back to the streets and he had to get me out of them. I thought the streets was going to give me more than rap. He basically came and was like, "What's up with you? You need to get up. You need to do something different." I've been out of it for the past five or six years and I haven't stopped since he came and got me.
Shawty Lo was always just trying to let people know that he was authentic. When I was coming up, all we heard was "Carlos Walker," which is his real name. He wasn't Shawty Lo to us and I had to get know Shawty Lo myself. [Laughs] But, he was always the same dude. If you needed somewhere to stay he had you, you needed a car to drive, he had you. He would give you the shirt off of his back, that's just who he was. He was always a prankster, every day he was pulling some prank on you. If he was around, you don't sit in the seat because you might sit on something. Don't go to sleep, he might put something on your forehead. You had to watch yourself around Lo because he's going to do something to you. [Laughs] Walking down the street Lo might push you into somebody and be like, "Yo, what you all on them people like that?" He was a funny guy, a real family man, and a good friend. He was genuine. He was real. If you had to put that in the dictionary, he'd be up there at the top right next to it.