Over the past two years, photographer Anthony Geathers has chronicled New York City's hallowed streetball culture in great detail. As part of an ongoing series, Geathers has shot at legend-making courts like Harlem's Rucker Park, Gersh Park in East New York, and "The Cage" in the West Village, rendering the movement and spontaneity of the game with a cinematic eye.
Though Geathers photographs a wide variety of sports, from boxing to mixed martial arts, it's his poetically visceral streetball images that seem to resonate the most. With a distinct documentary style inspired by the legendary Gordon Parks, the 26-year-old lensman goes beyond the typical glossy aesthetics so common in sports photography, seeking out moments that communicate intimacy, brotherhood, and pure passion.
Born in the Bed-Stuy neighborhood of Brooklyn, Geathers picked up photography as teenager, and later enlisted in the Marine Corps where he served two combat tours in Afghanistan. On Instagram, he regularly speaks out about the social justice power of sports. To hear him tell it, the best of streetball culture is intertwined with the DNA of hip-hop. After all, both are widely regarded as rebel art forms where battle elements, freestyling, and creativity reign supreme. "The music," he says, "is central to all of it."
---
ANTHONY GEATHERS: My brother and I grew up during the AND1 mixtape era. I was just mesmerized. Every time I'm on the court, I feel right at home. Being part of the shit-talking, the hangout vibe, seeing different sneakers and different hairstyles and just hanging out — that's where I feel comfortable as a photographer. When I first started following streetball, I heard a lot of Nas, Biggie, DMX, then it progressed to Jadakiss, Styles P, and that one track by Pete Rock and CL Smooth, "They Reminisce Over You (T.R.O.Y.)" was on regular rotation. For whatever reason, it seems like a lot of the new music isn't played on the courts. Also seeing a guy like Allen Iverson bring that hip-hop swagger into professional basketball, that was inspiring.
When I shoot on these courts I feed off the energy. These guys play on such a high level but there's this great showmanship to it all, both on and off the court. When you follow them off the court you get to see the highs and lows. I like to find out the why of what motivates people to do what they do.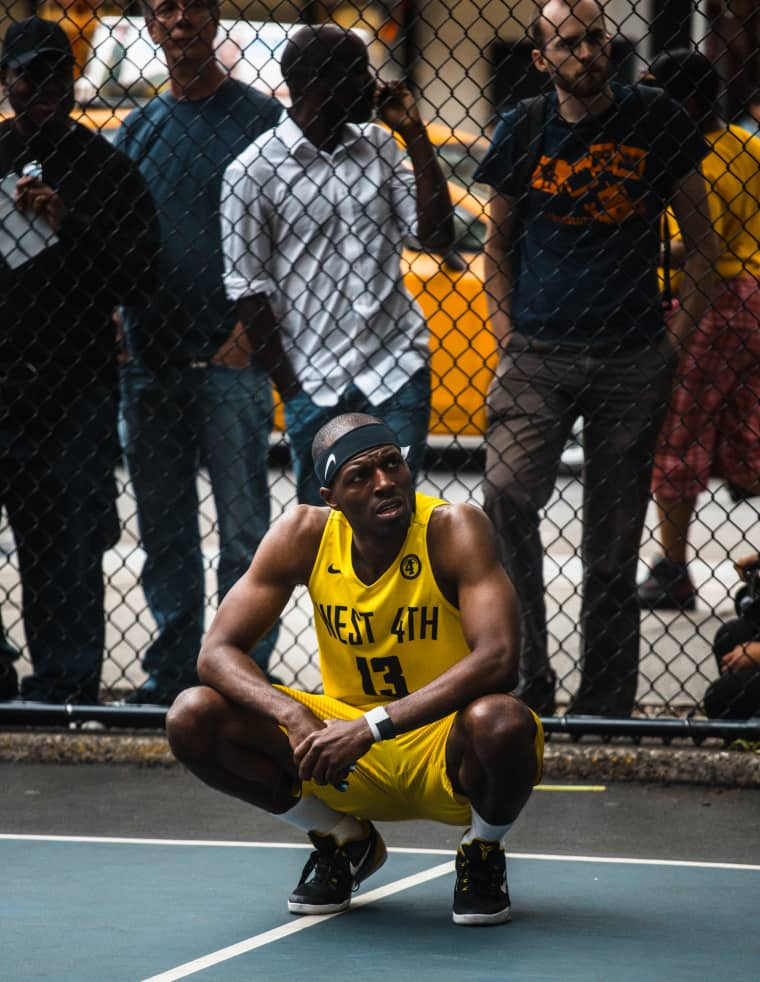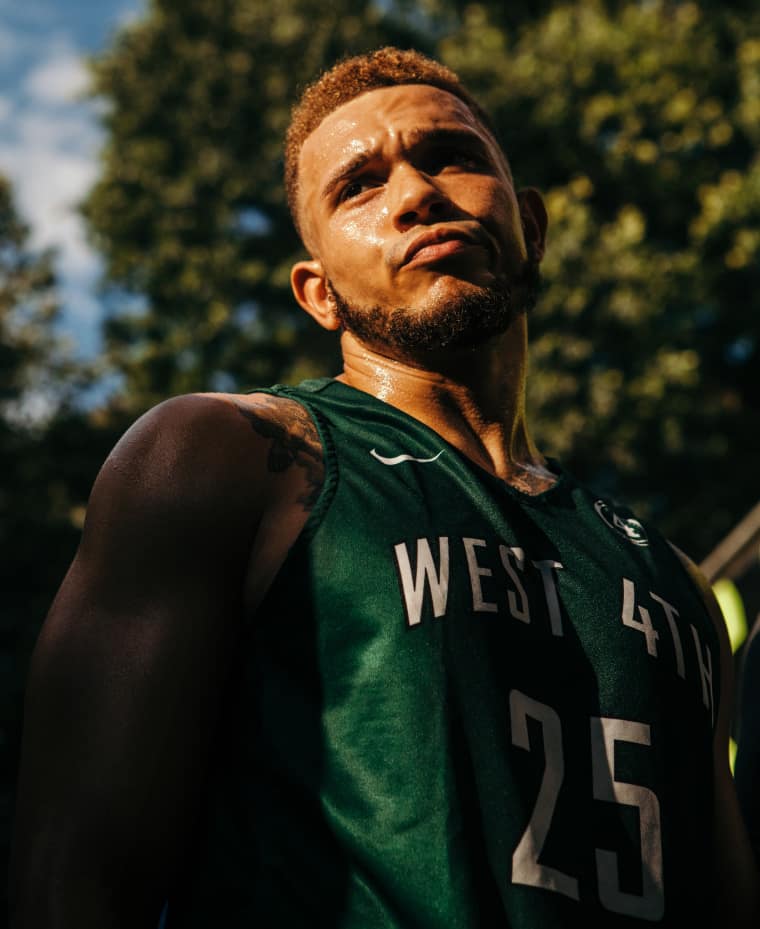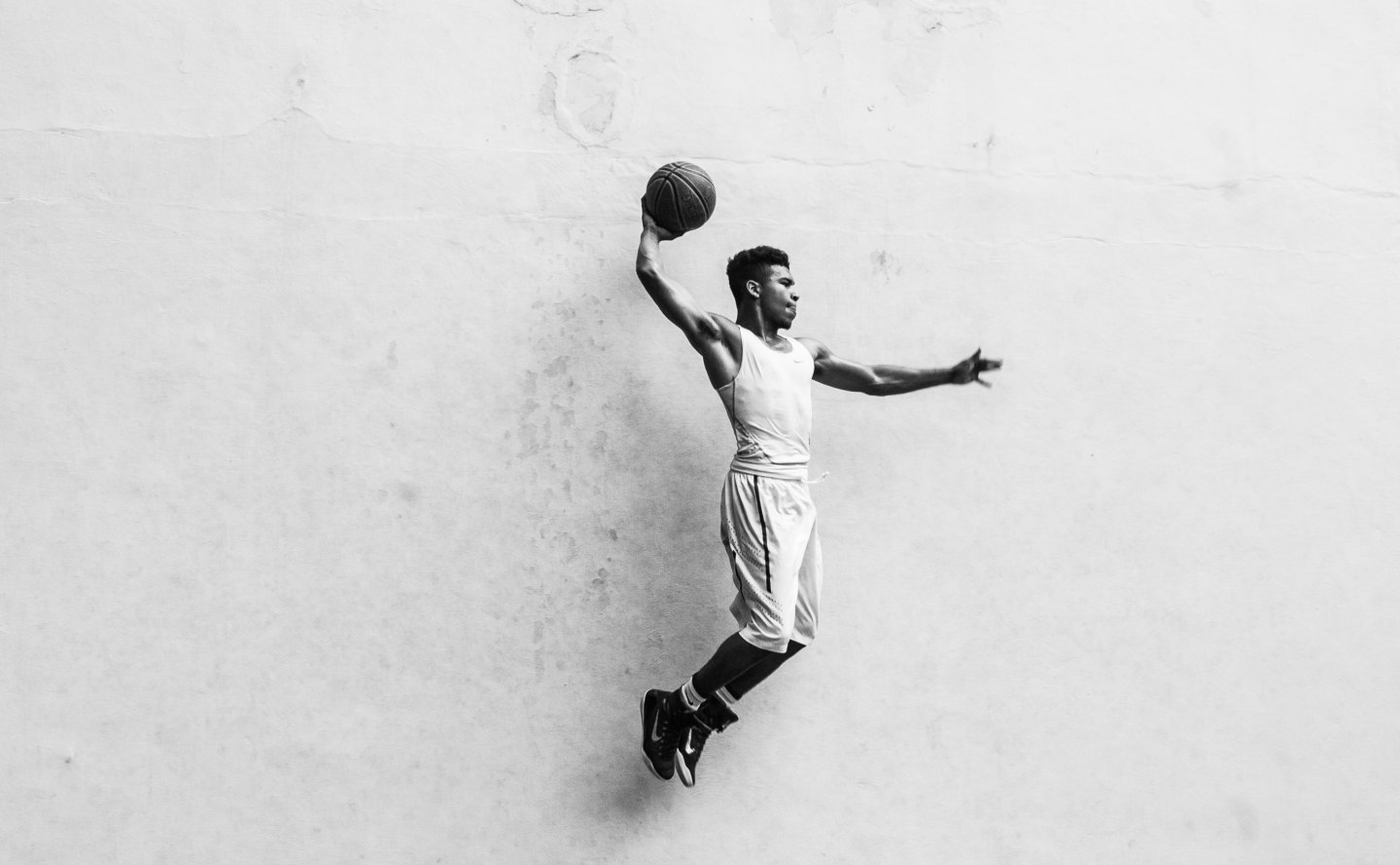 Prior to joining the Marines, I developed an interest in photography in high school. I started learning different film formats, darkroom techniques, and photography history. My role model, especially for the streetball series, is Gordon Parks. I was given a camera in seventh grade. One day I was in the library and I came across a few Gordon Parks books, and I stopped on his photographs of Muhammad Ali. They really stayed with me. Parks shot Ali and his life in a deep way. They became friends. And this was during the Civil Rights era where that kind of personal and professional link was deep.
I shoot mostly black athletes. And I'm a black photographer. Athletes have a responsibility to speak out against the injustice happening. And I have a responsibility to speak out. I'm like, 'You're a young black man and these things are going to hit your doorstep.' So I speak out on my Instagram, on social media, and whenever I have the opportunity. David Branch — a mixed martial artist who competes in the World Series of Fighting's middleweight and light heavyweight divisions — is one athlete who has become a friend. We talk about life as men of color all the time, not just sports.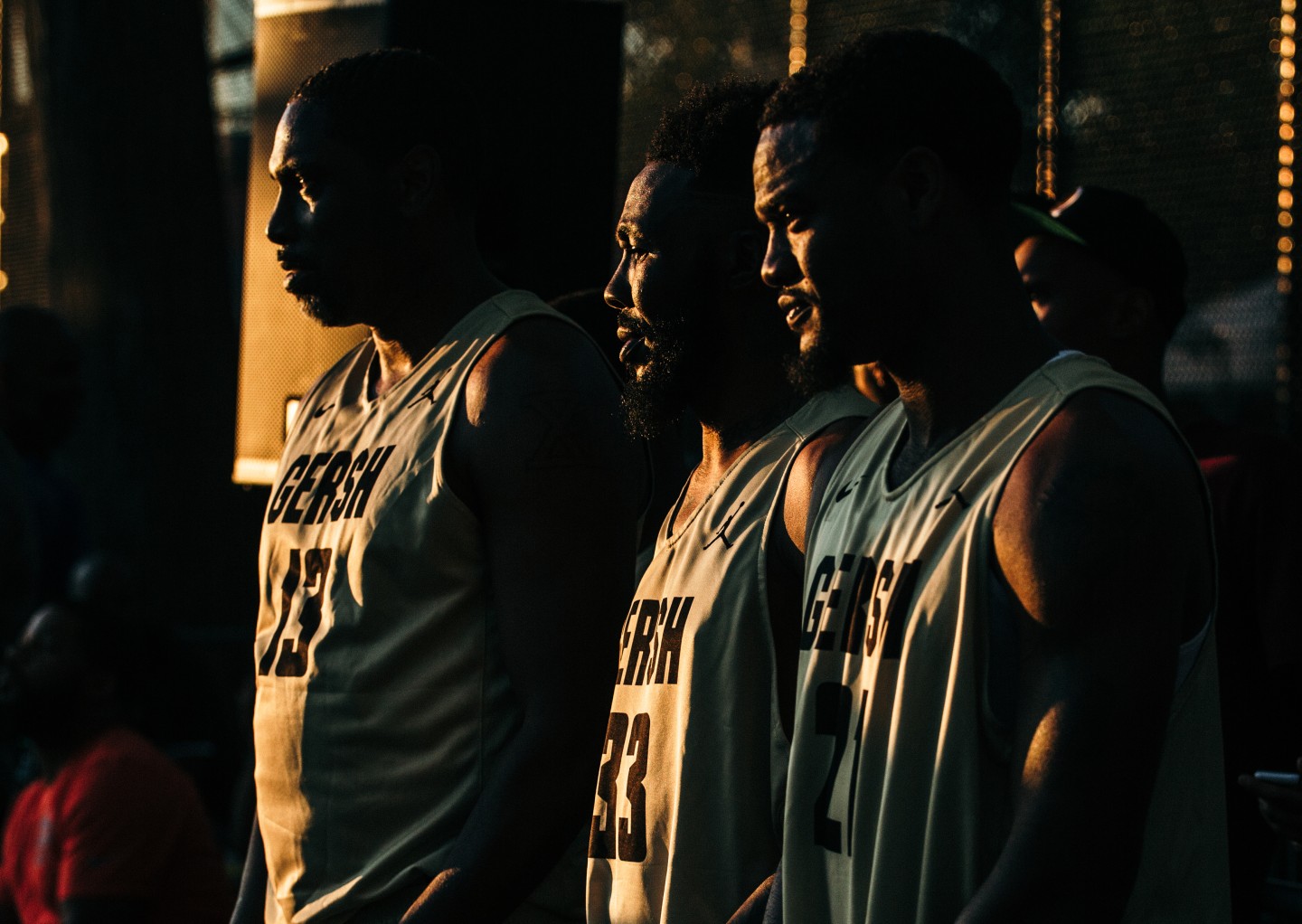 I don't just shoot photos. I make it about the culture and the people. I try to find that moment.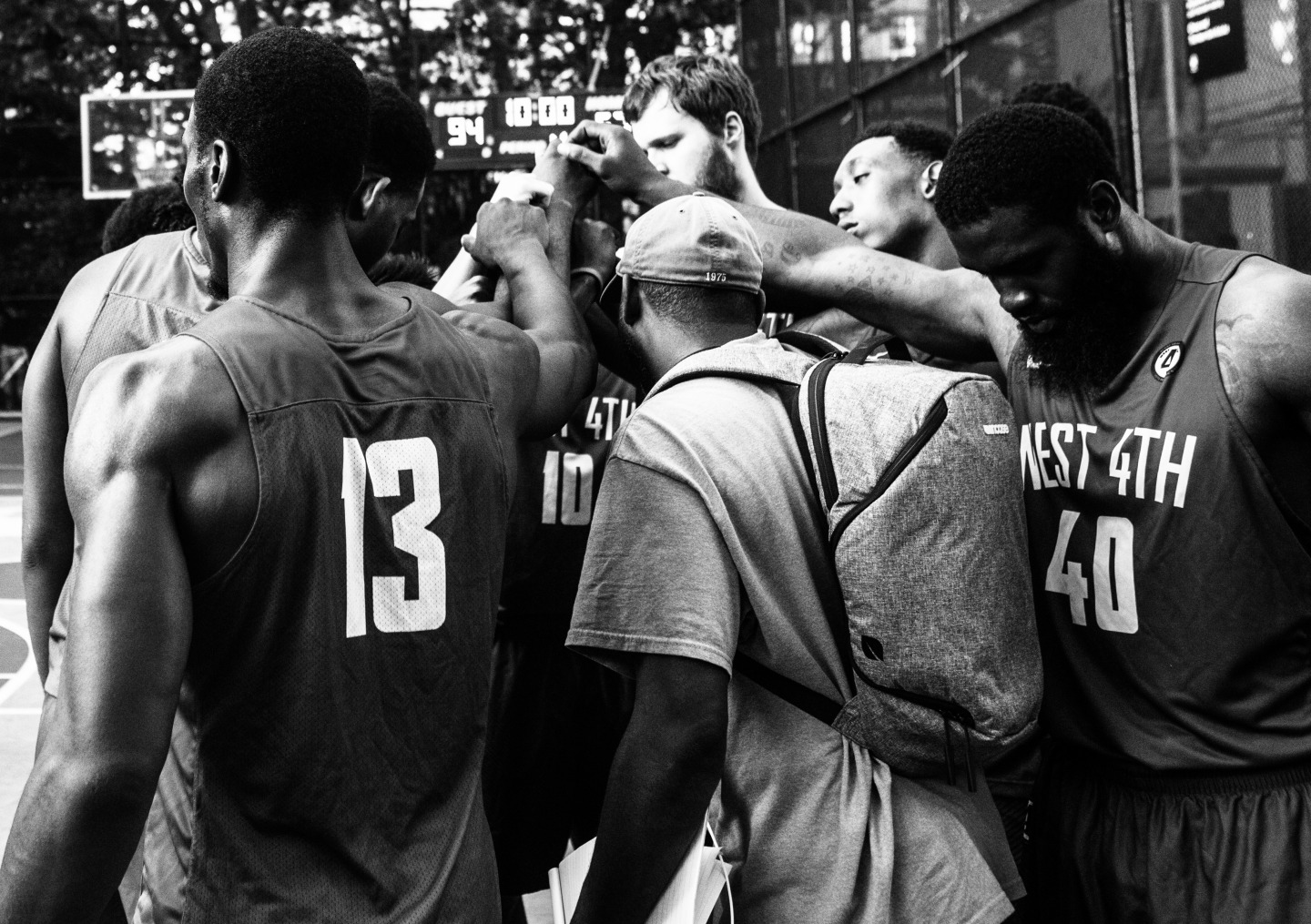 With streetball I get to experiment a lot. I found this 15-year-old kid on YouTube named Jerron Love, from Georgia, who was just killing it as a streetball player. He came to New York last year and I spent the summer with him, shooting portraits and just daily life stuff. He inspired me to shoot more of this culture in a photojournalism style.
When I go to any court to shoot, I'm not just shooting the game. I'm watching for what they're wearing, how they're walking, what their style is. I feed off of each little moment — the energy of the players and the other people on the court. These days, everyone's wearing Under Armour, Nike, and adidas. Nobody wears Reebok anymore. They haven't appealed to the basketball guys since Iverson was playing. I've also been motivated by the young high school kids; they're really changing it up by writing on their sneakers, little inspirational stuff, being real unique with it.
You're in the culture, so you have to adapt. Photographers like Ruddy Roye have showed me that photographing a community is to go beyond just taking a photo. I don't just shoot photos. I make it about the culture and the people. I try to find that moment. What happens when you lose? What happens when you go through pain and adversity? I try to convey all those moments in my work.