James Ferarro Shares Playful Yet Poignant Video For "Security Broker"
The Human Story 3 track was inspired by a visit to the World Trade Center Transportation Hub, Ferraro tells us in a statement.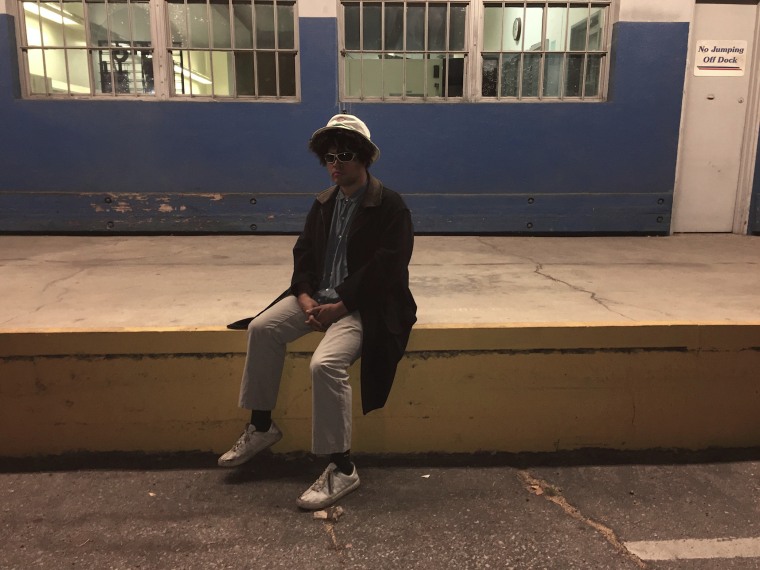 A chamber piece for a half-human, half-cyborg quartet, "Security Broker" is taken from James Ferraro's most recent album, Human Story 3, which was released in June. It's Ferraro at his best: unnerving, nuanced, irreverent. At this point, he's as much an analyst-slash-archivist of the loaded and coded sounds that abound in corporate spaces as he is an artist.
Scroll down for a statement from Ferraro on what inspired the music of "Security Broker," and to watch a new video for it directed by Los Angeles filmmaker Eugene Kotlyarenko. It makes for a bemusing watch: the song's titular protagonist strolls through sanitized hallways and ad-augmented subways, casually flipping through Snapchat filters in environments that demand employees don a corporate mask.
"Take a little stroll through a contemporary late-capitalist habitat," Kotlyarenko instructed The FADER in reference to the video. "Its most horrific agent— the broker — acts as our guide. He's the flaneur of finance and the silent screen we can project all our 2016 feelings onto: ego, anxiety, transcendence, vanity, repetition, nostalgia, distraction, effervescence, and indulgence."
James Ferraro on "Security Broker"
"'Security Broker' is actually a musical response to my experience walking through the World Trade Center Transportation Hub shortly after its opening in March of 2016. It made me think of the whole terminal as a monument representing how we reconcile myth and reality, a monument to the disruptions stemming from globalization, rampant technological growth, or internet poiesis.
In the Westfield shopping mall formally known as ground zero, American idealism resurfaces from beneath the dust of 9/11; placid but forever changed, it raises in the form of the Oculus, a giant American eagle, hallowed out and consumed from within by a mass of vulture-like consumers leaving behind only its bleached out rib cage. Automated voices recall a hyper-sensitive America in the post-9/11 age of terrorism.
I felt like I was literally entering the wounds of national leviathan, walking further into the simultaneous dawn and twilight of an American hero. The entire structure never really transcends the mournful memory of its own tragic nativity scene. Reminders of itself and its meaningfulness are everywhere to the point that it implodes, creating an almost religious effect.
I wanted 'Security Broker' to be the musical equivalent to this environment or something that could be played in the background of the mall or its escalators."