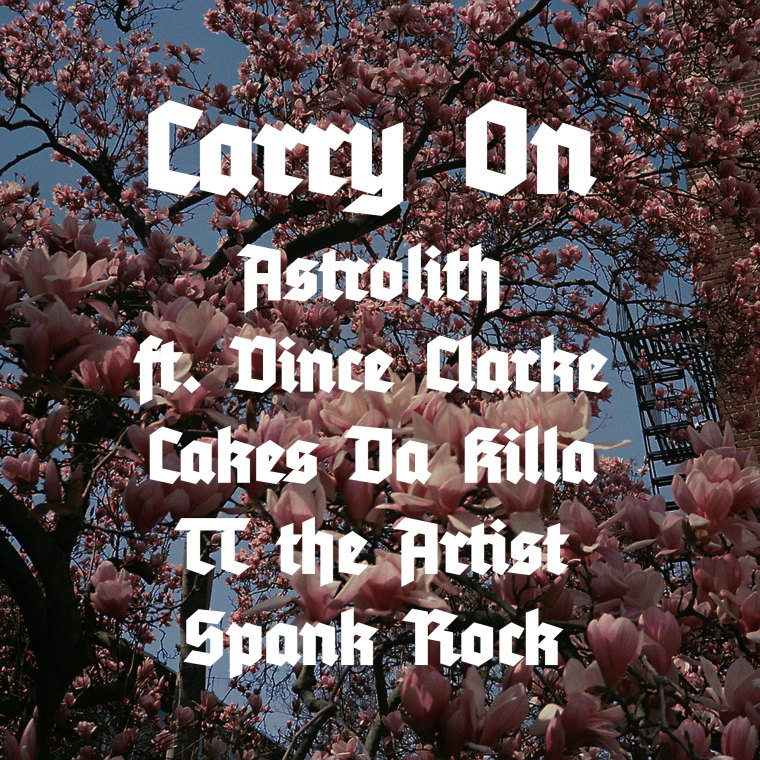 When multiple artists collaborate for a track, it can sometimes lead to sonic madness. However, on Brooklyn producer Astrolith's new single "Carry On," the four artists he recruited came up with the perfect recipe. In anticipation of his forthcoming EP Car Jam, Astrolith collaborated with Depeche Mode's own Vince Clarke to create an intoxicating beat that lives somewhere in between synthpop and R&B. The two producers' sounds swirl like water and sand, creating a uplifting tide that makes space for the three guest MCs: New Jersey rapper Cakes Da Killa, Baltimore club artist TT The Artist, and the South's own Spank Rock. "Carry On" is an anthem for those living their best life in their real life, rather than just on social media. As TT The Artist jokes, 'bout to take a vacay and hashtag a selfie.
"My verse is a playful jab at anyone whose life looks turnt on just on Instagram but in person they are mad bland," Cakes Da Killa told The FADER, over email. "Some of us actually carry 24/7, no faking needed."
Astrolith told us how the track came together: "It started as a simple idea with a sample I cut out of one of the mountains of recordings I have of Cakes, and — before I knew it — three of my other favorite artists/friends were jumping in and bringing the heat."
We'll leave the final word to synthpop don, Vince Clarke: "I was chuffed to be asked to take part in the making of the song. It was a cool track to contribute to and fascinating to see how the project evolved as the various artists added their parts."