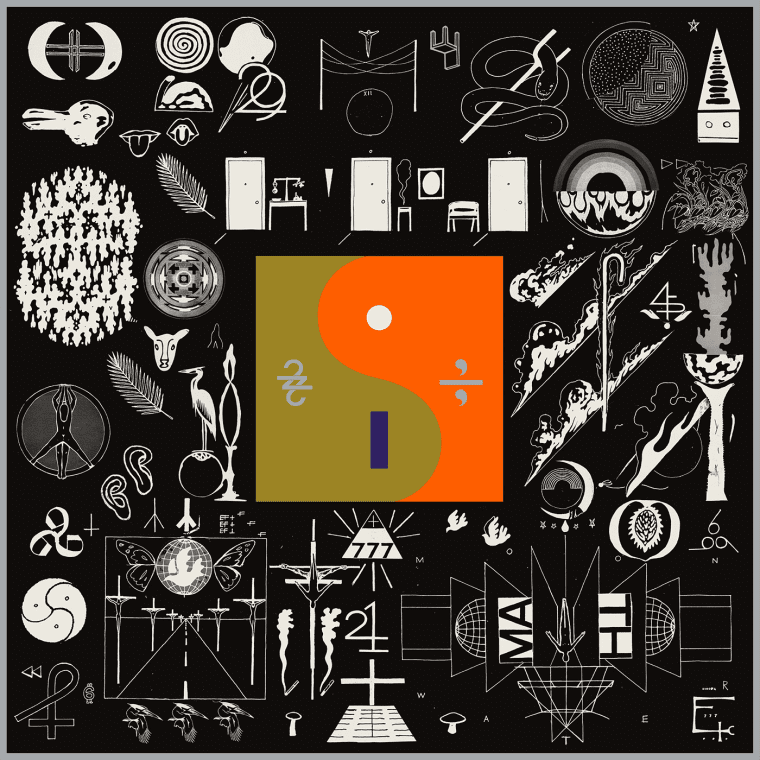 Justin Vernon and his Bon Iver outfit released their expansive 22, A Million on Thursday night after a two month campaign filled with live events. The album serves as one continuous piece of music, but each individual track name and their imaginative symbolism (like: "666 ʇ") really stand out.
The artist behind the visuals for 22, A Million is Eric Timothy Carlson, a 32-year-old multidiscipline creator based in New York City by-way-of Minneapolis, Minnesota. While living in the Midwest, Carlson befriended a number of people in the local music scene, including Justin Vernon. Their friendship eventually led to the creation of a body of work that pairs with each song on Bon Iver's new album. When the album debuted at the Eaux Claires Music Festival in Wisconsin in August, The FADER spoke with Carlson about how the project came to be, the artists who've inspired him, and the enduring connection between music and art.
What's the history of your partnership with Justin Vernon and Bon Iver?
ERIC TIMOTHY CARLSON: I went to school in Minneapolis and Iived there for ten years and I was involved in doing artwork with music, making music, up there for a long time. One of my first album art projects was with this hardcore band, Building Better Bombs. And [Gayngs founder] Ryan Olson was in that band and later I did the Gayngs logo, which was a project largely organized by Ryan Olsen and Justin. Justin was in touch with me and I just got an email one day that was said, 'We have to work on something together sometime.' [That was] maybe five years ago. And then over the last two years this conversation has been building and so this weekend has been a big release for that process.
This album is a surprise to a lot of people. So, did people close to you know that you were working on this or were you sworn to secrecy?
People that know me knew a thing or two, but everybody's pretty good about respecting the privacy of the project. I think the Bon Iver thing is known for being a private kind of entity, it's guarded. I wanted to be able to do the work and fulfill the vision before putting it out there and let that conversation grow and be able to show the extent of the work as a whole body, a vast system.
You mentioned there's a lot of artwork for this album. So far, Bon Iver have shared the album artwork and two music videos for album tracks "22 (OVER S∞∞N) [Bob Moose Extended Cab Version]" and "10 d E A T h b R E a s T ⊠ ⊠ (Extended Version)." How much more material is there to this project?
Well, the first two singles are out and they came out on vinyl and on cassette tape. And then the full album is coming out in every format as well. And the two lyrics videos have come out and I guess I would feel comfortable saying that we're working on the videos for each song in line with what was established with the first two. There's the ten murals that went up in cities around the world. There's a lot of material in the artwork to dig into. It's been exciting to see people pick the videos apart and pull pieces and to start connecting the murals to it.
Judging by the two singles and the track names, this seems to be a major departure from the days of For Emma, Forever Ago. How do you feel your art fits into this new version of Bon Iver?
I personally feel aesthetically connected to the new material and I find it exciting. I practice both very analog and digital output and I know that in their press release they're talking about the song being a polyphonic sound. I think that is in regards to both this analog and this digital, this kind of human, natural, traditional thing—people make music—but also they're using tools and there are aesthetics that are very now or on the precipice of the process and the tools and the capabilities of music. And so it's reaching back and it's reaching forward, simultaneously. And that's another thing I felt very accustomed to personally. I love to draw, I love these things that are just natural and human and mark-making. Certain icons feel like they can be hundreds of years old, others feel like they cannot be invented yet.
And when you were creating all these symbols and imagery, did you adapt from your previous work or did you just start entirely from scratch?
All of the artwork has been in conversation with the Bon Iver project for a number of years now. I came up to the recording studio about two years ago for the first time to listen to the work as it was progressing. So, it was all from scratch and everything that was made for it was made in direct conversation and as specific iconography to all of the content. Each song had a vocabulary behind it—not only the song symbols, but all of the illustrations came out of the lyrics and the ideas. And each song has a suite of material. So, for the full album, it was a process of collaging that to make all the different formats that it fits into. And then the videos are kind of coming out of that process, too, where we're making these lyrics videos so that they each have that suite of content per song. There's the whole universe of the album to pull from, but then also making these individual experiences for the videos.
To that point, how do you feel that your art changes when you're working on a music project versus working on sculpture, installations, painting, or collages?
Well, one thing that I feel is the same is that a lot of my work I rely a lot on production and process. There's a lot of make and make and make until things become clear and you can make decisions and you can edit. And I guess I'm also well-versed in collaboration. This is very much a collaboration with Justin and with everyone involved in this. But I feel confident in being able to be open to conversation and be able to consume the ideas that are floating around on the tips of everybody's tongues in the process and to see where that fits into my vision of it. And [then] I just try to translate that into a cohesive body. I get to make my artwork, but I also get to make it in response to this vision.
With your own personal artwork, what are your biggest influences? Are there particular artists that you admire?
Probably the first thing that comes to mind is someone like Mike Kelly and people that have these very sick bodies of work, very diverse bodies of work. There's sculptures and image work, but they're also involved in music and involved in collaboration. Someone who can defy a lot of genres and be a real person making some dark, sick work—I find that really inspiring. Being involved with all the people around you that you're really inspired by and working wit them is very important to me. I can list some others: John Wesley, keiichi tanaami, Gee Voucher, Carl Jung's red book, CF, Alejandro Jodorowsky, Moebius, Ed Fella, Herb Lubalin, Ray Johnson, Marcel Broodthaers, Adrian Frutiger, Tauba Auerbach, Aubrey Beardsley, and Hipgnosis. I really love art.
This project is sure to generate a lot of interest in your work. Do you think you'll do more musical collaborations or turn back to your own work after 22, A Million is out in the world?
Specifically in terms of music and working with musicians, it's honestly been a big part of my life and practice for the last ten years. Music is really important to me and there is a dialogue with musicians and music that is just ingrained in my thought process. I imagine that'll continue. And ideally, as my work has grown and progressed I've always kind of followed the things that feel exciting and honest and good and powerful. I'm excited to keep pushing it, for sure. I love working with people that I'm inspired by and that are really intelligent and motivated. I get a lot of inspiration from them.