Eugene Monroe: "Football Is Killing People"
The former pro-athlete retired from football because it was killing him. Now he wants to end the league's opioid-abuse epidemic — one vape hit at a time.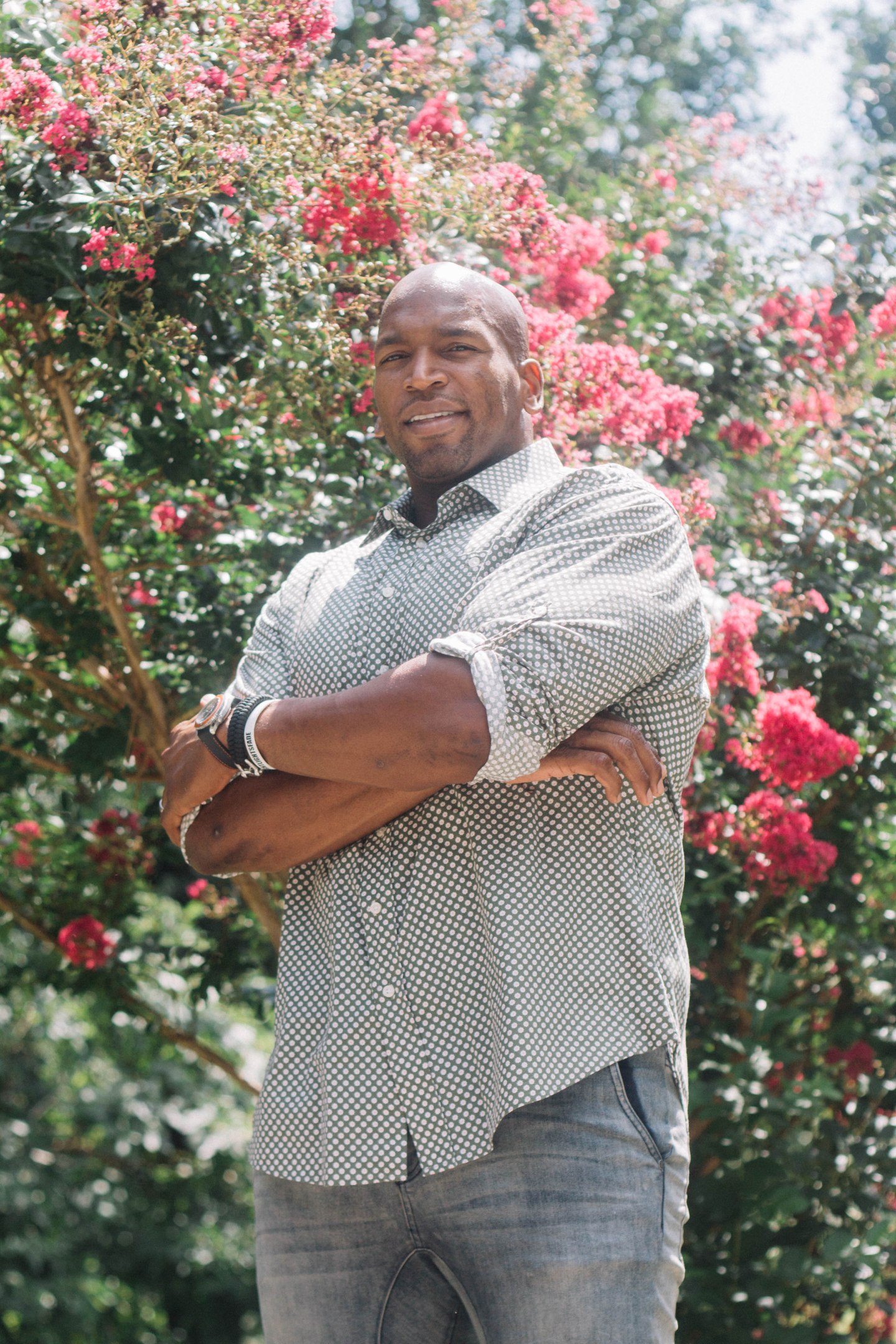 On September 21, 2015, Eugene Monroe woke up in a daze. It was early. Predawn. It was the worst he'd ever felt in his life. The day before, in Denver, the 6'5" 300-pound Baltimore Ravens offensive tackle had suffered a concussion on the team's first series from scrimmage. He was hit by Broncos linebacker DeMarcus Ware on a third-down play. After the offense failed to advance the ball, he stumbled to the locker room and, unable to continue, he sat out the rest of the game. Afterward, the Ravens' team doctor prescribed him the sleeping pill Ambien and the pain medication Topiramate. That night, Monroe flew to Oakland, where his team was staying ahead of its next game, against the Raiders.
As the plane cut through the sky, his head felt as if it might suddenly collapse in on itself. Early the next morning, he decided he would check in again with the team's doctor. When he opened his hotel room door to exit, slivers of light from the hallway blinded him and intensifed his dizziness, causing him to throw up. None of his teammates were awake or around to see, so he quickly gathered himself and continued to a makeshift trainer's room set up in the hotel where the doctor prescribed more painkillers and advised him to rest. By now the sun had fully risen. Still in a bit of a stupor, Monroe returned to his room to lie down. But he'd left the blinds open, and as he entered the space, a flood of yellow light — or at least, what felt like a flood of yellow light — illuminated the room entirely. He passed out in an instant.
"For the rest of the week I was miserable, just sitting in my room," he says. "Half of the time I didn't know who I was or why I was there." It's late August, just over a year since the concussion, and Monroe — clad in gray and red workout clothes — is recounting the details of the ordeal from the comfort of his home, in Owings Mills, a predominantly black middle-class suburb 25 minutes from downtown Baltimore. "My wife called me," he continues, returning to that week back in Oakland, "and she didn't even know who she was talking to on the phone."
A subtle Reiki melody chimes from a 65-inch flat screen as Monroe tells me about his almost two decades playing football and why, at 29, he ultimately had to leave the game he loves so much. It's just past noon, and we're in his man-cave of a basement. The zen-inducing music that fills the space where we talk has a fully calming presence. A stream of mist erupts from a small black humidifier that sits atop the TV stand. Monroe's dog — a large Rottweiler named Kon ("It's from Bleach, an anime I watch with my wife") — sleeps in a cage nearby. It's all exceedingly chill. It makes you wonder how the former first-round draft pick could have ever played a sport that is so violent and unkind.
"There's still a lot of denial. They feel threatened," Monroe says of the NFL's reaction to the increasingly loud criticism lobbed its way about how dangerous the game has gotten. "But you know what? People should threaten the game of football — because it's killing people."
By 2016, Monroe was plagued by chronic pain. His left knee and left shoulder — both the recipients of surgeries — were the main culprits, and aches coiled constantly throughout his body. To deal with the pain, officially, he had only NFL-sanctioned medications: namely, powerful opioids like hydrocodone, oxycodone, codeine, and the drug that Prince was using at the time of his death, fentanyl.
According to various reports and studies, overprescription and abuse of opioids are rampant in the NFL. Ask Monroe and he'll tell you about Eben Britton, a former Jacksonville Jaguars teammate and fellow lineman who suffered from shoulder and back injuries, and how the pills he used to manage the pain, as Britton wrote in Sports Illustrated, ultimately made everything worse — blurred vision, a ruptured appendix, "waves of anxiety and despair." He'll also tell you about Brian Schaefering, a former Cleveland Browns defensive end he played against. The cocktail of pills that Schaefering was prescribed while playing has caused memory loss and speech issues. "His wife said she basically has a fifth kid now," Eugene says, somberly.
"People should threaten the game of football — because it's killing people."
In July of this year, Monroe announced his retirement from the NFL. "The last 18 years have been full of traumatic injuries to both my head and my body. I'm not complaining, just stating a fact," he wrote on The Players' Tribune website. Then, he declared: "More steps need to be taken to curb the overuse of opioids in NFL locker rooms, and I won't rest until something is done."
Workout equipment idles against the far wall as Monroe leans back in a brown recliner. "The league is miserably failing its players," he says. "Any environment where pain is a constant, and there is a prescription of painkillers that lead to addiction, access to healthier alternatives should be an option."
The greatest of those healthier alternatives, he believes, is cannabis. "We can implement cannabis into [the NFL's] health care programs in a very responsible way," Eugene explains. "And players would be much better off. There's a want for it from them, though they aren't willing to openly speak out about it now."
Currently, weed is legal in some medicinal form in 25 states and the District of Columbia — 12 of which are home to professional football teams. Even so, among conservative circles it's still viewed as a recreational drug used by slackers. "The substance that I'm fighting for is one that has a great deal of stigma deeply ingrained in people," Eugene says. Unlike the opioids that have damaged his friends, cannabis is currently on the NFL's banned substances list. "But I understand [the league's fear]. I used to be one of those people."
All of which brings us here, on a late summer day in Baltimore County. In the months leading up to his retirement announcement, and in the months since, Eugene Monroe has become an outspoken advocate for medical marijuana research. He wants to put an end to football's opioid-abuse epidemic and ensure a better future for the men he once played with and against. It's why he's doing all of this: using his status to raise awareness, funding scientific trials, and embracing all the consequences that come with it. Monroe now has his biggest challenge ahead of him: taking on the NFL.
---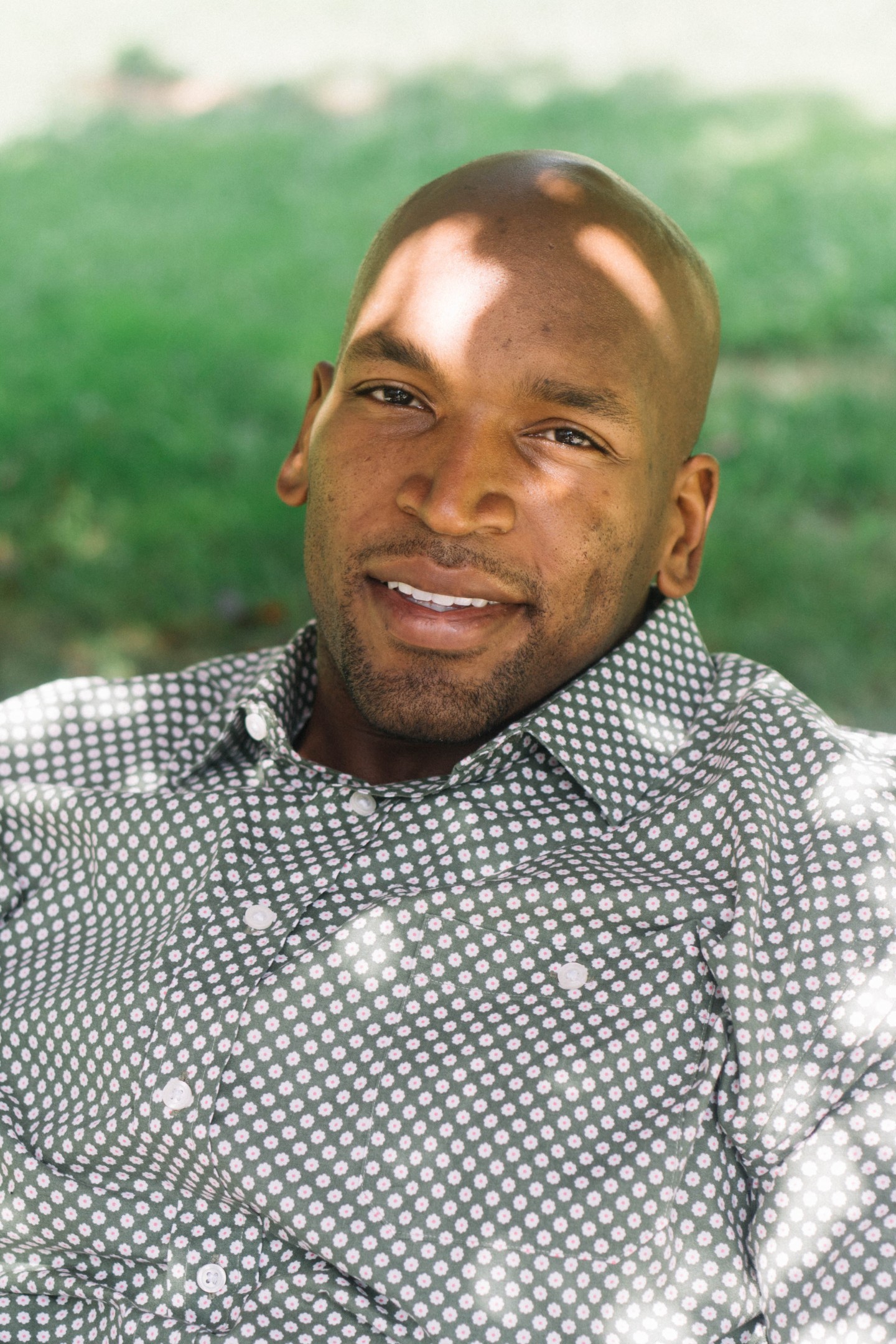 About a three-hour drive up I-95, on the southwestern edge of New Jersey's Union County, is a city called Plainfield. It's one of the state's majority-black communities, a haven for many black residents since citywide riots in 1967 caused white homeowners to flee. But like other working-class black neighborhoods in the '80s and '90s, Plainfield was not immune to the venom of American racism. "Everyone was close, but I can remember people being harassed by the cops for the most minor things on a weekly basis," Monroe says of his hometown.
In Plainfield, Monroe was surrounded by the love and laughter of his sprawling family. He's the youngest of 16 kids — 10 brothers and five sisters — and also the biggest. When he was 11, his father died of multiple myeloma, a form of cancer. A self-proclaimed "science junkie" who loved to go offshore fishing with his grandfather, Monroe was pushed to play football early on by folks in the neighborhood. "They understood the opportunity that I could have," he says of that time. "And it happened to pan out really well for me."
In the essay announcing his retirement, Monroe lovingly recalled his first day of Pee Wee football and a memorable drill called Bull in the Ring: "As I laid out teammate after teammate, one of my coaches kept screaming, 'Put his dick in the dirt!' I had no idea what he was talking about, but his tone suggested that I should keep laying people out!" At Plainfield High School, he became a standout player and the anchor of the o-line, which didn't allow a single sack in three years. According to the scouting site Rivals.com, Monroe was the third best player in the country in his senior year.
He was twice named a first-team All-State lineman, and would field offers from elite college football programs like Miami, Oklahoma, and Florida State. For Monroe, the decision was about more than playing ball. He ultimately chose the University of Virginia: academically rigorous but, relative to other powerhouse institutions, not as renowned for football. To hear him tell it, "I didn't see things with only an athletic lens. Education was at the forefront."
On the first padded practice of spring camp, he suffered a knee injury that would require surgery and still bothers him to this day: "I saw a dent where my knee cap was supposed to be," he says. Despite the early setback, he would go on to set school records, earn all-conference honors in the ACC, and guide UVA to two bowl games. When he graduated with a degree in sociology and declared for the NFL draft in 2009, Sports Illustrated labeled him "undoubtedly the best tackle prospect at the position."
He was drafted by the Jaguars 8th overall and signed a five-year deal worth $35 million, with a guarantee of $19 million — the most in team history. "It was a lifetime of work that was realized that day, a lifetime of perseverance," he says. The team struggled during his time in Florida, but Monroe flourished: he only missed three games in five seasons and became known as one of the premier pass blockers in the game.
"The substance that I'm fighting for is one that has a great deal of stigma deeply ingrained in people. But I understand [the league's fear]. I used to be one of those people."
In 2013, the rebuilding Jaguars traded Monroe to the Baltimore Ravens, who'd won a Super Bowl the year prior, in exchange for multiple draft picks. The move would prove to be a good thing for his family: he and his wife Nureya, who is from Maryland, were now closer to home. Professionally, however, Monroe's time on the Ravens was rocky. He missed 17 of 34 games and battled multiple injuries to his knees, ankles, shoulders, and head. In early June of this year, he was released.
It was during his time on the Ravens that Monroe became more vocal off the field. Around the house and among family members, he is known as "Mr. Google" — "He wants to teach everybody everything," Nureya says — and it was in the course of his relocation to Baltimore that he began to look more into the benefits of marijuana as a substitute to painkillers, though he never smoked while active. Less than a month before he was terminated by the Ravens, Monroe wrote an op-ed in which he called on the league to remove marijuana from the banned substances list, to contribute funds to medical marijuana research, and to stop overprescribing addictive and harmful opioids to players. When he did, he became the first active player to openly challenge the league on the issue. Weeks later, he would appear on Yahoo News, speaking with host Katie Couric, saying: "I want the NFL to take a serious look at the medical value of cannabis, which they currently deny."
ESPN football writer Bill Barnwell says, "There were reports before Monroe published his article" — the June op-ed — "suggesting that the Ravens were going to release him, given their cap situation and his repeated injury absences, but ownership was also saying in March that Monroe was going to be their starting left tackle. It's hardly out of the question that Baltimore would have cut Monroe without his public marijuana advocacy, but given the timing of the move, long after the money could have been freed up to use on a replacement, it seems likely that Monroe's article and stance was at the very least part of the decision to move on."
Monroe remains diplomatic when we discuss the matter: "You could make an assumption that I was released because of it. I don't know for certain."
When asked to comment for this story, Ravens owner Steve Bisciotti — who previously came out in support of Monroe's push for more research to be conducted — responded: "No thanks."
---
Toradol, a nonsteroidal anti-inflammatory, is among the most popular painkillers prescribed by team physicians in both the NFL and NCAA. "Toradol masks the pain even a day or two after the game," Monroe tells me. "Some players don't realize they have [an injury] that's jacked up because the Toradol is still kicking in their system." Beyond Toradol are the more addictive opiate-based painkillers like Percocet, Indocin, and Vicodin — drugs that are also regularly given to players to manage aches and swelling.
Just days after a December 2015 shoulder surgery, Monroe experienced the worst side effects of the oxycodone he'd been prescribed for post-surgical pain. "I was sitting in this chair at another place, and I was just drooling on myself. I was like a zombie," he remembers. "The pills were helping me with the pain, but I hadn't gone to the bathroom in a week." (Which is not to say using weed is not without side effects. Smoking can cause cancer, heart disease, and increase the likelihood of impotence, among other conditions.)
At one point, Monroe tells me he had been on a steady course of anti-inflammatory drugs since 2006, though he eventually stopped taking pills once he retired.
"For a decade?" I ask, to clarify.
He pauses to think. "Pretty much. Just saying it — I don't think I've ever pieced it together until now. That's a long time to be on some powerful drugs."
During that period, his go-to was Celebrex, though he did use Indocin once ("that stuff ruined my intestine"). Now? "I just use weed. The only pills I take are..." he trails off, pointing to a cabinet in the far left corner of the room. "It's full of vitamins."
In 2014, more than 1,300 retired NFL players filed a class-action lawsuit against the NFL. The suit alleged how, over the span of decades, teams recklessly administered prescription drugs in illegal doses. The suit also shed light on the league's rampant culture of pill abuse among players and its lack of medical oversight within team organizations. With such loose restrictions, players were becoming addicted to painkillers and dependent on a medley of drugs well into retirement.
"Rather than allowing players the opportunity to rest and heal, the NFL has illegally and unethically substituted pain medications for proper health care to keep the NFL's tsunami of dollars flowing," the suit's complaint read. Lending credibility to those claims was a 2012 study by Washington University's School of Medicine that found that 52 percent of former players in the NFL had used opioids during their NFL careers, with 71 percent of users reporting they had misused them.
The week Monroe experienced the most debilitating concussion of his life, in late September of 2015, 233 other players were reeling from injuries, too — and it was only Week 2 of the 16-game regular season. According to stats released by the league that week, there were 2 neck injuries, 40 knee injuries, an unspecified injury to the head, and 12 concussions. By the end of the season, the NFL's own team doctors reported 182 overall concussions, a 58 percent increase from the previous year.
All of the neurological deficits Brian Schaefering, the former Browns player, suffers from — memory loss, speech impairment — are signs of chronic traumatic encephalopathy, or CTE, a degenerative brain disease linked to repetitive and severe trauma to the head. A Frontline report from 2015 found 87 of 91 deceased NFL players had tested positive for CTE, which is said to cause chronic headaches, disorientation, light sensitivity, fluctuating mood changes, and dementia, among other fatal afflictions. "That's a possible reality for all ball players," Monroe says.
Dr. Sue Sisley is an Arizona-based physician and the principal investigator on an FDA-approved trial that is looking into the safety and efficacy of medical marijuana in veterans with post-traumatic stress disorder. Many vets share similar symptoms of football players with early signs of CTE. Though her trial is in its early stages, Dr. Sisley believes cannabis could prove to be an adequate substitution therapy for opioid dependence. "If you think about how many years Eugene has been exposed to this, he has a right to be terrified about what condition his brain is in," she says. "He might have normal brain imaging now, but he still doesn't know what it will look like in five years."
Later, upstairs in the kitchen, Nureya returns from a meeting with business partners for the catering agency she owns. (Eugene also co-owns a company, a real estate business that he started in 2014 while an active player, which oversees property in Maryland and North Carolina.) The kids are here, too — Farah, 4, is home sick from school, and Xavier, 2, wanders between the playroom and the den babbling to himself. Sonia, just a few months old, is upstairs asleep. Nureya and Eugene met in college, and have been married five years. She recognizes the importance of her husband's cause far beyond its impact on football players. "He understands that if the NFL can do it and say, 'This is fine,' it would set a precedent," she says. "The NFL is like God in America."
Monroe is now a part of a small movement of NFL weed acceptance: also in the fight are active players like Titans linebacker Derrick Morgan and former players like Jake Plummer, Kyle Turley, and Ricky Williams. Williams, in particular, is an interesting case: after an outstanding first few years in the NFL, he flamed out, partially due to suspensions for marijuana usage. He now claims he would have become a Hall of Famer if weed was legal.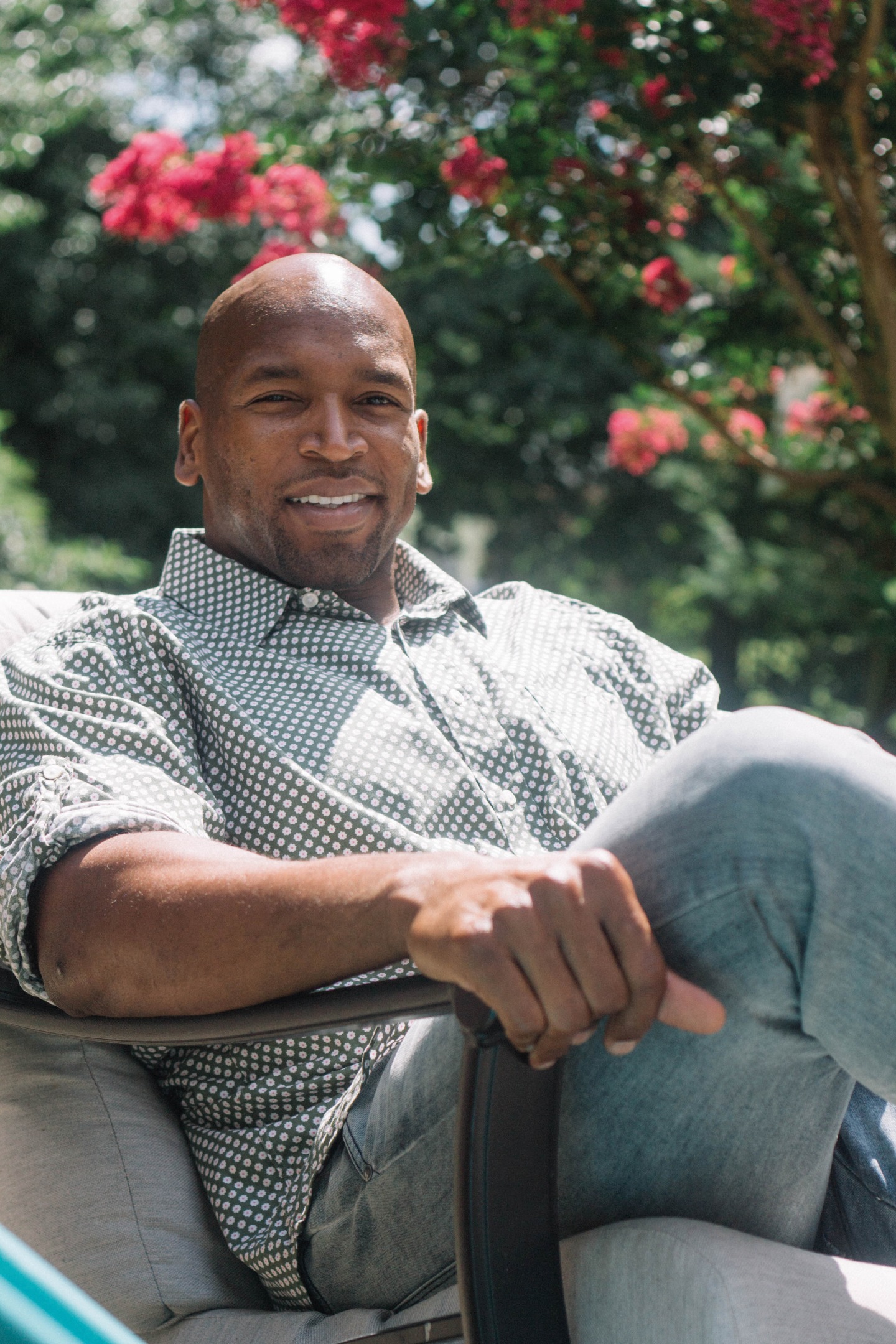 But despite Monroe's membership in this particular fraternity, he is not what you'd consider a stoner. Before retirement he had only smoked once, in the offseason, during his bachelor party in 2011. Even now, he rarely sparks up. And when he does, he uses a vaporizer (sometimes filled with the mood-lifting, sativa-dominant Jack Herer strain of weed) or buys "organic, extra virgin coconut oil" and infuses it.
"I'll throw it in a shake or I'll put it on my food with dinner. It helps me to be more relaxed and pain-free in the evening. My personal experience has been that the products that have THC in them are far better at mitigating pain." He says that there has been no negative impact in any aspect of his life since switching to marijuana post-retirement. "In fact, I feel better. I might be more productive now."
Just days before the 2015 Super Bowl, NFL Commissioner Roger Goodell affirmed that the league's position on removing medical marijuana from the banned substances list had not changed. He said NFL medical advisers would continue to comb through research, but thus far did not find considerable evidence to alter the rule. "We believe it's the correct policy now, in the best interest of our players and the long term health of our players," Goodell said. As it stands, players are tested once a year, during training camp in August. If the results return positive, reprimands vary: first-time offenders are sent to the NFL's substance-abuse program. Repeat violations range from multiple game suspensions to a one-year ban. In September, Goodell announced that the league would commit $100 million to research and technology addressing head trauma.
"The league will continue to follow the advice of leading experts on treatment, pain management and other symptoms associated with concussions and other injuries," wrote NFL spokesman Brian McCarthy to The FADER via email. "However, medical experts have not recommended making a change or revisiting our collectively-bargained policy and approach related to marijuana, and our position on its use remains consistent with federal law and workplace policies across the country.".
"If the NFL can do it and say, 'This is fine,' it would set a precedent. The NFL is like God in America."—Nureya Monroe
To Monroe, this is no longer a responsible stance. "The implications of what the NFL does could reverberate throughout our country. For cannabis, it's beyond just the medical implications. When you look at the population of people who are most devastated by prohibition, that group looks much like what's in the NFL, which is almost 70 percent minority. Many of these guys come from places where the prohibition of marijuana has destroyed their communities and some of their families as well. You can't separate that fact either. The NFL's changing of these policies could have an effect on these guys."
There's also the matter of his son, who one day might want to follow in his dad's footsteps. "We now understand that these painkillers aren't as safe as we once believed. I'm not even considering letting my son even think about playing football. I'd be guaranteeing he has some level of brain damage. As his father, how could I do that?"
In May, Monroe donated $80,000 to Realm of Caring, an advocacy group that works in conjunction with the School of Medicine at Johns Hopkins University and the University of Pennsylvania. The organization is studying the impact of medical marijuana on traumatic brain injury and CTE. On Twitter, where he's amassed 25,000 followers, Monroe regularly campaigns for the neuroprotective virtues of cannabis. He's appeared on ESPN's Face to Face, Slate's Hang Up and Listen podcast, and spoken about his weed advocacy to Deadspin and the New York Times. He says he will continue to sponsor research as well as team up with active and former NFL players and relevant organizations to move the cause forward. He recently joined the nonprofit Doctors For Cannabis Regulation as its Athletic Ambassador. And in October, he will speak at the Museum of Broadcast Communications in Chicago for the Streetwise Gala, further raising awareness and spreading his gospel.
Despite persistent barriers, Monroe remains hopeful and isn't deterred by the league's resolute outlook. "I know without a shadow of a doubt that I'm on the right side of history," he says. "But more importantly, I'm doing the right thing. If we can find solutions to the issues that are at hand in the sport, then maybe we can better protect people. It's a game that people care so much about and, if so, let's find solutions to make it playable — because right now, it's not."
Though Monroe misses the camaraderie among teammates, he doesn't plan on ever donning a helmet or pads again. Despite the tight bond he has with his family, many relatives questioned all the money he would be leaving on the table once he left the league for good ("The Giants called right away, and frequently"). But he never gave in. His purpose was clear. "What am I gonna do, earn that money and not be able to spend it? Sign a contract and 10 years later every dollar is going toward health care? It makes no sense." He's content here, at home, spending as much time with his wife and kids as he can. "I've been doing everything I can to be super dad around the house," he says.
Back downstairs, Kon rumbles and whimpers in his cage, wanting to break free. Eugene stands to release him, opening the door that leads to the backyard, a hilly cascade of green. As he turns the knob, a honey-yellow light pours into the darkened room, illuminating the space fully. Kon sprints into the yard, just out of Eugene's view. "Hold on," he says, pausing the interview and exiting through the door, "let me make sure my dog isn't running through the neighborhood."