In the days leading up to the release of Solange's dense and intricate A Seat At The Table, she posted a photo of herself and six black dancers standing before a green and rocky mountain. They're standing abreast one another, no one foregrounded or backgrounded, in a kind of tableau of sisterly solidarity; here, a head rests against a shoulder, and there, an elbow gently leans against its neighbor. They're connected in another, much more visually arresting way as well: by their cap sleeve, knee-length lilac dresses, which are linearly bound together, the tail of one twisting up into a Grecian detail on the next, the loose fabric acting like a wave encompassing them all.
In the accompanying caption, Solange explains that her mother, Tina Knowles Lawson, was primarily responsible for the construction of the "Issey Miyake inspired purple babes" over the course of just two days. Miss Tina is, famously, a deft and nimble seamstress, responsible for many of Destiny's Child's color-coordinated outfits, as well as being the brain behind her own line, the since-retired House of Deréon (named for Tina's mother). In her elegiac review of Solange's most recent release, writer Doreen St. Felix opens with a bit of Knowles legacy: "Tina Lawson opened Headliners on Houston's Montrose Boulevard in 1990. She did hair during the day, and sewed costumes at night." Those early Destiny's Child outfits were a direct descendent of this proximity to pageantry; they were memorable, performative, and attention-getting.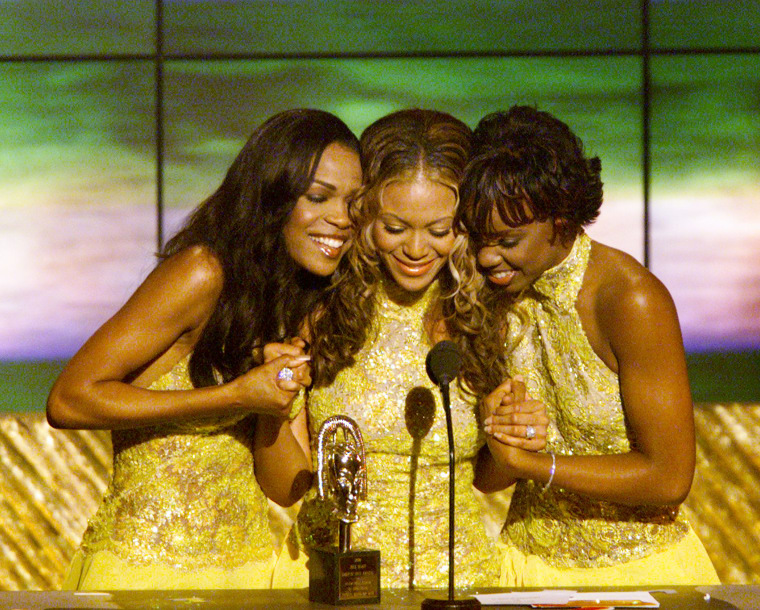 Miss Tina's latest costume, however, has a different genealogy entirely: high fashion. As Solange indicated, the purple gown (or should that be plural?) is directly inspired by a runway creation of the 78-year-old Japanese designer Issey Miyake. While he retired from design in 1999 — choosing instead to spend the rest of his career developing and inventing new textiles — by the time of his departure his label's reputation for theatrical avant-garde explorations of the female form and the limits of traditional fabrics had been well-established.
Almost all of Miyake's practice was predicated on the idea that everything comes from a single source. In a 2014 interview with The New York Times, the designer wrote, "All of my work stems from the simplest of ideas that go back to the earliest civilizations: making clothing from one piece of cloth. It is my touchstone. I believe that all forms of creativity are related." His Spring/Summer 1999 show marked the debut of what would later be inducted into The Museum Of Modern Art under the acronym A-POC (A Piece Of Cloth).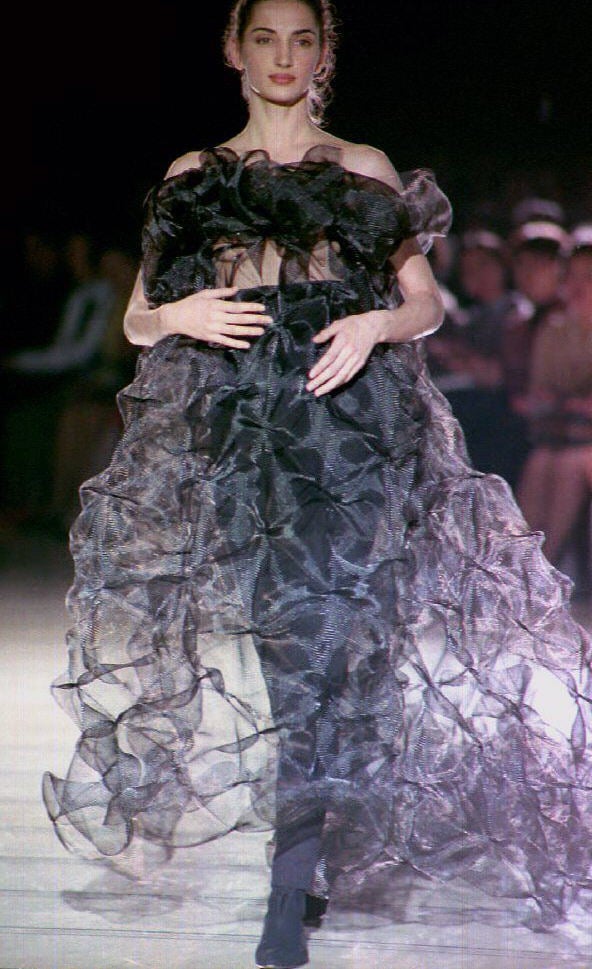 In his final show, of which there is very little to no video, Miyake sent 23 models down the runway all interconnected by a garment constructed from a single tube of bright red fabric, with supermodel Alek Wek trailing behind, holding up the end of the train. While Miss Tina's take on the garment was slightly hellenic, the original was positively parasitic, with each girl attached to the one in front by a viscous swath of fabric, as tense and fleshy as something out of a Cronenberg flick. The differences between the two iterations are telling: Miyake's aims were ultimately technical — after the show he would immediately set out to work exclusively on textile technology and hand his brand off to a series of proteges — while Lawson's take is warm, familial, and conveys a message of togetherness.
In a 2013 video, Beyoncé said her mother's talent "is finding the best qualities in every human being. I think her gift is understanding and helping people get to their best selves." For what else have Tina Lawson's designs been about besides family, and realizing the expansive dreams of her talented daughters? Just as Miyake sought to create something much greater from a single piece of cloth, from their tight-knit family unit (having expanded to include Solange's husband Alan Ferguson, who co-directed "Cranes in the Sky," and Jay-Z) the Knowles have carved out moments much larger and grander than any individual family member. And what they're wearing is just a small part of that.