SiR has a lot going on in his life these days — and he doesn't want to talk about any of it. With the release of his heartfelt Seven Sundays project last year, built on raspy hums and crackly warm production, the Inglewood-born singer-songwriter has experienced rapid success: millions of plays on SoundCloud, collaborations with Big K.R.I.T., Jay Rock, and Isaiah Rashad, and offers from prominent record labels. But we're not allowed to mention the labels. Or the forthcoming collaborations. Or anything much to do with his providential trajectory. Instead, the 29-year-old wants to address a theme that threads each of his projects together: love.
To be more specific: he wants to talk about the love my parents have for one another. It may seem like a strange topic to hit on, but in the course of our conversation we discovered that both of our parents are mending their separation after years of being divorced. He's giving me tips on how to assure the reconciliation process goes smoothly.
"Invite them to your house and cook them dinner. Wine and dine them both," he tells me. "That's all you really wish, for your parents especially. You just want them to be happy."
I take his advice to heart. As we talk, it becomes clear that SiR values family more than almost anything in his life. He credits them as his biggest influences, which makes sense when you consider his musical lineage: his mom was once a backup singer for Michael Jackson and Tina Turner, and spent decades working as a minister of music at a nearby church, where SiR was essentially raised. His brothers, meanwhile, are musicians and songwriters; they were the ones who got him his first gig as an engineer for singer Tyrese in 2012, as well as songwriting credits for Jill Scott and Anita Baker. Then there's his wife, Kelly, who's not a musician but serves as the inspiration for all of his work. So much so, he dropped a conceptual six-song EP, HER (out today), that draws from their relationship. She, along with his mom and brothers, were the ones that first inspired SiR to move away from production and start releasing songs on his own.
These days SiR can count a lot more people than just his kin as fans. For years he issued quality solo material, built on his understated voice and studio-savant production techniques, independently, while working with major artists like Robert Glasper, Melanie Fiona, and Stevie Wonder. Now his official debut, which he says is complete, is slated for a big-time release in the coming year. But when it comes to talking about that sort-of thing — you know, what the interview was supposed to be about in the first place — he becomes noticeably quieter.
Understandably, he's concerned about how things will change over the next year with increased expectations on the horizon. Life is all about balance, SiR says, and he has a well-calibrated one right now, weighted by spending time with Kelly, freelance sound engineering, hanging with friends, and making music for himself. Even simple matters like going back to Park Circle, the small Inglewood enclave where he grew up and sometimes visits to clear his mind, could get more difficult as he spends increased time on the road. "It's just kind of weird because of the life I'd like to live," he says. "I'm married, I'm private. But in this day and age it's hard to live a private life when you're trying to be in an industry where everyone likes to look at you."
It's the dilemma often faced by artists on the cusp of breaking through: Do you chase your dreams at the risk of losing what you have? For SiR, the answers have yet to reveal themselves. On "Cadillac Dreams," a breezy joint with K.R.I.T. featured on HER, the singer entices a beautiful woman on the idea of going on a drive with "no destination" or "expectations." In a way, he wants to take listeners on a similar kind of journey: one absent the pressure that comes with being a notable artist. But when I raise that notion, he's quick to squash it; with each concern comes a deep breath and a glimmer of confidence. The road ahead is daunting, for sure, but only because it's going straight to the top, he says. "It's hard, but I have an opportunity to do something with my life that a lot of people don't. I'm going to make the most of it."
---
I spoke to Domo Genesis the other day, who's also from Inglewood, and he had a distinct perspective of what it was like growing up there. What was it like for you?
It was cool. It's not what people expect. I grew up with both parents in the home, youngest of four boys, so I didn't get into too much trouble or anything like that. It wasn't until junior high school that I started seeing how different my life was compared to some of the other kids that went to the same school as me. But for the most part, I had it easy. You know, went to church every Sunday; my mom was the minister of music at my church, so we had to get up and sing in church. Inglewood is a calm city, though it does have an underbelly. My older brother, for example — he's around 40 now — but when I was a little kid, he was gangbanging. He probably has more stories to tell than I would, but part of the reason I didn't go down that path is that I got to see him do it himself. I had examples [to follow]: like my uncle was a Paramount Crip, as was my older brother.
Your mom was the minister of music at your church, but also had this past life in recording with major pop acts. It's an interesting contrast. Did she bring that experience into the church at all?
She separated them, but she [also] didn't. Of course God comes first in our lives, but secular music doesn't mean you're a bad person. There's people in the church that do drugs, you know what I'm mean? There's people in the church that live lifestyles that go directly against the rules of the book that they're reading. To say that the music you listen to determines your faith is kind of a silly thing. That was just a generational thing. All the separation between music and religion, it scared them and they needed something to point at.
You've previously worked with some pretty important acts. What was it like working with Stevie Wonder?
That was fun. Andre Harris, Melanie Fiona, and myself were in the studio, and [Stevie] came like super late at night. We were just kinda vibing and set some things down, and he was playing and singing. We ended up writing a song, but I don't know if we're going to use it or not — that's for Melanie's project. The other time [I worked with him] I was rehearsing with a friend of mine, and he just so happened to walk into the rehearsal to see how it was going. He walked in and sat down and started playing and just sang and sang and didn't nobody say shit. We didn't say nothing. Nobody moved. Everybody just stopped moving and sat down and listened. Those are people, and moments, that you almost dream about in life. You never really see them or meet them or touch them, so to actually see them do what they're known for — it's priceless.

What about other artists you've worked with?
I work with a lot of up-and-coming artists, too. I had a chance to work with a writing camp by the name of Dre and Vidal. They did "Butterflies" with Michael Jackson and Marsha Ambrosius. They did some songs on Confessions by Usher back in the day. Dre has been around sneaking into albums with the best songs. I had a chance to really to work with him and build my own confidence, to get myself ready to do my own thing. For the longest time I didn't wanna do this. I still kinda don't.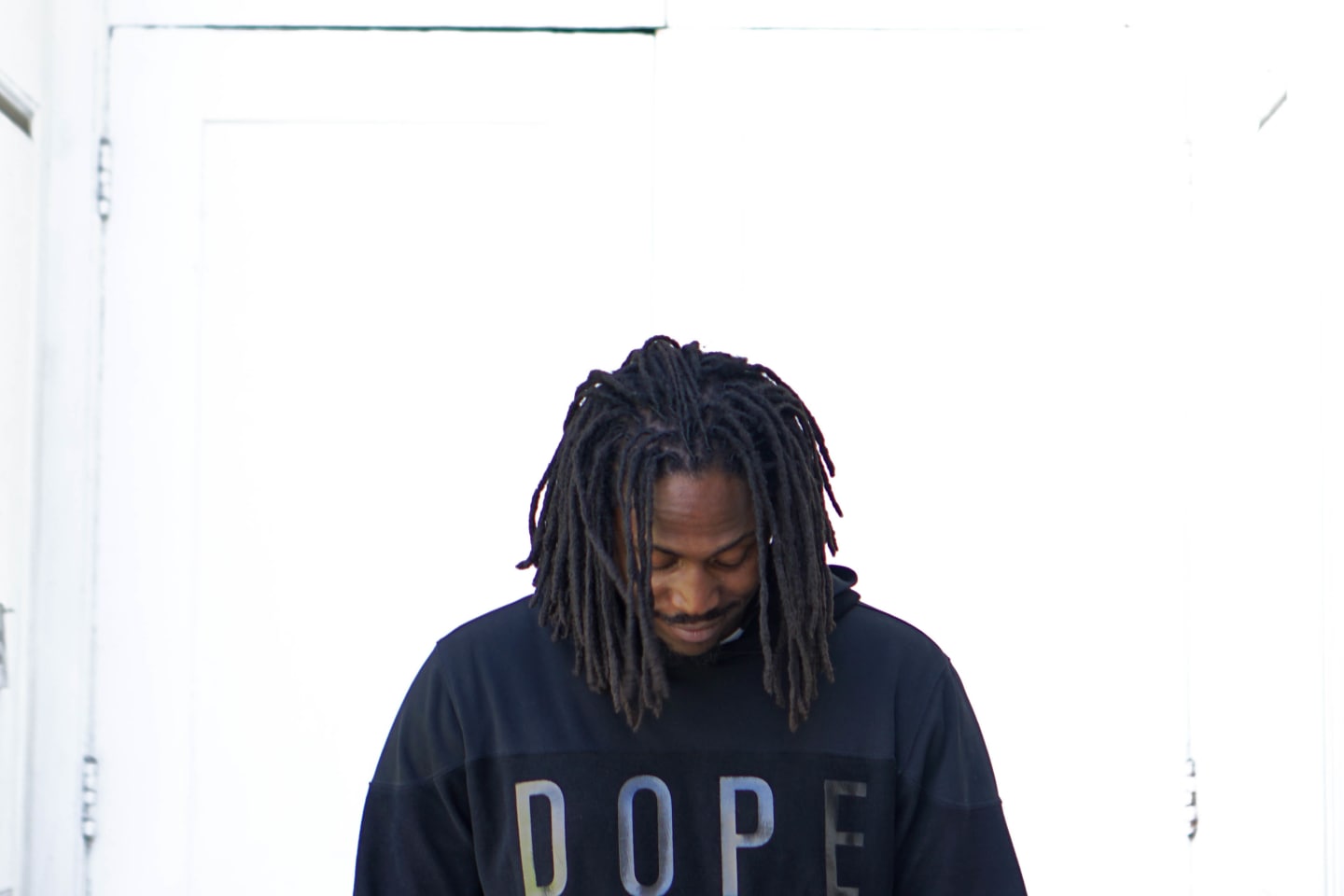 Why is that?
I mean, I'm kinda stuck now. It's just weird because the life that I'd like to live — you know, I'm married, I'm private. But this day in age it's hard to live a private life when you're trying to be in an industry where everyone likes to look at you. If people are going to listen to the music, they have to see somebody attached to it, and you have to be places and you have to perform and stuff like that. I'm a more keep-to-myself type of guy. When I go out, I'm goofy and trying to have fun with my friends; it's just total opposites. It's something that I've had to grow accustomed to. I'm not running from it, but I'm just like everyone else. I want to do music for the rest of my life and do what I love and not think too much about it.
So has working with artists like Stevie Wonder and Anita Baker made being part of the industry worth it?
Yeah, but I think fans, like strangers on the street, are just as important as celebrities. For somebody that doesn't know you, has never seen you, to hear your music and wants to find out more about you and come see you perform — that's special. I hold fans in a high regard.
What were your expectations when you started releasing music as a solo artist?
I never really had high expectations or any expectations at all. I just wanted to make music, and I wanted it to be appreciated. At first I just wanted my family to like my music. I didn't really even make it for anyone but them. Then I just put it out for anyone to listen to. I got a great response, and I haven't looked back since. It's probably been five or six years since I started releasing music myself. It's probably the best decision I've ever made. Please don't take what I said the wrong way — it's hard, but I have an opportunity to do something with my life that a lot of people don't. While I have this opportunity I'm going to make the most of it.
You seem so close with your family. Did your parents' divorce have an effect on your music?
It definitely did. It put me in a really weird place. But the funny thing about that is that they got back together last year. I swear to God, I can't make that shit up. And they just bought a house together. Talk about a love story.
That's crazy! My parents are actually doing the same thing after 10 years off. They're still in the dating stage, though.
Are you serious? Oh you better invite them to your house and cook them dinner. Wine and dine both of them! [Laughs]. I just pushed my mom. My dad wanted my mom, so I was just in her ear. Me and my brothers, we all kind of conspired to see that happen, and we're happy for them cause they're happy. That's all you really wish, for your parents especially. You just want them to be happy, even if it's with some schmuck. I would have been happy if my mom was happy with some schmuck.
You're a very spiritual person. What form does that take in your music?
I do think religion plays a part in what I decide to say in songs and how I decide to paint certain pictures. I'm not into the whole "bitches" and "da da da da" thing. Now, you might hear me say "bitch" every once in awhile, but I'm not talking about no female. For the most part I try to keep it as clean as possible. I curse when necessary on records. On this next project everything is pointed properly; I don't have to be vulgar or push any envelopes to get my point across. The simplest songs make the biggest effects. Songs like Adele's "Hello" or Pharrell's "Happy" — you can play it for somebody's 90-year-old grandmother and she'll like it; you can play it for somebody's 9-year-old niece and she'll like it. That's what I'm kind of chasing on this next one.