This Mix Pulls You Into The Weird World Of Scratcha DVA's Strangest Project Yet
Made to be listened to in the dark.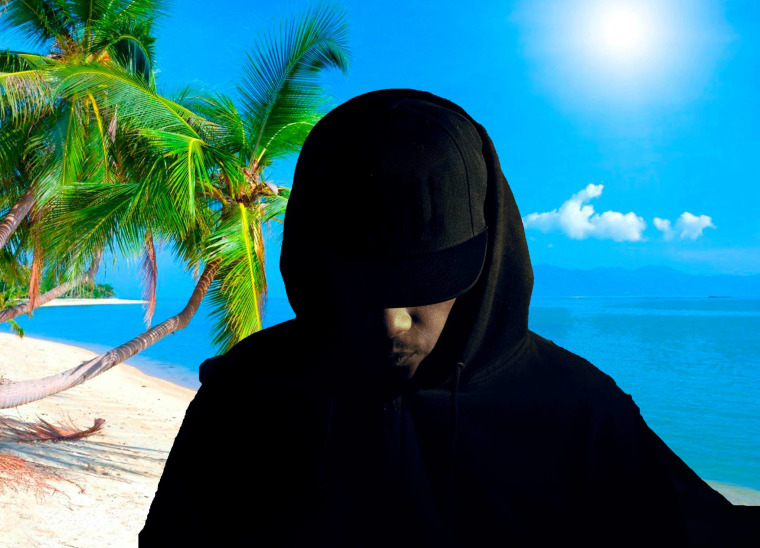 Today, Hyperdub stalwart Scratcha DVA releases his new album, NOTU_URONLINEU, under the name DVA [Hi:Emotions]. It's only the second full-length release from the producer and onetime Rinse FM breakfast presenter — real name Leon Smart — but it carries his sonic signature as one of bass and U.K. funky's foremost innovators. This takes shape in a surreal landscape of colorful, spacious melodies and murky, sinister basslines.
According to the record's press release, [Hi:Emotions] is the name Smart gave to an imaginary brand at the heart of the album's concept, which is a little bit Black Mirror. In the not-so-distant future, Smart explains, the mega corporation [Hi:Emotions] will control everything on your news feed, and slowly turn the world into a monoculture. Listen to the eerie, shapeshifting mix below (made by Smart and N.Y.C. producer Nick Hook) for a taste of the album's atmosphere, and scroll on to watch two [Hi:Emotions] adverts made to accompany the album, and to read a chat with Smart about the thinking behind it all.
This album sounds like a dystopian take on the London underground genres you've made a name in. What do you think the future of London music looks like?
I never used to believe that music or a sound was shaped by the city it's in. But it definitely is. What's the sound of culture-stripping and vibe-killing? I dunno — probably something dark. Things always go dark.
You recorded this whole album in darkness. What was that experience like?
Listening to or making music in the dark is something I think every musician should try. In the pitch black, you're cutting off almost all of the visual distraction. I was able to zone out and focus on sound more. Even though you are sitting in the dark, you can see whatever the music and sound is showing you. You can create the scenario easier in your mind, 'cause you're not trying to ignore the couple of banana skins you left on the side from earlier, or your phone, or your life.
Can you explain the [Hi:Emotions] moniker and the story behind it?
Hi:Emotions started in 2010 when I was asked to do a remix for Ramp Records. I would regularly sit in my room and get high. Depending on the weed strength, I would get emotional and start feeling guilty or sorry. So I did this remix high and emotional, and I ended up naming it "DVA [Hi:Emotions] Remix." And I continued to get into that mind state to do these remixes, which always came off with a lot more depth. So I thought it was only right to use this moniker for the album.
How do you deal with the stress of online life? Do you find it easy to log off?
Living online or living. Online life or life. For some people or businesses, logging off would be suicide.
Yes I can log off for a bit, no problems...but I know I am just gonna need to log back in. I am not 70 years old yet. I need to be online. I know that if I log off, that means Scratcha DVA goes on hold. But Scratcha DVA in a way powers Leon Smart. Like Leon Smart powers Scratcha DVA. So I log in.
Tell us about these [Hi:Emotions] adverts you've made to accompany the album. What are the imaginary products being sold?
I made a fake Mercedes ad once and synced a collaborative track by me and Mickey Pearce called "Spoonbender" to it. It fooled a lot of people into thinking it was real.
So with the concept of the album being set in a near future of technology, I decided to really go deeper into making real fake ads with the help of See Two and Matteo Zamagni. The [Hi:Emotions] ads are advertising the 2.1 headset, which has multiple uses. It's a product I've definitely needed in the past. It allows you to create music and sound simply by reading your thoughts and feelings. It sends text in emails and IMs, color-coded by reading your emotions. And with the Dreamflix app, it allows you to stream your dreams online, either live or by pre-recording, which you will be paid for per subscription. I can't count how many times I've wished I could watch my own dreams or nightmares back. Wouldn't you want to sell your dreams?
NOTU_URONLINEU is out today, October 7, on Hyperdub.