Meet GAIKA, The MC Twisting Frequencies Into A Gothic Black Utopia
This London native's genre-blurring style feels like a bashment in the Blade Runner universe.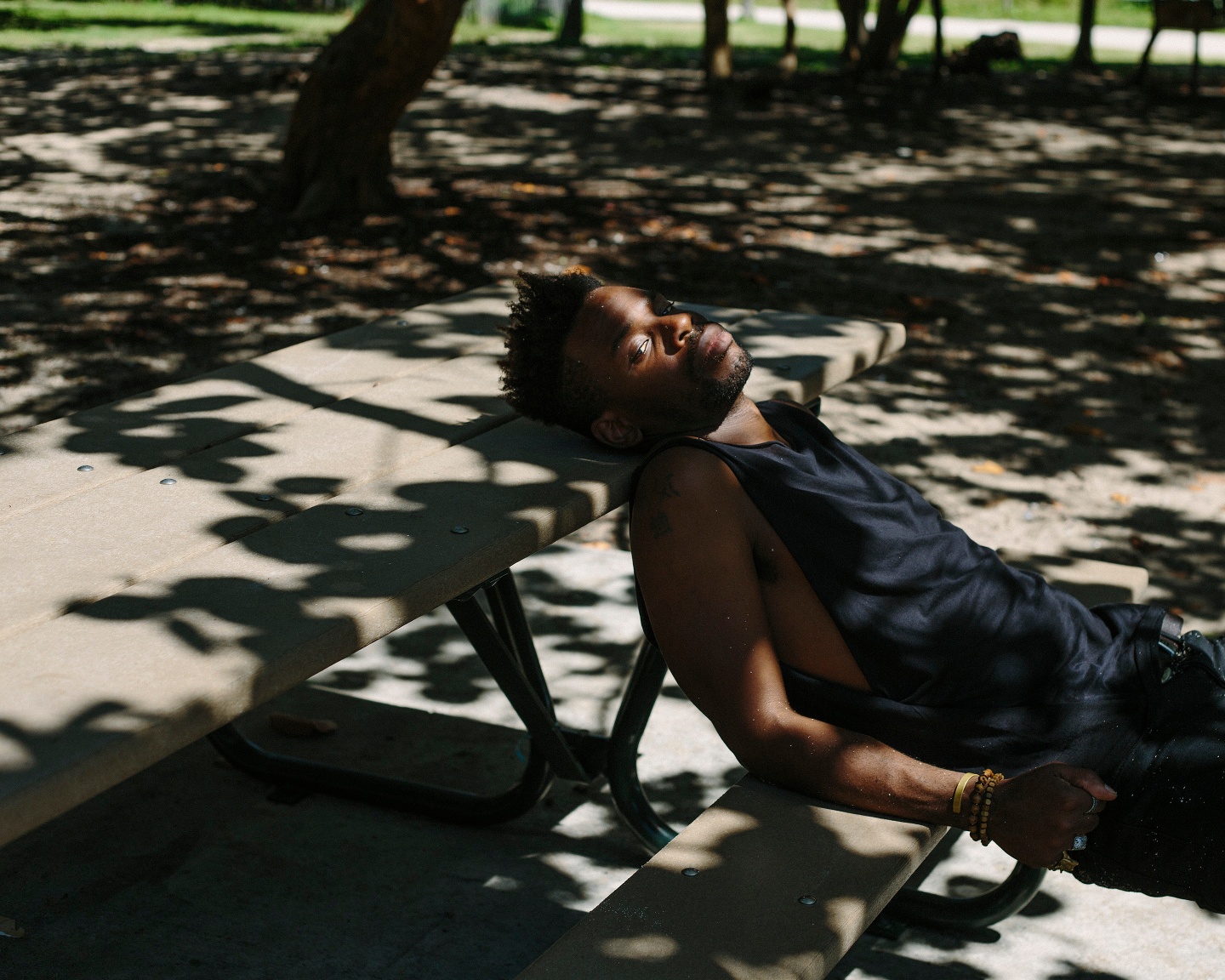 On a rainy fall afternoon in Brooklyn, GAIKA was perched in the corner booth at Caribbean restaurant Pearl's, explaining to me how he intends to modernize black music. "I see the inherent value in our music at the rawest level," he said as the sun set outside, the dusty brick walls and wood panels around us suddenly aglow in orange light. Clad in a fitted leather jacket, the 30-year old musician, director, and designer sampled from several small plates on his last day in New York, a pit stop before his morning flight to Miami for a show. "All I'm trying to do is take my education and my confidence and any talent I have to push black art forward."
Using machines, GAIKA tests the limits of frequencies to produce sounds that embody a gothic black utopia, an aesthetic he refers to as "ghettofuturism." Listening to his music feels like going to a rave at a power plant in a post-apocalyptic industrial wasteland, with a Jamaican emcee (GAIKA is of both Jamaican and Grenadian heritage). His 2015 Machine mixtape is a genre-warping exhibition that melds melodies into mechanical sounds, and his Security EP, released last spring, presents a futuristic kind of dancehall, like a bashment set in the Blade Runner universe.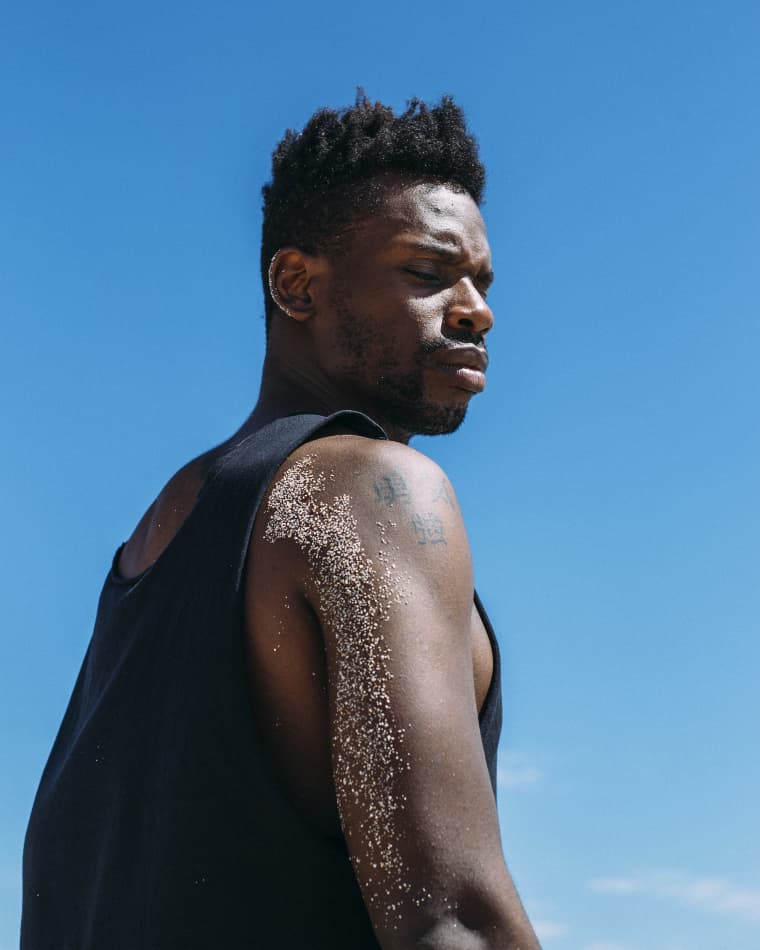 GAIKA was born in the south London district of Brixton, and attended a boys academy about 20 minutes south. In his 20s, he spent some nights drunkenly freestyling on London's garage and grime scenes, but music often took a backseat to other creative endeavors, like making videos for the arts collective Murkage Cartel. He joined an engineering course at Manchester University but dropped out in 2012 to study art at the University of Salford. When he returned home on a break from school, he found a different Brixton than the one he left — a gentrified "haven of white hipsterness," he said. "You've got a place called Champagne and Fromage in the sight of the fucking [Southwyck House housing project] Barrier Block. We call it Old Brixton and New Brixton — and I'm Old Brixton."
If GAIKA's music shares a lineage with Brixton or its culture, it predates the sounds of the current club scene ("I don't make deep house records," he said). Mostly, his palette is influenced by his time as a director. "A visual artist is always aiming to defy convention," he said. "[That] informed how I put things together; thinking about things in layers and in terms of space. Ultimately, I'm only trying to make soundtracks to pictures in my head."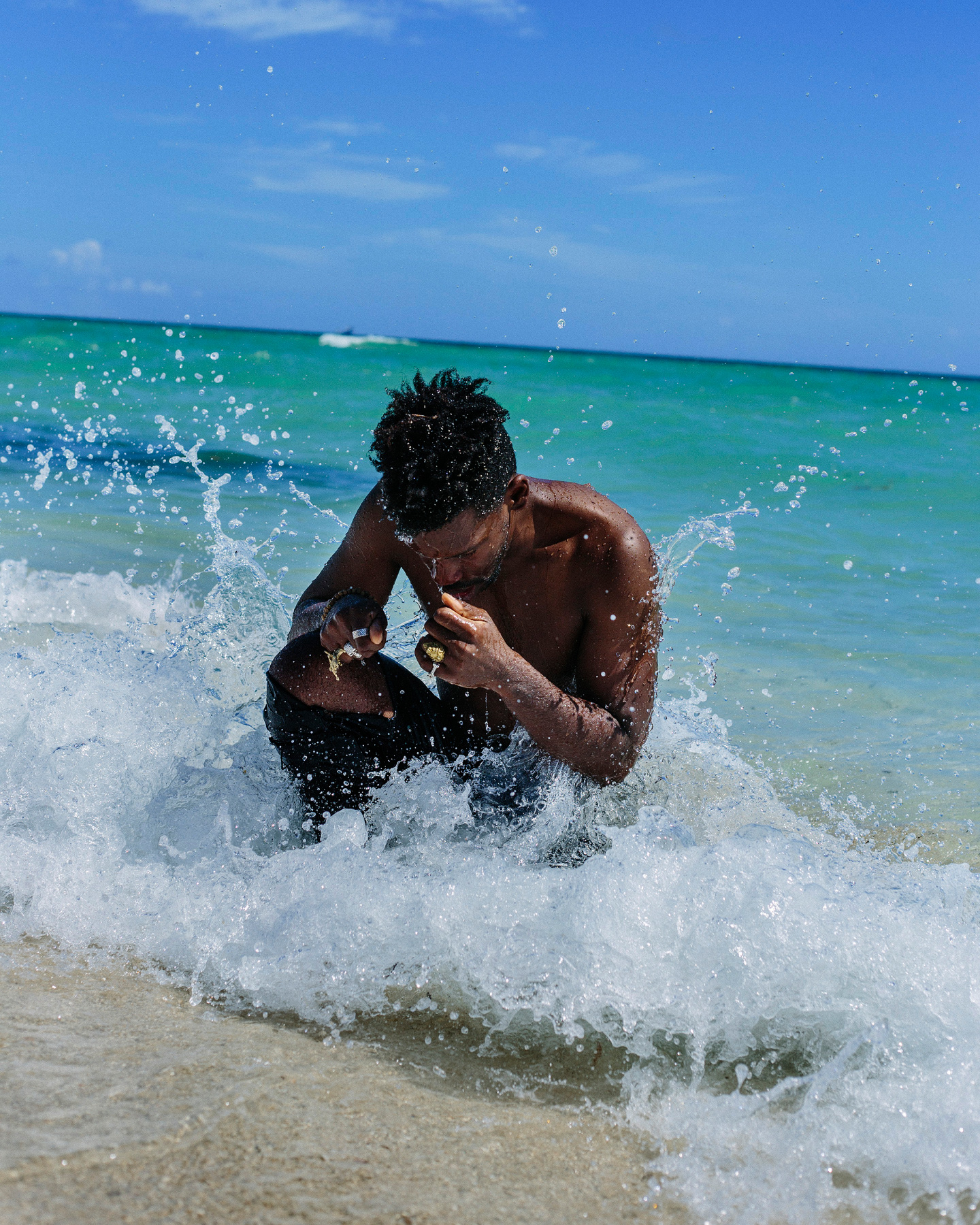 "All I'm trying to do is take my education and my confidence and any talent I have to push black art forward."
There aren't really categories available that can do GAIKA's stylings justice. He prefers more abstract visualizations of his sounds, descriptors that tap into feelings. "I like a lot of different music; hybridity is the thing for me," he said, knocking one of his rings against the table for emphasis. "Yes, I like Oasis. Yes, I like garage, I like grime music, I like rap, I like dancehall. It's all just a thing in my head. It's just information."
This abstract way of thinking likely helps GAIKA's compositions feel advanced, but their functionality as dance music comes from his approach to arranging sounds and mashing aesthetics, which is borderline clinical. "Everything I do is kind of conceptual," he explained. "I wanted to make an emotional, sweet record — my version of a lovers rock [album] — but still have the darkness, and the futuristic, technical firepower."
This month he'll release an as-yet-untitled eight-song EP — and it has that range: ragga being thrown through techno filters; more atmospheric, rocksteady-ish tracks; and songs that are sleek and metallic. The EP is '80s-inspired (the decade GAIKA was born into), and he uses the era's classic sounds as a springboard to twist and turn in avant-garde directions. Dancehall and reggae remain touchstones, simply because he's fond of them. "All I'm ever trying to do on any project is get really close to things in my childhood," he explained.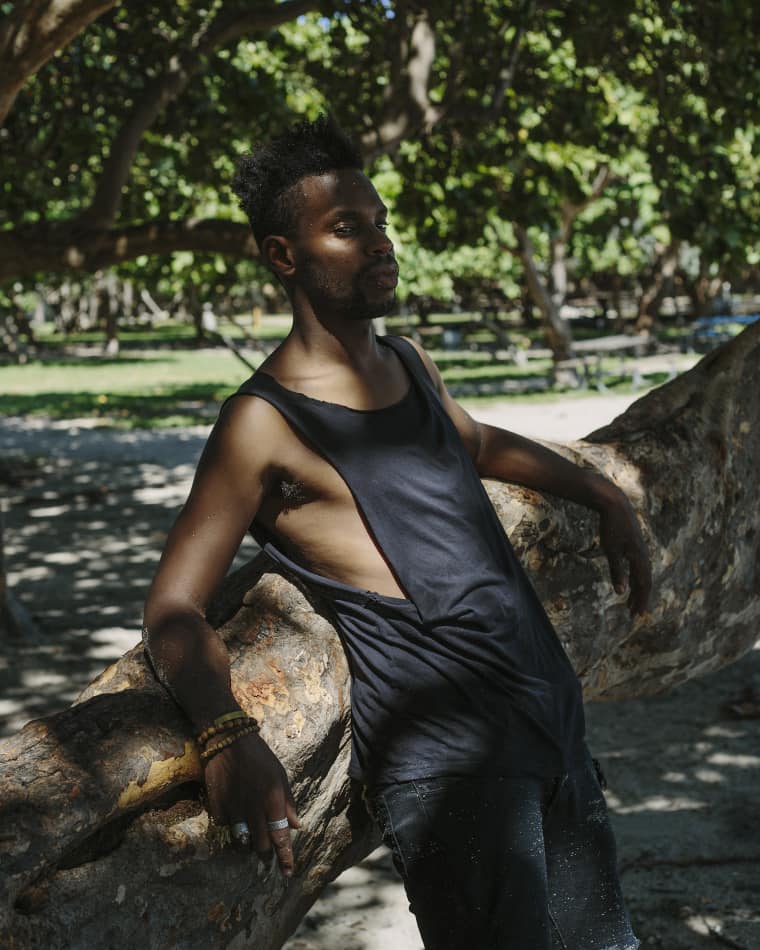 The new EP is exacting in its rhythms, which explode with the crack of pyrotechnics, and the whole thing is constantly shifting and changing direction. But there's a cohesive flow too, which GAIKA attributes to the fact that all the genres he samples — grime, rap, dancehall, etc. — move along similar wavelengths. Where others may find disparity, GAIKA sees overlap. His greatest strength is understanding relationships, whether it's the connective tissue between sounds, the link between the auditory and the visual, or the spectrum of joy and pain that all black music shares. He's contextualizing global black culture through the filters of the zeitgeist with stunning panache, and the result might be the next evolution in dance music.
For GAIKA, however, innovation is a science. "You aren't going to understand unless you have an understanding of frequency," he said, his deep voice cutting through the Protoje song blasting through the restaurant's speakers. "It's like architecture: You don't ask, 'well, how does that building stand up?' If you can do the math, it isn't hard."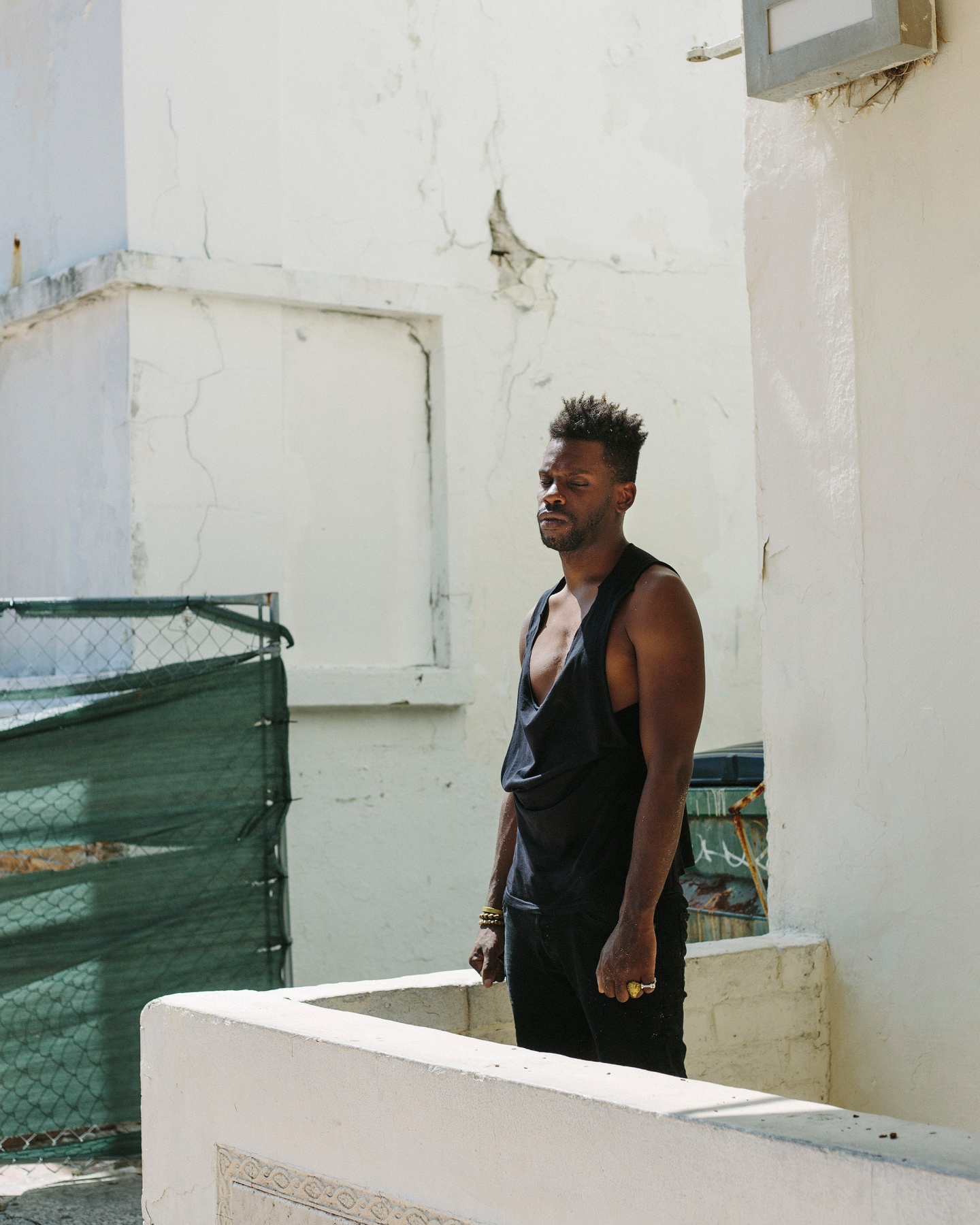 From The Collection:
GEN F