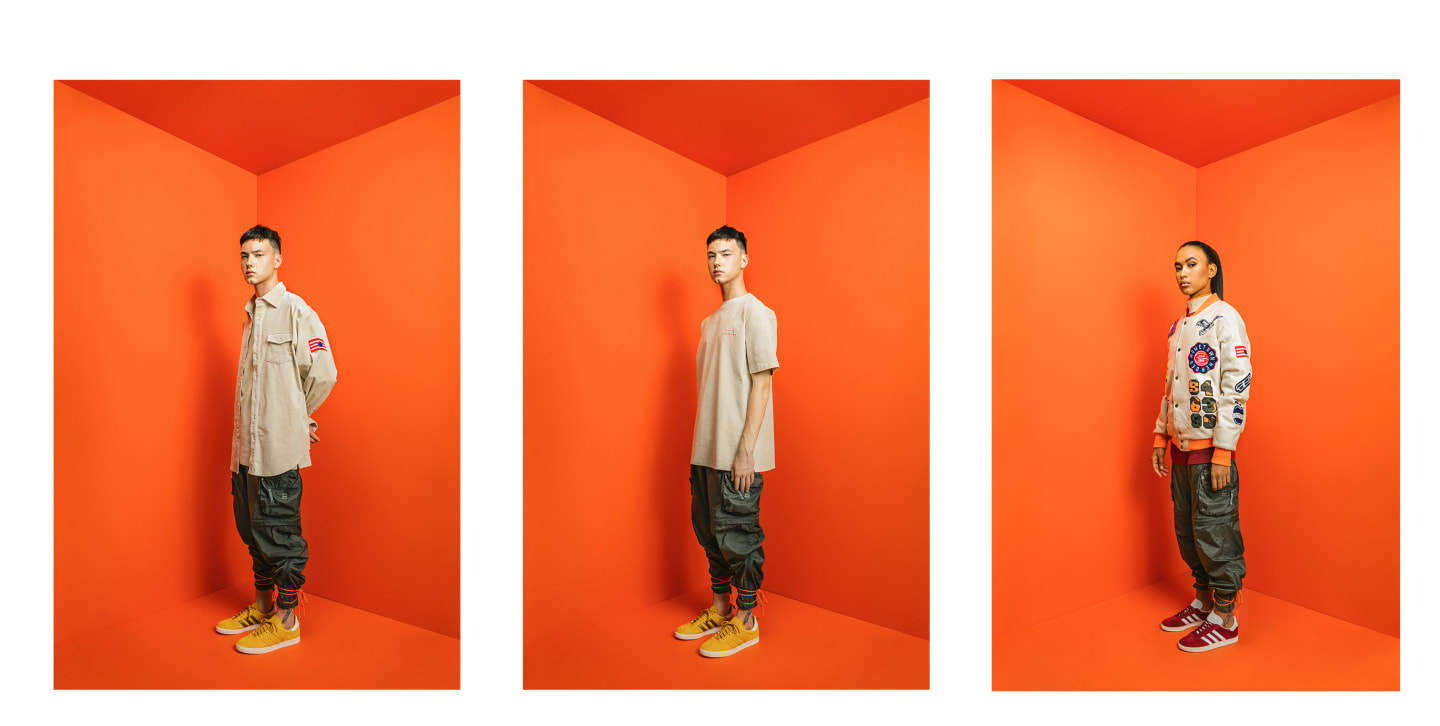 The interior of Atelier New Regime's six-month-old flagship store, situated on a placid boulevard in Saint-Henri, just west of downtown Montreal, is entirely orange. Think of the first room in Destiny's Child's color theory-informed clip for "Say My Name," or the saturated flesh of an overripe grapefruit. The walls, the floor, the small change room hidden behind a floor-to-ceiling mirror, and some of the product — like a jumpsuit emblazoned with the phrase "WORKING CLASS" — are all orange. Even the windows are entirely oranged out, hiding the small shop's sparse interior from the street.
For people who ascribe meaning to color, orange might represent optimism and vitality, imprisonment or freedom. But the three-partner ANR team — Setiz Taheri, 33, and brothers Koku, 26, and Gildas Awuye, 22 — insist the paint job is not that deep. The shop's vibrant cocoon is, like everything they do, another way to bring consumers and fans into a world they envisioned when the brand first launched with simple slogan tees in 2009. (Gildas used to slang duffle bags of gear on his college campus, where the brand quickly found a consumer base). It's a bit difficult to discern exactly what that ethos is from three self-taught guys who are disinterested in intellectualizing the sauce, but given their backgrounds — Taheri, now a dad, alludes to having been caught up in street life, all three are postsecondary dropouts — and a reliance on steady growth over elaborate schemes it feels like Atelier New Regime is acutely aware that it is the little brand that could.

The Fall Winter 2017 collection, École Buissonière (a French expression for cutting class) features collegiate basics, whether your uniform is tracksuits or stripy polo long-sleeves. Taheri and the Awuye brothers all dropped out of postsecondary schooling, but "the fact that you drop out doesn't mean it's the end of it," said Koku. "That's a story we lived and I think a lot of people [believe] that once they quit school, that that might be it." To wit, the business-minded baby of the crew, Gildas, masterminded their move into cut-and-sew entirely through Google-abetted trial-and-error. He's now making twice-yearly trips to the production factory in China. Every message isn't literal, Taheri insists, but the personal story is New Regime's way of staying close to their immediate community, and building a like-minded, increasingly global fanbase.
Overlooked by the local fashion industry for most of the brand's existence, ANR was invited to present at Montreal's annual Fashion & Design Week in late August. It was a non-feat to them, something they weren't angling for, but nonetheless indicative of how much more seriously the local industry takes them now that there's a brick-and-mortar. Instead of re-aligning their seasonal production cycle around the event — one "that's not a make or break opportunity for us," said Gildas — they would do a presentation instead of a traditional runway show, in keeping with the brand's tradition of pop-up events in galleries around Montreal. Titled Working Class, the August show featured around 50 models wearing the aforementioned jumpsuits standing in formation. "Our clothes are beautiful but I don't want to just put a bomber jacket and a varsity on the runway," said Taheri. "And we didn't want to produce a full collection just for that show so we tried to find a way to have an impact." It was Gildas's idea. "The whole concept is that when you're part of the working class, it can be as if you're a prisoner because you often don't have time to think outside of that. You go to work, come home and feed your kids, watch TV, and do it all over again. In my opinion, you're not necessarily free."
It's a heavy-handed philosophy, inspired, in part, by John Lennon. Beneath the orange jumpsuits models wore shirts emblazoned with the word 'FREE,' belying the brand's optimism. "Even though you're part of the working class right now doesn't mean that you're stuck there forever," said Gildas. "You can get out through arts or entrepreneurship."