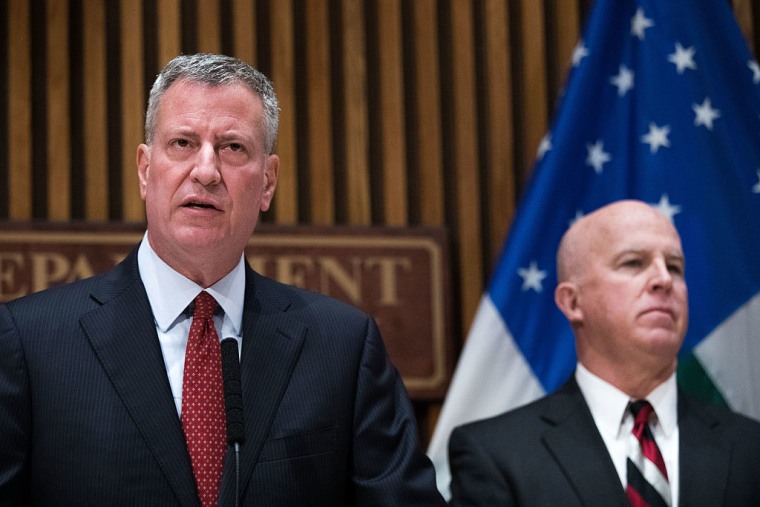 On Tuesday night, NYPD sergeant Hugh Barry shot and killed Deborah Danner, a 66-year-old Bronx resident with a history of mental illness, while responding to a 911 call from neighbors in her building. In a press conference on Wednesday, mayor Bill de Blasio and Police Commissioner James O'Neill both condemned the shooting and said that the officer had not acted in accordance with NYPD protocol relating to mental illness, The New York Times reports.
"What is clear in this one instance, we failed. I want to know why it happened," O'Neill said at the press conference, according to NBC. "We do have policies and procedures for handling emotionally disturbed people and it looks like some of those procedures weren't followed."
De Blasio echoed O'Neill's sentiments. "It should never have happened. It's as simple as that," he continued. "Something went horribly wrong here, It's quite clear our officers are supposed to use deadly force only when faced with a dire situation and it's very hard for any of us to see that that standard was met here."
Hugh Barry arrived at Deborah Danner's Bronx apartment after receiving calls and reports of erratic behavior from her neighbors. Officials say Barry encountered Danner in her bedroom, where she was naked and holding scissors. Barry reportedly convinced Danner to put the scissors down and exit the room. Danner picked up a bat and charged at Barry, who then fired two shots from his service pistol, police say. Danner was pronounced dead at the hospital.
Barry, an eight-year veteran of the department, was stripped of his gun and badge and has been placed on modified duty following the shooting.