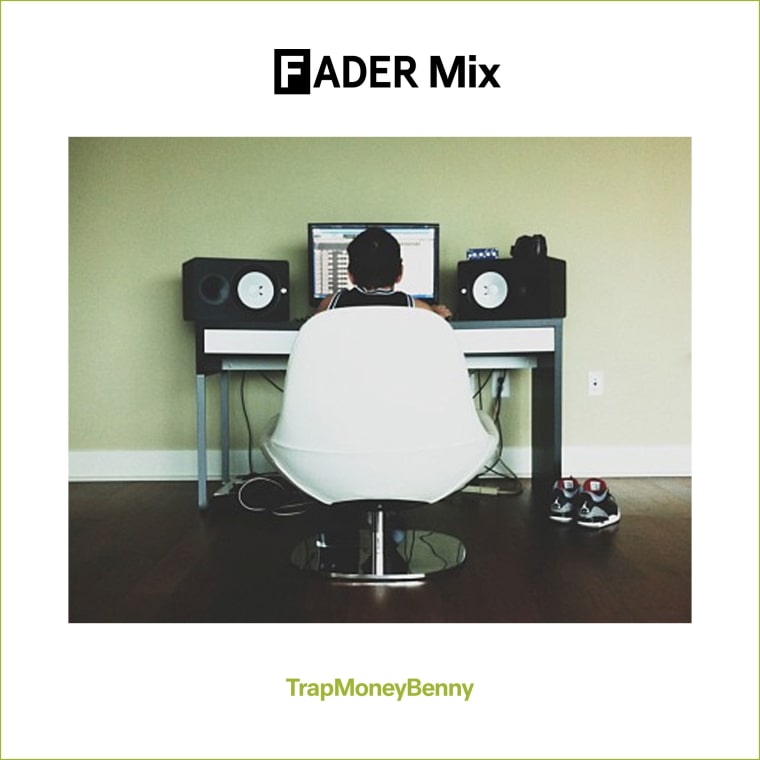 When you listen to a TrapMoneyBenny song, you always end up on a ride. The Cleveland producer, perhaps best known for his work with Key!, Chief Keef, and Fredo Santana, has a knack for finding just the right balance of mystical and mischievous with his twinkly melodies and driving bass. The magic of Benny is that he's able to take his signature style — something like what you might expect an eerie, Twilight Zone episode of Rugrats to sound like — and perfectly suit it to whichever artist he's working with at the time. It's like a Benny Man jacket you hope every artist you love gets a chance to try on.
Aside from a notable remix of Future's "T-Shirt" and, more recently, a compilation of career highlights and solo tracks, it was a relatively quiet summer for Benny. He's spent the past few months grinding on a few collaborative projects and on songs with Lil Yachty and Playboi Carti.
In the thick of fall, TrapMoneyBenny took a little break to drop off a special FADER Mix that pays homage to the sounds that have shaped him "musically and as a person." The selection ranges from Jeezy to Elton John, and The-Dream to Earth, Wind & Fire. Listen below, and scroll on for more about the producer.
Where are you right now? Describe your surroundings.

I'm back home in Cleveland right now. Fall just started, so the leaves are beginning to change and the weather is perfect. Not too hot, not too cold.

Tell us a bit about this mix — what do you imagine people doing while listening to it?

I made this mix out of songs that I grew up on, songs that kind of helped mold me musically and as a person. I also threw in some new stuff that I've been listening to, and a few surprises. I imagine people playing this at max volume.
What's the story behind your "C'mon Benny Man!" tag?

The Sandlot was always one of my favorite movies growing up as a kid. Benny "The Jet" Rodriguez was the man. My good homie Mitch, who's a producer, inspired me to make that my tag. He use to have a tag from the movie Paid In Full.
What's the last musical project or musical experience that had a big impact on you? And why?

Probably The-Dream's Love Hate, or Love vs. Money. The music and songwriting from those albums are unmatched, in my opinion. They could have made any song from either album into a single.
What's your favorite season and why?

I guess it depends on where I'm at, but the fall is usually my favorite. You can't beat hoodie weather and a cool breeze.
What are you working on right now? What's in store for you this coming year?

Wrapping up a few projects right now: an EP with Ben West, WRK2 with Tezo, and possibly a new No One Is Ready project [with Key!]. We're supposed to be finishing up Key!'s album soon. I also have some stuff with [Lil] Yachty and [Playboi] Carti that should be coming out shortly. By the end of the year, though, I think I'm going to start working on my own album.
What's your ideal studio snack situation?

My go-to's are Pure Leaf Sweet Tea and Welch's Fruit Snacks. Sometimes I need to boot up a little, so I'll get a Doubleshot Espresso. The snack situation changes though, depending on the city. When I'm in Cleveland, I gotta get these bags of Frooties they sell at the gas station or little convenient stores.
Tracklist:
Young Jeezy - Get Ya Mind Right / Lil Wayne - Demolition Freestyle Part 1
Young Thug - Wyclef Jean
Chief Keef - Help My Semi
Young Dro - Hopped Out
The-Dream - Put It Down
Tory Lanez - Controlla Remix
Young Jeezy & Bankroll Fresh - All There
Gucci Mane - Faces Feat. Bankroll Fresh and Yung Ralph
Future - Married to the Game
Young Jeezy - Thug Motivation 101 / Frank Ocean - White Ferrari
21 Savage - No Heart
Elton John - Rocket Man
Cam'ron - What Means the World to You
PartyNextDoor - Don't Run
Gucci Mane - My Chain
Earth, Wind & Fire - Let's Groove