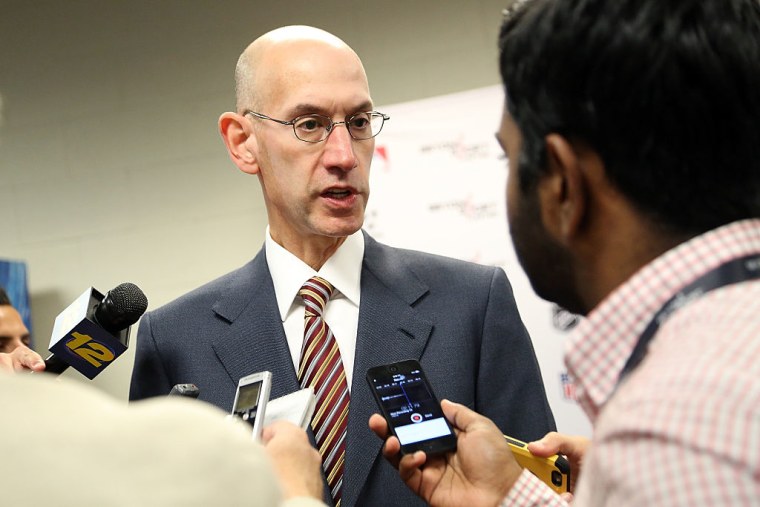 Colin Kaepernick's national anthem protest has polarized the nation, but his actions have also led many to wonder how other professional sports organizations and players, particularly those in the predominantly black National Basketball Association, will respond. In a new piece from Bleacher Report, NBA players and league commissioner Adam Silver have outlined their respective outlooks on protest and the need for action off the court this upcoming season.
In response to a question about how the league would handle anthem protest this season, Silver declined to directly address the potential situation. "I'd only say that we have a rule that requires players to stand respectfully for the anthem," Silver said. "That is our rule. I'm not going to prejudge any player conduct. We'll deal with any situations that present themselves. But I've been very clear that our expectation is that our players will stand for the anthem."
NBA players like Carmelo Anthony, Mike Conley, and more spoke to Bleacher Report about their plans to go beyond protest this season. "I'm past the gestures," Anthony said. "I'm past that. It's all about creating things now and putting things in motion. So, that's what I'm on. I'm trying to get guys on board with that and help them understand that—enough of the gesturing and talking and all of that stuff—we need to start putting things in place."
In past months, organizations such as the Chicago Bulls, the New Orleans Pelicans, and the L.A. Lakers have organized community events around race and police relations. This season, The NBA will hold about six official events per month that will focus on economic issues, race relations, and police-community relations.
Read the full report here.