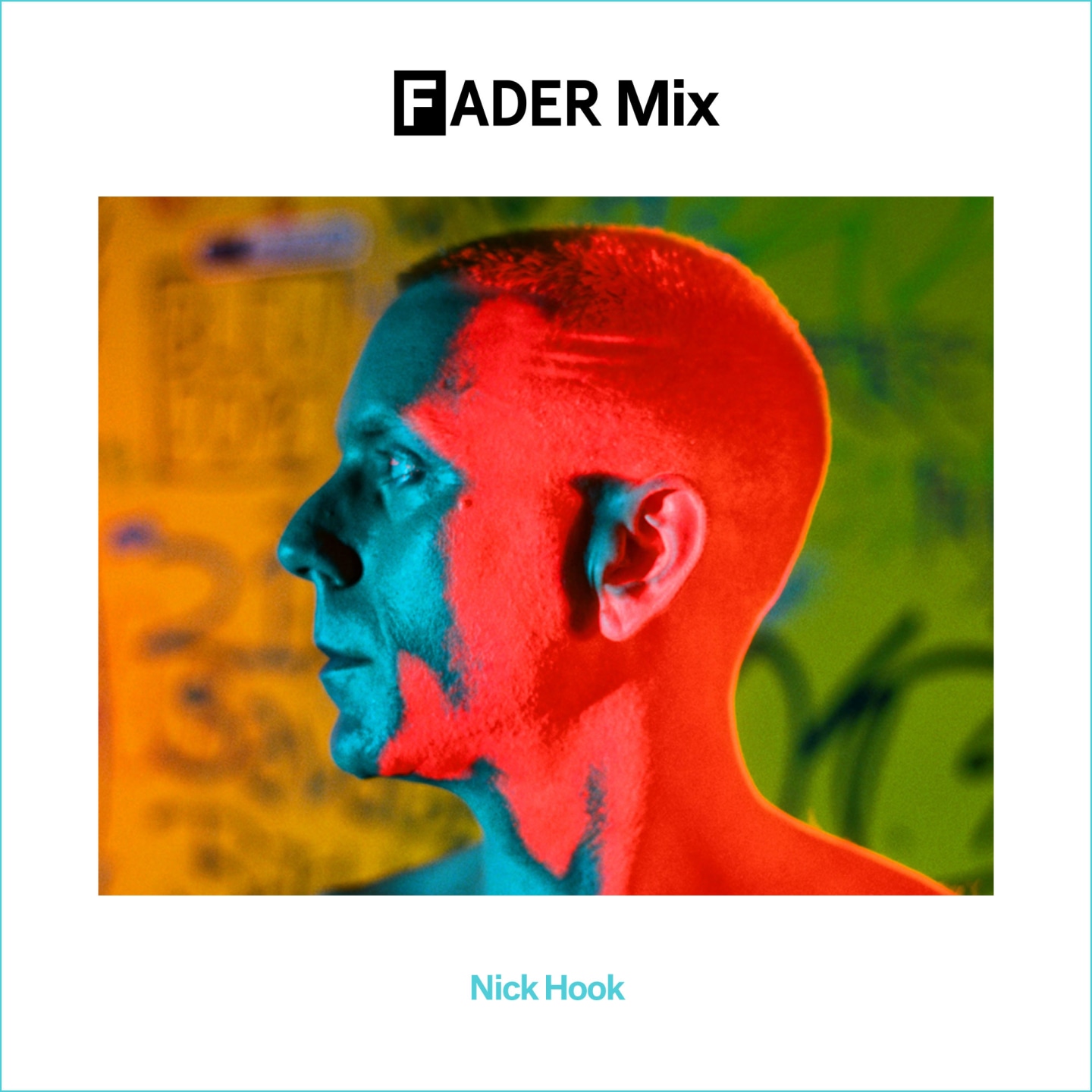 I first got to know the music of Nick Hook through his work in Cubic Zirconia, the wild-at-heart electronic trio signed to the U.K.'s LuckyMe label. In the past couple of years, the New York producer has earned a reputation as a creative and committed studio head, notching up credits on tunes for Young Thug and collaborating with the late, great DJ Rashad, among others. This November 1, Fool's Gold will release his new album, Relationships (preorder it here). To celebrate, Hook's made us a vibe-y FADER Mix to get you in the zone, whether it's day or night. Hit play below, and scroll down to find out about the friendships that shaped Hook's album, his early musical memories, and one heck of a smoothie recipe.
Where are you right now? Please describe your surroundings.
I'm in Columbia, Missouri. Sitting on the curb outside the venue. Luckily wearing a t-shirt and still enjoying the weather. We just finished soundcheck and the local [act] is on. They are singing in all Auto-Tune. Nadus is up next.
Tell us a bit about this mix — what do you imagine people doing while listening to it?
I had a lot of fun making this mix. I've been playing live sets this tour. Only my own music. All hardware, no computer. So I've kinda kept that mindset in this mix, but also put in some songs I love that aren't mine.
I imagine you free, so the music can take you wherever it needs to. Maybe it's a walk that turns into a run and then you start dancing in the middle. Maybe it's your eyes closed before bed. My ideal is usually the Williamsburg bridge into the city with my phone on airplane mode.
What's your earliest musical memory?
4th grade I got in trouble in the corner of my class for singing the lyrics to "It's So Easy" by Guns and Roses is one that comes to mind. "Invisible Touch" by Phil Collins always come to mind. A yellow Walkman listening to 2 Live Crew; playing the recorder when I was like 8; and tons of others. It's sort of a blur at this point but Michael Jackson and NWA were also in the cut.
Your album's called Relationships. Why's that? And what relationship, above all others, has shaped the person you are today?
The premise of the album is a story of what I went through in 2015. It was one of the hardest years of my life. It was also had some of the most extreme highs and lows I've ever had. And I've had quite of bit of them in this journey. I had two of my friends pass on the same day. I recovered from that and then went into a love/heartbreak situation and realized the only word that could truly convey the story of the album was that. It's a word that means something to everyone and the goal for me is to hopefully have everyone that listens to my album feel SOMETHING. What actually triggered calling it that was when someone asked me how much I paid a rapper for a feature. I said, "Nothing." I build relationships and to me that's what this album is.
I hate to put superlatives on anything but this album is a tribute to my friend John Kuker. I used to bartend at a small sake bar and our friendship went from me pouring him a drink at the bar, to flying my old band Cubic Zirconia out to L.A. to produce our record in the most amazing studio I've ever seen, to then giving me the keys to my studio and letting me be in there rent-free for three years. He essentially saw and manifested the person everyone sees today, when a lot of my life made me believe I couldn't do this. When I realized it was time to dedicate everything to this album, I had to face all my shortcomings, fears, and all the other things that stop us from one day becoming great. It was one of the hardest processes in my life, but I finally made the album I've been wanting to make my entire life.
This leads directly to Rashad. We only knew each other 90 days. The first day he came in my studio, we both looked at each other and it was like we knew each other in a past life. I still remember it clear as day.
The album starts and ends with a DJ Rashad collab. What was it like working with him?
The songs from the Rashad session stem from him staying over at my house for about a week in March 2014. It was one of the most amazing weeks. As far as a musical work flow, it just flowed. He was just one of those guys where every single moment was amazing. We never weren't laughing. Talking shit, cracking jokes. And since we were both midwest kids with similar references, it was so easy to get it going. So many vivid memories from that week. We all went to see Skepta at the Knitting Factory and there were honestly 10 people there, including us. We watched this house catch on fire from the studio and these weirdo dudes with sharp teeth came and sold us lean. I think the last time I saw Rash we fell asleep to the laptop playing Pootie Tang. I could go on forever but it was truly amazing. He was one of those spirits.
The record also features rappers, grime MCs, R&B vocalists, and fellow producers in a variety of genres. Do you adjust your creative process depending on who you're working with?
I'm learning the more I work with people, it's about feeling comfortable before you get into the creative process. What makes you feel comfortable in that room, what are you listening to lately, how's actual life. I realized that my album was almost me speaking in a lot of ways because we have so much fun in that room and all of a sudden a song pops out of nowhere. I've worked extremely hard to have the studio ready at all times to capture that magic. I love what I do so much because no two days have ever been the same.
What's the last book you read that had a big impact on you and why?
I am just about finished with the Tibetan Book of Living and Dying. It's been incredibly life changing. It's similar to the Tibetan Book of The Dead but was written by a monk that interfaced with westerners more so it's easier to read.
What's your favorite dish to cook and how do you make it?
My cooking game is strong. I love cooking soup. My split pea is fire and i also make a great hijiki salad. I've low-key been living pretty much on smoothies and raw cheese when I'm home so I'll break you off with some smoothie game.
2 handfuls of kale*
1 banana*
handful of blueberries*
1/4 pear*
chia seeds
raw buckwheat honey
1 tablespoon of almond butter
raw yogurt / almond milk ( can be a mix or either or)
*organic if u can
Blast that jawn thru the NutriBullet and you are good for hours!
Tracklist
Björk - The Hunter
Nick Hook - +3 Feat. DJ Rashad, DJ Paypal + Nasty Nigel
Deejay Earl - Smoke That Green Feat. DJ Taso
Young Thug - Future Swag
Nick Hook - Can't Tell Me Nothing Feat. Novelist (Salva Remix)
Nick Hook - Head Feat. 21 Savage + Bulletproof Dolphin
Young Thug - Old English Feat. Freddie Gibbs + Asap Ferg ( Prod Salva + Nick Hook)
Nick Hook - Gucci's Feat. 24 Hrs
Nick Hook - Evolisontherise Feat. Hudson Mohawke
Nick Hook - J.A.M.I.T. Feat. The Egyptian Lover
Nick Hook + Nadus - Linnclub
Nick Hook + Vin Sol + Matrixxman - I Can Feel It
Nick Hook - Head Feat. 21 Savage (Nadus Remix)
Sinjin Hawke + Dj Sliink - Raw
Scratcha DVA - Worst (Sinjin Hawke Remix)
Spiritual Friendship - Mushrooms
Spiritual Friendship - Pipe
Spiritual Friendship - Chicago K-Hole