Everything That Happened At FKA twigs's ROOMS
All the details you need from her most ambitious project to date.
FKA twigs's performances are often centered around power and control, and in her new project ROOMS she draws from these themes to create her most immersive work to date. This week in London, she curates a dozen artists to create a 12 room installation, with each space inspired by a different zodiac sign. Playing a character named Diamas, she traverses the areas alongside 30 dancers, and guides the audience through what a booklet given to attendees describes as "every emotional trait, dance, song, and horror of the human experience."
At a private launch event in London on October 26, the rooms of ROOMS were a spectacle in themselves. They ranged from a lush primate-populated diorama (Gemini), to a sleazy mirror-lined space with far eastern knick knacks (Aries), and a barren blue-lit psych ward (Leo). An hour into the evening performers began to populate the rooms, most beige clothing that was sometimes accessorized with chunky jewelry similar to FKA twigs's looks for her recent Radiant Me² live shows. With performances happening over four floors, audience members were invited to explore the installation at their own pace. It didn't seem like she was present at all times, but when she was, her pull and proficiency were undeniable. Here's everything that happened.
---
It wasn't (really) about the music.
Last year, FKA twigs's contribution to Manchester International Festival was Soundtrack 7, where an audience was able to see her create, rehearse, and perform a new piece of dance over the course of a week. Likewise, tonight was focussed on movement rather than music. In many of the spaces a rhythmic, glitchy rumble played — bespoke compositions by her band members CY AN and LJ Howe.
FKA twigs was on top.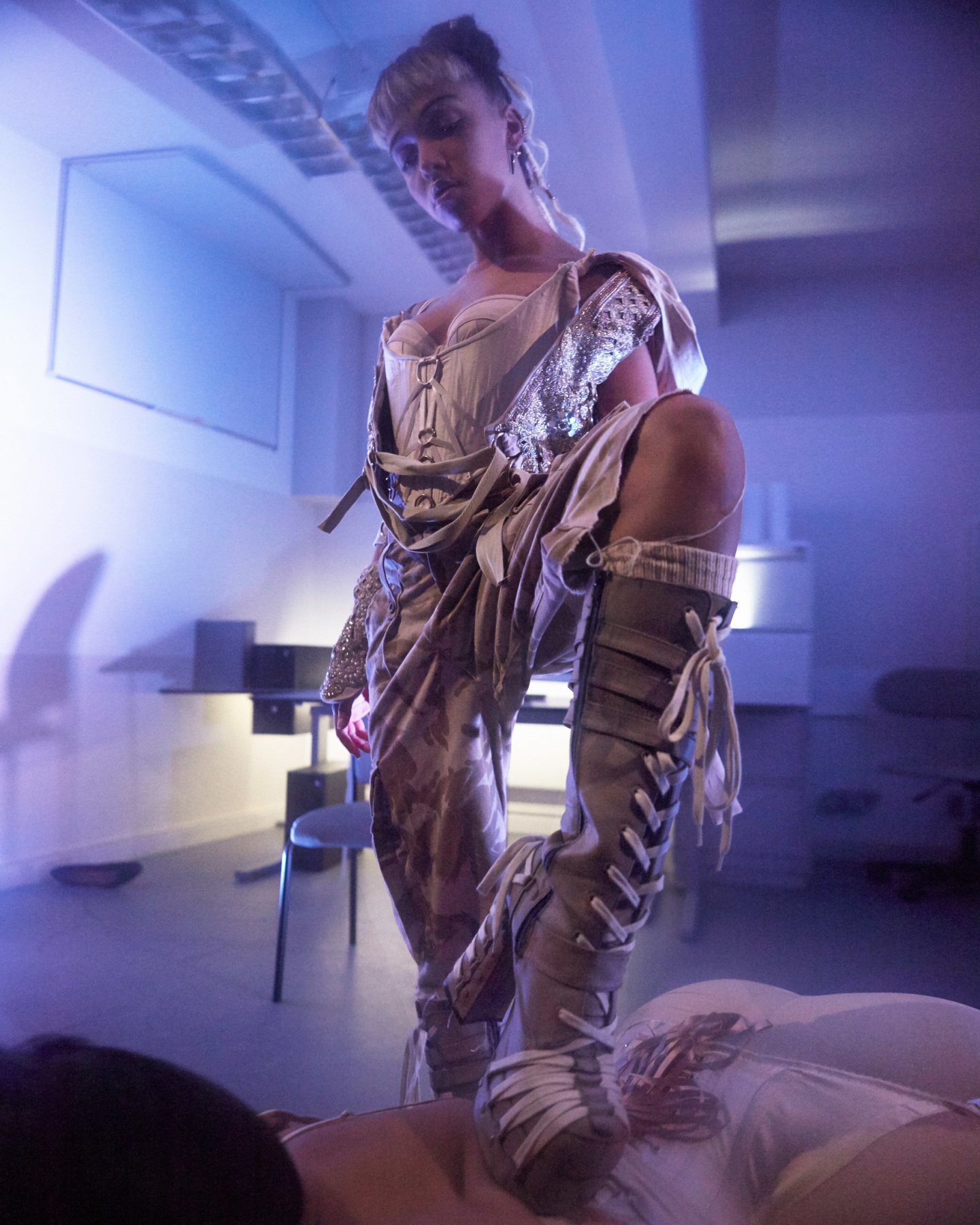 In a grey '90s office with a busted photocopier on the ceiling, FKA twigs slowly circled a female office worker who was dressed in a nipped-in skirt suit. FKA twigs was the 'top,' tying a telephone cord around the woman's throat, tossing her to the ground, and kissing her on the mouth. It was sensual and sleazy — not least because I was practically close enough to feel her breath — and foregrounded themes of sadomasochism and co-dependence in a similar way to her videos such as "Papi Pacify."
Astrology was abstracted.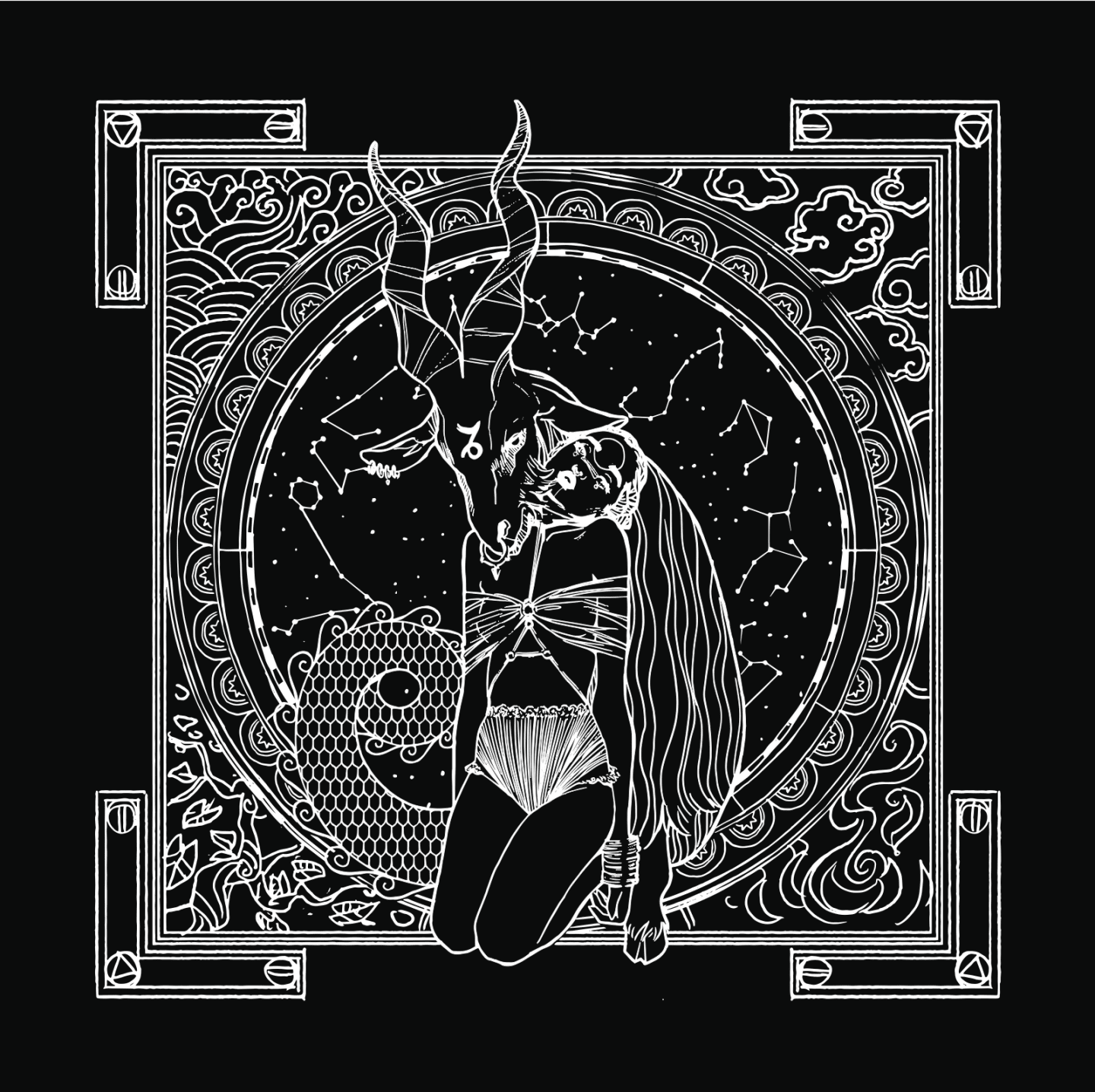 Sorry, Susan Miller or Danielle Ayoka fans — at ROOMS, astrology wasn't used literally, but as as a loose guiding principle to the non-linear installation. So while Andrea Stanley's Libra space physically took the shape of weighing scales, other spaces took a more figurative approach. Miguel Bento's bright rainbow-colored walkway (Aquarius) was less water carrier, more James Turrell.
It was a meditation on fame.
More from @FKAtwigs's #ROOMS project. pic.twitter.com/a8kizEH3sT

— The FADER (@thefader) October 26, 2016
"Being in the public eye is so weird," FKA twigs told ELLE earlier this year. The most explicit riff on this ambivalence was in London performance artist Theo Adams's Leo room. Located in the basement, this set was a cold psych ward populated with highly-made up drag queens and other colorful characters. At the flash of an "On Air" sign, they jostled to lip sync to campy songs like Barbra Streisand's "Don't Rain On My Parade," The First Wives Club's "You Don't Own Me," and Jennifer Hudson's Dreamgirls belter "And I Am Telling You I'm Not Going." They clawed at their wire enclosure, before lining up to perform a can-can with rictus grins.
Mirrors were a central motif.
In the reflective-ceilinged Libra room, FKA twigs placed a saucer on her head and studied her reflection with wonder in a hand mirror. A grainy feed of the bizarre scene played on retro-looking televisions nearby, perhaps in a statement about the perversity of spectatorship. Later in the jungle diaroma of Gerard Santos's Gemini room, the mirror became a weapon. When two male dancers were more drawn to each other than FKA twigs, she kissed the mirror and turned it on one performer in punishment. (Spoiler: he fell down dead.)
It was about other artists too.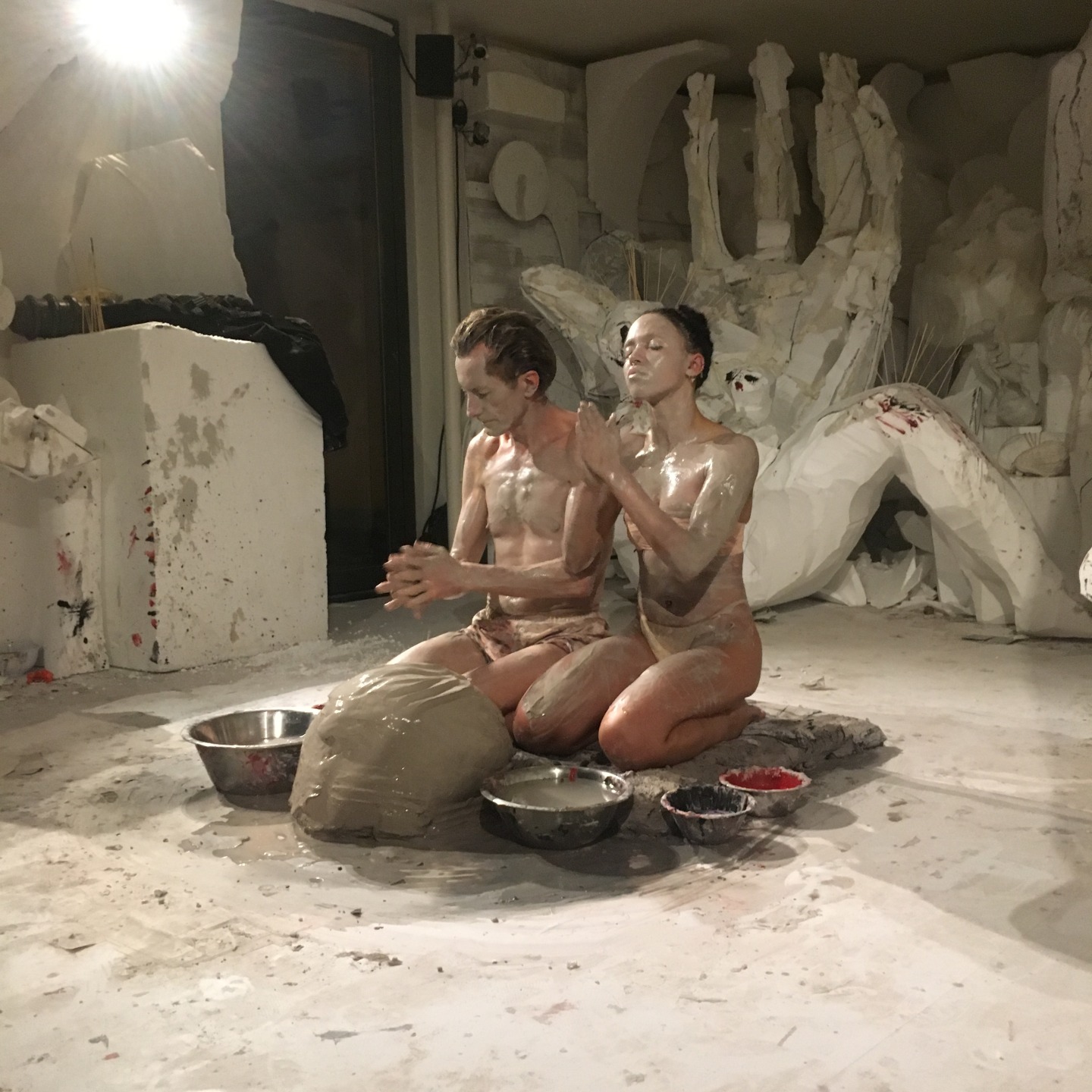 French artist Olivier de Sagazan is renowned for his Transfiguration performance piece, in which he covers himself in clay to obscure his facial features. In the role of Scorpio for ROOMS, he joined FKA twigs for a ritualistic rub-down with clay. Wearing only beige underwear, the pair smeared themselves and each other with the material, before piling on layers to obscure their facial features. Their heads were then conjoined with clay, a little like Magritte's The Lovers II. Later, de Sagazan created a comically large clay phallus, which was subsequently moved to FKA twigs's crotch before being reshaped as a large pregnant belly. It was reminiscent of her "Glass and Patron" video, in which she wore a similar prosthetic.
Guests brought twisted glamor.