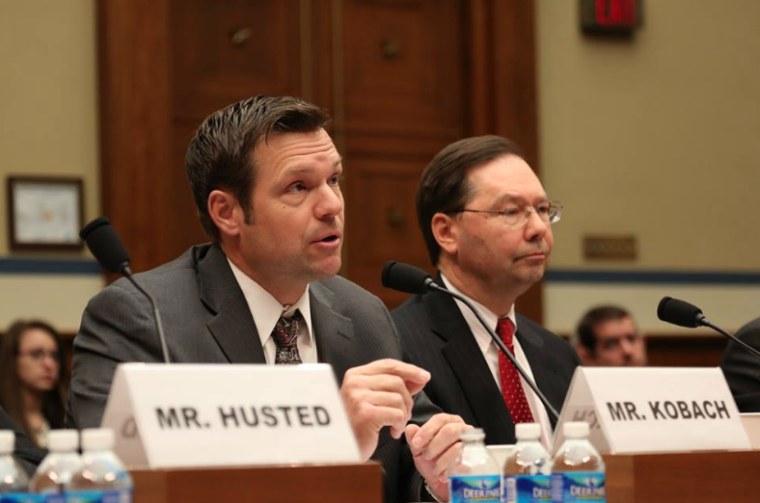 President-elect Donald Trump has selected Kansas Secretary of State Kris Kobach for his transition team, The Wichita Eagle has reported.
Kobach, a Republican, is responsible for some of the most controversial pieces of legislation in recent American politics. He drafted Arizona's SB 1070 — nicknamed the "Papers Please" law — which allows police to stop, search, and detain anyone suspected of being in the United States illegally. The law, which critics contend leads to racial profiling, led to boycotts and protests across the country. The most contentious aspects of SB 1070 were upheld by the United States Supreme Court in 2012, and "copycat" bills have been passed in the states of Alabama, Georgia, Indiana, South Carolina, and Utah.
Kobach has been a leading voice in the widely-discredited yet overwhelming adopted "voter fraud" cause. His data-processing system Crosscheck, which would purge voter rolls of "duplicate voters," instead overwhelmingly targets people of color with similar names and prevents them from casting their ballots. Crosscheck was implemented in 15 states for the 2016 election: An investigation from Greg Palast for Rolling Stone surmised that as many as 1 million Americans were on track to be wrongly prevented from voting this year.
Kobach's actions go beyond policy. In October 2015, he was a featured speaker at a "writer's workshop" for The Social Contract Press (TSCP), a white nationalist society. And prior to his work in government, he worked as a lawyer with the Federation for American Immigration Reform (FAIR), which the Southern Poverty Law Center has designated as a hate group since 2007.
Kobach did not confirm to the Eagle whether he had accepted Trump's offer.