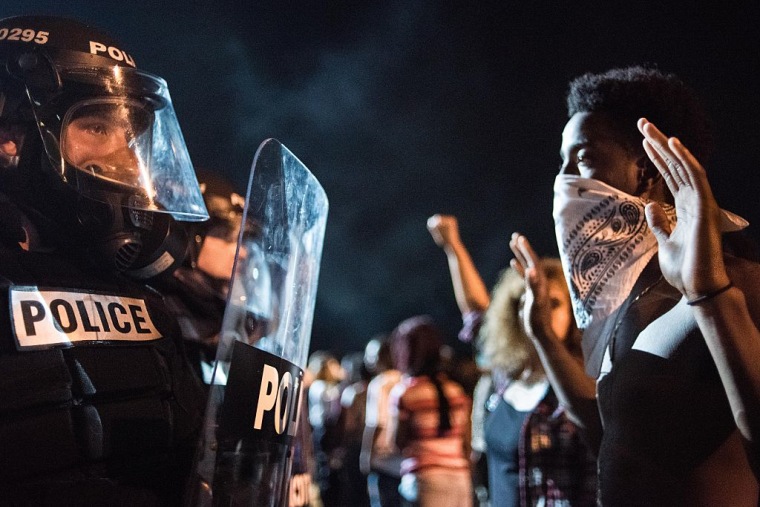 A North Carolina district attorney has declined to press charges against Officer Brentley Vinson in the September killing of Keith Lamont Scott, Buzzfeed News reports. During a press conference in Charlotte on Wednesday, officials said that Vinson's use of deadly force was lawful.
Scott was killed on September 20, after exiting his vehicle outside a Charlotte apartment complex. Police say that Scott was holding a firearm, while witnesses at the time claimed that he was holding a book. Police officials say they recovered a handgun at the scene. Scott's death in September prompted widespread protests in the city and governor Pat McCrory declared a state of emergency.
"After a thorough review and given the totality of the circumstances and credible evidence in this case, it is my opinion that Officer Vinson acted lawfully when he shot Mr. Scott," Mecklenburg County district attorney Andre Murray told reporters.
Murray referenced reports from police officials on the scene, who described Scott as having "a blank stare as if he was in a trance-like state." He said that this behavior was consistent with a medication that Scott had been prescribed.
Dashcam video from the incident shows an Officer Vinson in plain clothes with his weapon drawn. Scott exits his SUV in the video and walks backwards toward the officer. Vinson then shot Scott four times. The video does not show what Scott was holding in his hands.
Scott family attorney Charles Monnett says that the decision "doesn't end our inquiry" into Scott's death. "We still have concerns," Monnett said. "We still have real questions about what decisions were made that day."