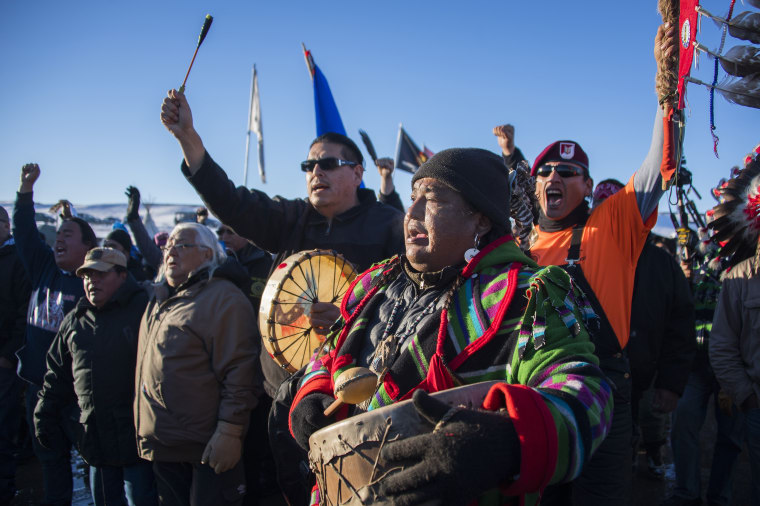 After months of fighting the Dakota Access Pipeline from being constructed through treaty-protected territory and under their main source of water, the Standing Rock Sioux Tribe has announced today that the pipeline has been denied easement and will halt construction.
"Today, the U.S. Army Corps of Engineers announced that it will not be granting the easement to cross Lake Oahe for the proposed Dakota Access Pipeline," Standing Rock Sioux Tribal chairman Dave Archambault II writes in a statement. "Instead, the Corps will be undertaking an environmental impact statement to look at possible alternative routes."
Archambault then continues to thank the current administration and anyone who advocated for the pipeline's halt. "We wholeheartedly support the decision of the administration and commend with the utmost gratitude the courage it took on the part of President Obama, the Army Corps, the Department of Justice, and the Department of the Interior to take steps to correct the course of history and to do the right thing," Archambault writes. View the full statement below.
In the statement from the U.S. Army, Assistant Army Secretary for Civil Works Jo-Ellen Darcy expresses that there's more work to be done regarding the construction of the pipeline. "The best way to complete that work responsibly and expeditiously is to explore alternate routes for the pipeline crossing," Darcy says.
While some Natives and protestors are celebrating the decision already, others are cautious, fearing that the Dakota Access could drill despite having a permit. "Those at camp are being encouraged to stick around because it's expected that Dakota Access will drill anyway, without permit," Sioux writer Ruth Hopkins writes.
The conclusion of Archambault's statement also addresses the worry that Native treaty lands will be affected by future infrastructure development after the Obama administration: "We hope that Kelcey Warren, Governor Dalrymple, and the incoming Trump administration respect this decision and understand the complex process that led us to this point. When it comes to infrastructure development in Indian Country and with respect to treaty lands, we must strive to work together to reach decisions that reflect the multifaceted considerations of tribes."
However, Archambault feels as though the Standing Rock tribe can rest easy for a while. "I'm just thankful that there were some leaders in the federal government who have realized that something is not right even though it's legal," Archambault told MSNBC. "I would say that it's over."