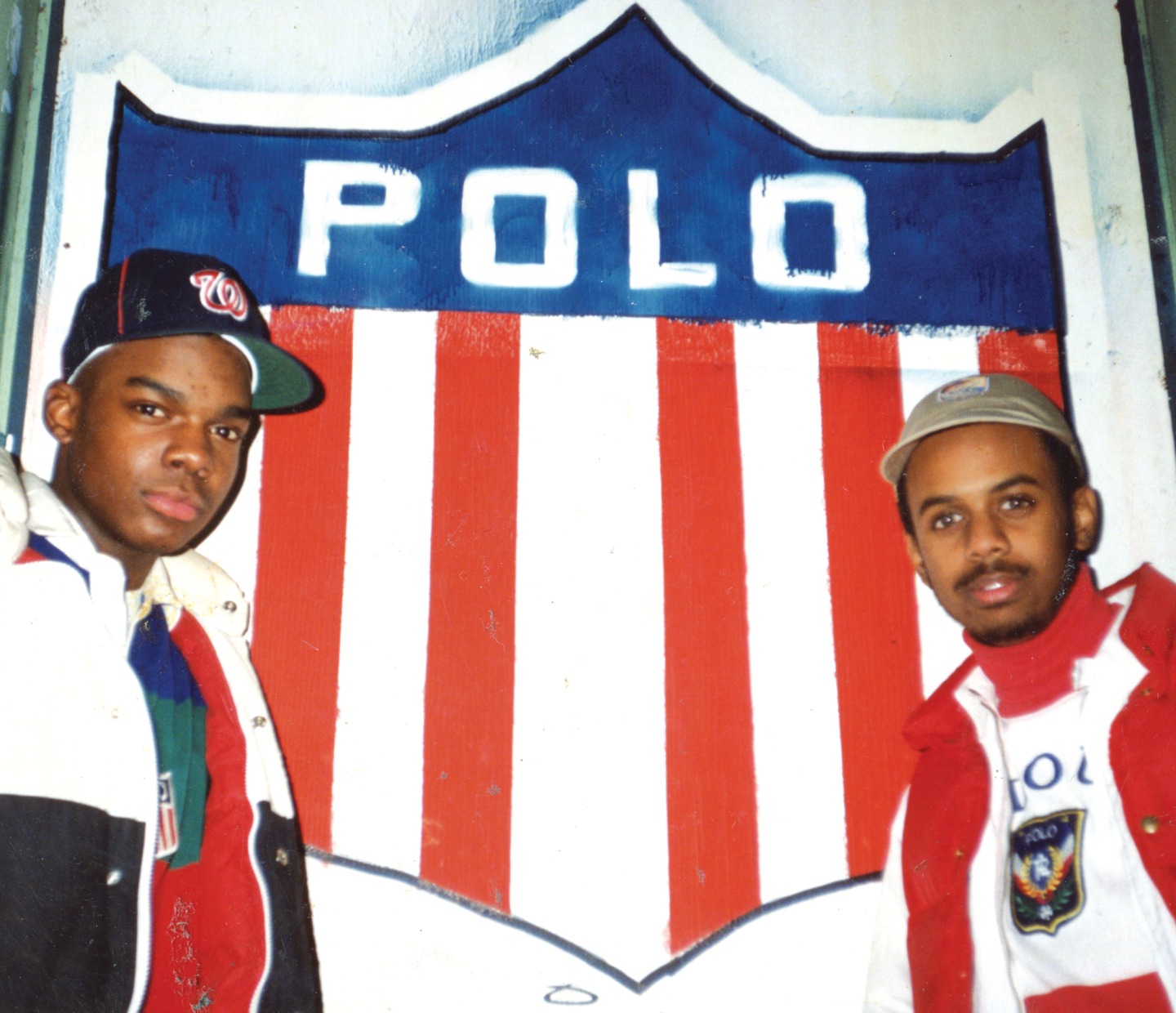 In 1988, a troop of young men from the Crown Heights and Brownsville neighborhoods of Brooklyn built a movement that was united through a singular passion: boosting Polo Ralph Lauren clothing. They called themselves the Lo Life Crew, and were styled in Ralph's most precious drops: the crest blazers, the teddy bear sweaters, the '92 ski jackets. For crew co-founder Rack-Lo — the co-author of the new book Lo Life: An American Classic, out this week — rocking Polo was a way to get a piece of the American Dream.
This was during New York City's rough-and-tumble years. The crack epidemic had devastated low-income neighborhoods; homicide rates hit record highs; Ed Koch's tough-minded 12-year run as mayor was just about up. To be ruthless was the only way to live, especially if you were poor and black. For kids like Rack-Lo, boosting the latest designer garments was used as an escape from the daily struggle. But it wasn't just a way of grasping for flash, for financial prosperity, for a seemingly unreachable lifestyle. It was a way to cope. It was a way to survive.
The FADER recently sat down with Rack-Lo as he recalled the extraordinary details of his story and his crew.
---
How did you get involved with Lo Life?
I'm from the start of it, one of the originators. Lo Life started from two boosting crews: one was from Crown Heights in St. John's, and the second crew was from Brownsville, which was Marcus Garvey Village. Fortunately I had the opportunity to live in both areas. As a result of that I united both crews to become one. We formed Lo Life in 1988. I came into the whole culture just by living in a particular area in Crown Heights. From there it grew from Brownsville, Bed-Stuy, Flatbush, Bushwick, Coney Island, and around the whole Tri-State area. I started living in St. John's when I was about 6 and then I moved to Marcus Garvey when I was about 10. At 10, that's when I was introduced to the culture as far as being fly, boosting, slightly knowing about hip-hop from music, and being a part of that Brooklyn life.
You said one of the most impactful moments for you was getting dressed on Easter with your brother. Were there any other special moments you recall in regards to understanding fashion?
I was about 9 or 10 years old at the time. That was the first personal impact I had with fashion. My father used to dress fly with trench coats, leather coats, fly hats. For me personally, that was the first time I felt fashion, and what it stood for as far as taking pride in the way you look. From 14 to 16 we'd go all around NYC, to the popular hip-hop clubs like Home Base, Octagon, Studio 54, Midtown 43; these were the places where the big hip-hop stars would hang and perform at. I got to see people like Big Daddy Kane and Biz Markie. A lot of them also lived in Brooklyn, so we had a lot of influence from that aspect as well. Just living that whole hip-hop lifestyle was crazy in the '80s.
What first sparked your interest in Ralph Lauren Polo?
It represented a whole different lifestyle from what we were used to in Brownsville and in Crown Heights. Ralph Lauren is a lifestyle brand. For example, if you go skiing, you would get the line for skiing. If you're going kayaking, he had something for that. If you're going hunting, he had something for that. As a youngster coming up in the ghetto, my mom never took me camping or on exciting trips. I was pretty much limited to the hood, to keep it one hundred.
By seeing the clothing it inspired us to know that there was more to life than being in Brooklyn and being stuck here, living at this limited pace. It inspired us to pursue those things: to go yachting, to be on Fifth Avenue, to be a part of the rich and the elite, and to try and acquire the American Dream the way we know how to do it. And that was through fashion and boosting.
What was high-class fashion like in NYC prior to Ralph Lauren in 1988?
As far as brand wise, it was Moschino, Gucci, Louis Vutton, things of that nature. Of course for us it was United Colors of Benetton, Lacoste, IZOD, and Brooks Brothers. From a sporty standpoint we definitely rocked Tommy Hilfiger, Nautica, and DKNY, brands of that caliber. That was close to Ralph with design — colors, big and flamboyant symbols. That's what really attracted us to those brands.
Through that style of dress, we created what we called lo down. If you're lo down head to toe, that means everything was Ralph head to toe. By us incorporating that into our lifestyles, it impacted kids around the world on an international level to want to capture that moment in Lo Life history where you can actually walk outside and be lo down Ralph Lauren. Only my father worked odd jobs, my mother never worked so I never had the luxury of asking my mom to go to Macy's to buy me a Polo shirt. As far as going inside Macy's and shopping, nah. That came into my life when I became a professional shoplifter, out there hustling, boosting, and getting money. I was able to acquire all of the things my parents couldn't.
Did your parents catch on? Were there moments where you thought you were getting too hot?
My father was more accepting of it because he knew the type of friends I had. But my mom was sort of against it. After the third time, she saw that I was really entrenched in this lifestyle, especially with all of the fashion coming in. All of the high fashion was coming in and she wasn't paying for it so she was always curious to know where it was coming from. After a while she knew. Then it was just who I was, Rack-Lo. I wasn't that person to her but I became that figure around and outside of the five boroughs — to be fly and be that dude.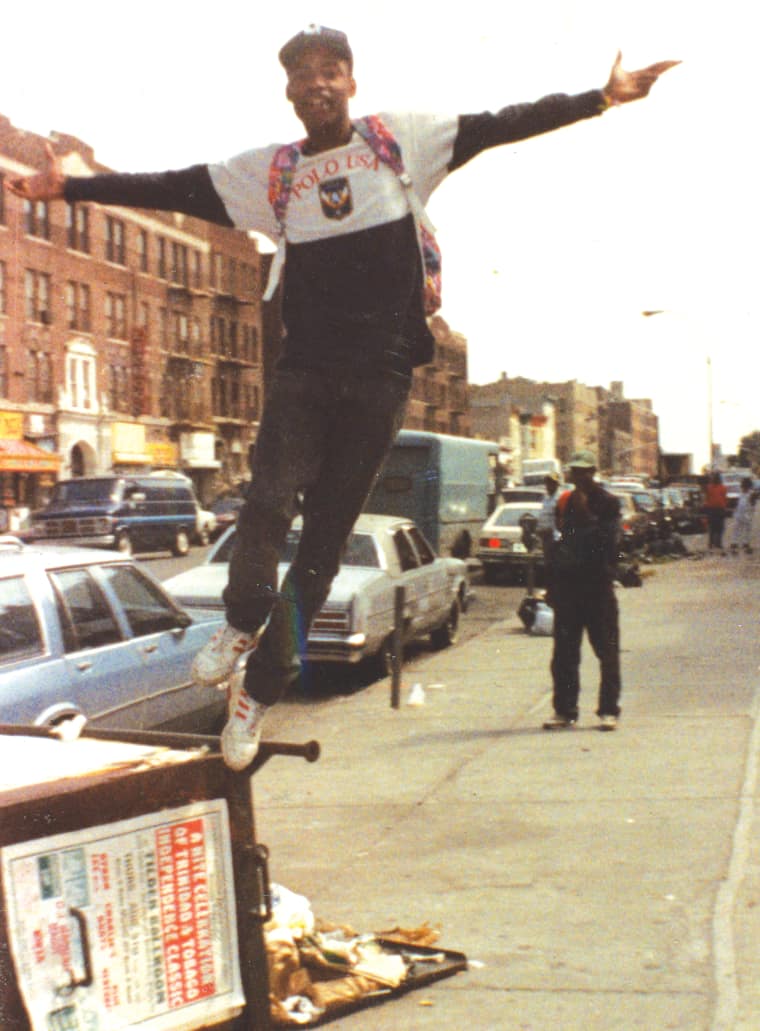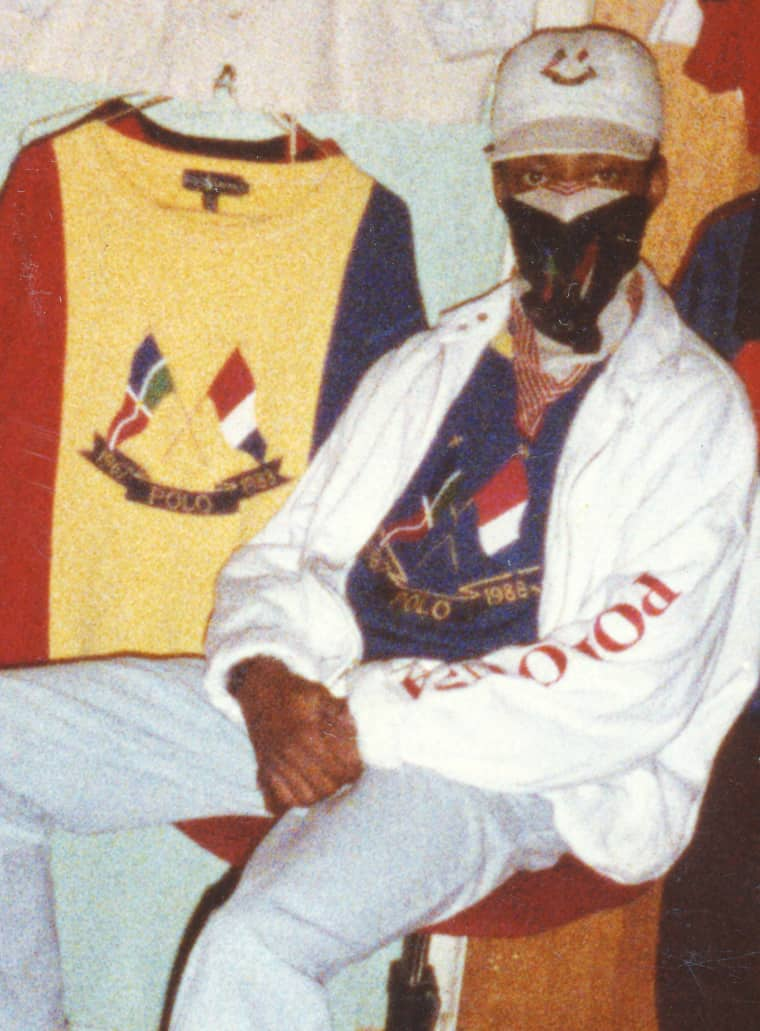 "Outside of it being about Polo clothing, it was more about survival." —Rack-Lo
What would you say your most significant contribution was to Lo Life?
I would say uniting the whole culture, bringing people from different walks of life together. In the beginning, uniting two crews, bringing them together so we could start to carve our own way in history. For the past 15 years we've been doing events. People have been coming to Brooklyn, from all around the world to take part in our facilities and it's a great thing. I want to continue to bring people together and carry on that love and loyalty, being unified as a people. And also, I'm really big on community activism as far as influencing others with my platform and giving back when I can, whether it's through public speaking, feeding the homeless, or coat drives. I just try to use my platform to impact others in a positive light.
I imagine there were times where you all got caught up. Was there a specific moment where you went out to boost but had nothing to show for it?
There were many occasions. I remember one time we were at the Bloomingdale's on 59th [Street] and 3rd Avenue. As a matter of fact, the suicide ski symbol was the popular symbol at the time; this had to be like 1989-90. It was around 50 of us and we all were after this symbol. We decided to go to Bloomingdale's to get these coats, sweaters, and turtlenecks. I already had the coat in my house. I caught it the week prior but there was a sweater I wanted. The whole crew ran in the store and started grabbing the coats and all of that. I was focused on the sweater so I actually attacked the mannequin. I was taking the pins off because there was only one sweater left. I was trying to carry the mannequin to the door. But the detectives were coming to rush everybody. Some dudes got apprehended. I got away, some other dudes got away, but I didn't get anything because I was too focused on that particular sweater.
At that time we were all into collections and completing a set, so I wanted the coat, the sweater, the hat, the pants, and the socks to go with it. I was focused on that and really missed my opportunity to have 10 coats. I could have had 10 coats.
You guys were obviously going in there, setting off sensors and alarms. I know it's different now but what were your strategies to get around things like that?
There were different strategies we used. In the beginning, we called it "city slicking." We would go in the store and challenge the people in the store. We would go in there and really try to pop the sensor off. This was before they had ink alarms, where if you popped the ink alarm, ink would spill all over the garment and damage the clothes. So there was no sense in doing that. We got to a point where we created a bag. It was a bag that was made out of aluminum foil and thick grey tape. If you put the merchandise in the bag with all of the aluminum and shit around it, it wouldn't allow the alarm to ring. We would just stuff the bag and walk off like that. Then we got to a point where we just said fuck it, we're not even popping alarms anymore. That's where the million man rush came into play. We would go into the store with 50 heads. You snatched what you wanted and just ran out, like a hit and run. If it was a Herman's Sporting Goods on the block, we would go in, grab a rack of shit we wanted, and run to the train station. Overall the story is about learning from the consequences and learning from that. A lot of people went to prison, a lot of people got shot, a lot of people died.
The ages in Lo Life fluctuated throughout the years, what would you say some generational differences were?
The lifestyle is different. I wouldn't go back to '92-'94 because that was still a part of the Lo Life's who didn't give a fuck. That was still in the prime of the Lo Life era. It was all about boosting, robbing, and getting money. The Lo Life's from 2006-2010 don't have to steal. They don't have to put their lives on the line. They don't have to make the sacrifices. The culture was already built. We made the sacrifices. We put the light on this lifestyle and built it from Brooklyn all the way to Japan, Australia, and Sweden. They pretty much had it easy but at the time it was just about fashion for them, about acquiring the best Polo items they could acquire that the Lo Life's brought into existence and made popular. They didn't have to make sacrifices. I look at Lo Life culture as an institution.
In what ways did Lo Life change fashion?
If you look at hip-hop from the early '90s, late '80s, you had people like Grand Puba who sort of had that Lo Life look as far as rocking the Tommy Hilfiger with the Lo and all of that. We changed it as far as the way you look in hip-hop. We gave a different style to it. Some people would just wear one Polo shirt or a hat; we were excessive with it because the more the better. We were all about layers. And then blending all of that together to create one look. That's what Lo Life contributed to the fashion game — a look and a style.
With all of Lo Life's success, why did it end?
It never ended; we made transitions. I'm not a booster anymore. We took on different challenges in life. A lot of people became parents, a lot of people are doing decades in prison, a lot of people passed away, other people became corporate with city jobs now, and we have people that run their own businesses. It never stopped, but as far as the Polo movement itself, it's alive and well.
We do close to 20 events a year that people can come and be a part of while feeling the full effect of Lo Life culture. To be honest with you, until this very day you have boosters that were Lo Lifes in 1998 and are still boosting in 2016. So a lot of people made positive changes, but for some people this is still the hustle. Rest in peace to my bro Boostin' Billy. He was one of the dudes that really had an influence on me coming up. I came up under him with AV, Woody Lo, Claiborne Carvel; all from St. John's. He was a master at the art of boosting. He was so into it that up until the day he died, he was a booster. That's how deep it is and that's how much people rely on the art of boosting for survival; to put food on the table, to pay your car note, your cable, your cell phone, to eat, and to help family. Outside of it being about Polo clothing, it was more about survival. I remember times where if I didn't go out boosting, my aunt, my nephews, and my uncle probably wouldn't eat that day, or I wouldn't eat.
Do you still have your entire collection?
I still have a lot of my old symbols. I have a lot of the stuff from '87-'99; some classic pieces like the Anniversary Flag, the CP '92-'93 stuff, the Diamond Crest, Scribbles, the yachting thing, Cookies, etc. I have some pieces that are still from that era. A lot of those pieces are timeless. There are Polo pieces in this day and time that came out in '88 that people still pay top dollar for in 2016.
Although it was never intended for people living in marginalized communities, do you consider Polo a part of black fashion?
Lo Life made it that. Lo Life's made Ralph Lauren urban. Before us, there were no other individuals that had Lo behind their names, so that was being original in itself. There were no other crews or people that were known for wearing Polo. People didn't know about Polo in Crown Heights back in '84 or '85. It took some unique brothers who had visions and a liking for different styles to introduce Polo to the people. It wasn't made for us. It was made for people who went to Harvard and Columbia, the elite kids whose parents had money, the upper Manhattan kids. It wasn't made for us, so when we got introduced to it, it was a whole new world. It energized us to want it and to be a part of that life through a fashion sense. We created a style within a style.
Do you feel like there is a false mentality of success through materialistic items? It's this idea of wearing yacht clothing but not being able to afford the yacht.
Fake it until you make it! Yeah, definitely man. That's how a lot of the music is now. It's about faking it until you actually have it. When an artist starts off, they don't have the big cars, the big chains, the big house, but they rap about it because it's a dream to acquire that. Once you can get on a path to acquire that, then it starts becoming real life. I think it's still that. But as far as fashion from our culture, it's not about collecting clothes anymore. It's about using the clothing to better yourself and influence people with your platform. It's about using your story to influence somebody to have a better story based on your past.
What did Lo Life teach you that shaped your life today?
Lo Life taught me how to be a man. It taught me about life. The principles in life: what's important, what's not, what you should value, what you should make a priority in your life, and not to be stuck on the past. You have to continuously grow and explore the world. You have to meet and network with different people to become a whole person in life. To me, it's a journey. It taught me that life is a journey. Just because you start off in a negative place doesn't mean the results have to be negative. It can be a positive outcome. I've done a lot of positive through my journey after the [early] Lo Life [days]. I learned what was important.