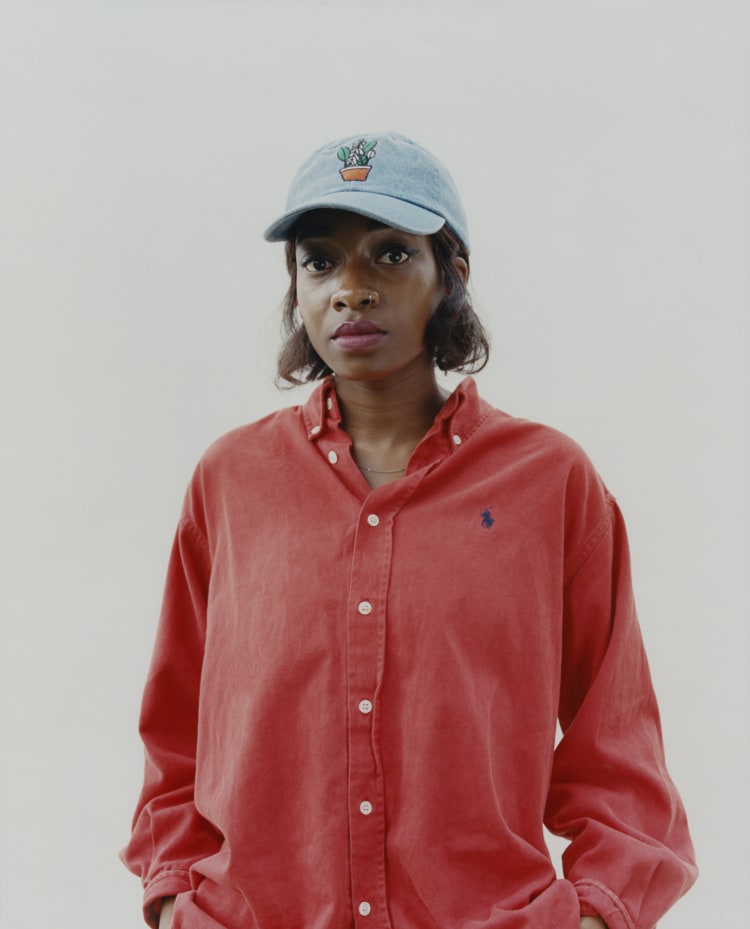 "Imagination is the only weapon in the war against reality," the always-smiling Cheshire Cat says in Alice's Adventures in Wonderland, Lewis Carroll's 19th century novel. Those words still resonate 150 years later; fantasy can heal by providing an escape. But on her second studio album, Stillness in Wonderland (and in its accompanying short film), U.K. rapper Little Simz feels conflicted about adopting that full-blown escapist mentality. Sure, imagination can help us cope — but should we always be dreaming?
Since self-releasing her debut album in late 2015, Simz has been living in her own Wonderland of sorts. This year, she's toured with Lauryn Hill and Nas, and became the first British MC to ever make Forbes's 30 Under 30 list — all as an independent, unsigned artist. Her world's bigger than it used to be, and a little more surreal.
While she was working on her new record, Simz happened to catch the Disney animated classic Alice in Wonderland on the studio TV. The film inspired Simz to think about all the different real-life rabbit holes she's found herself disappearing into. One was the music industry: a world of excitement and ego. Another was her mind; she's an introvert who suffers from anxiety. Another was the music itself.
"I think everyone should have their own wonderland," said Simz over the phone in December, a week before the album's release. "I don't think it's necessary to isolate yourself, but [you should have] that little happy place that is only for you." On "LMPD," the opening track of Stillness, Simz makes it clear what she's looking to escape from. "The people that are meant to be protecting us are killing us," she repeats, the words stark over a sparse beat. Jamaican singer Chronixx joins her with a sobering declaration: "Luther King is still patiently waiting for his dreams to come true."
Stillness can be loosely cut into two halves. Its first part is bright and optimistic. On "Shotgun," Simz's playfully confrontational verses bounce up against a sunshine-flecked hook sung by The Internet's Syd. Embodying the dreamscape theme, the songs have a richer texture than Simz's usual stuff, all guitar melodies, delicate backing vocals, and, at one point, a swaggering saxophone. But while the lure of escaping into Wonderland can be tempting, Simz is always conscious of the importance of staying grounded. "I don't want to not know what's real and what's not," she said. "That's what happens sometimes in the industry; things faze you or blind you."
The record's second half is darker. After the eerie strings that open "King of Hearts," Simz's voice gets notably lower, and grime MCs Chip and Ghetts add some world-weariness and manic lyricism, respectively. The album's most somber moment, "Poison Ivy," is also Simz's most personal track to date. Over a downtempo guitar beat, Simz sings about the lies we tell ourselves in unhealthy relationships. "That's how my last relationship was," she said of the track, which she produced herself. "It was toxic. I knew it, he did as well; the idea of it was a lot more appealing than the actual thing itself."
"I'm aware that if you have some influential power, whether it's on a grand scale or very minuscule, it is some sort of power." — Little Simz
By the closing track, "No More Wonderland," Simz has fully abandoned the daydream motif. Her verses are heavy and depressive. "Sick and tired of being sick tired, nowhere to go," she raps. But the song ends with a hopeful, proactive declaration: "Real shit's happening, and my people need me." It might be a tough road ahead, but at least she's moving forward.
"I think about what I want to talk about very carefully," Simz said when asked if it was difficult to write songs in a year as traumatic as 2016. "I'm aware that if you have some influential power, whether it's on a grand scale or very minuscule, it is some sort of power, so I hold a responsibility to speak openly and truthfully."
Across Stillness, Simz's need to be real clashes with the urge to create a nurturing safe space for the listener, and for herself. In its grappling, the album has echoes of Solange Knowles's A Seat At The Table. Neither Solange nor Simz comes to a concrete conclusion about how to live in a world that's confusing and cruel, but both offer a place to escape into for a little while — without ever losing sight of truth. For Simz, imagination is a weapon, but she wants to make real change in the real world too. She raps about that goal emphatically over the laid-back groove of "Zone 3": "There's gonna be a revolution, better partake."