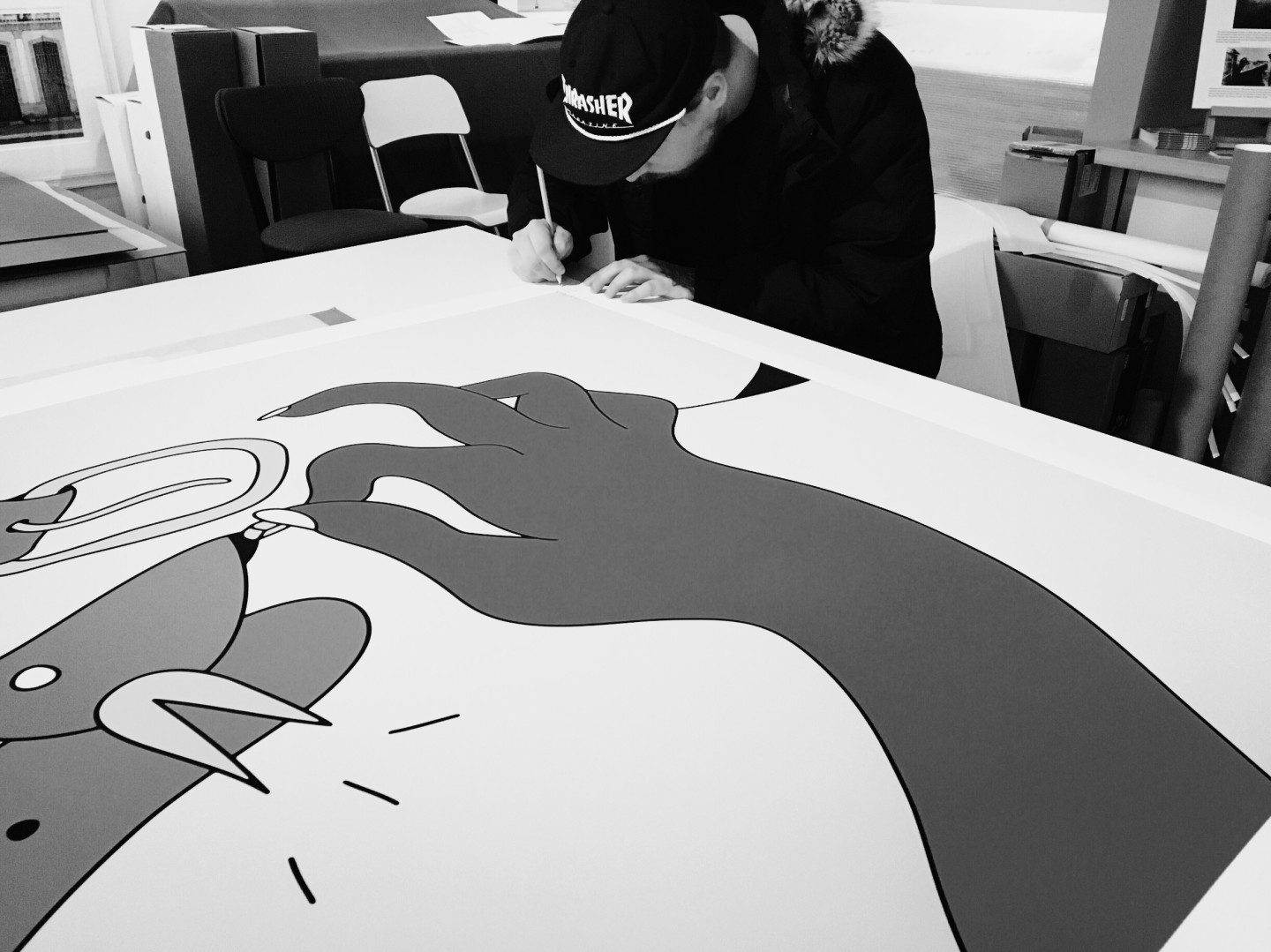 Fucci prefers his bright, sexually suggestive paintings to speak for him instead of doing interviews. When I met with the Finnish born, Canadian artist at Struck Contemporary in Toronto, he said he still freaks out at the sight of queues for his gallery shows, preferring to blend into the crowd under a baseball cap. And Fucci's "contemporary cartoons" beg to be looked at: the bright pinks, blues, and yellows pull you in, but it's his sensual depiction of women, contorted into pleading shapes that warrant a second look.
The 25-year-old artist grew up in Elliot Lake, Ontario, a small mining town with a population of about 5,000. His dad painted and played guitar, and in his late teens Fucci toured as part of a hardcore punk band, Guttershark. Music wasn't very lucrative and so eventually he turned his attention to graphic design, enrolling in a Masters program at the Savannah College of Art and Design in Savannah, Georgia. And in 2014, while working in the corporate world, he began throwing drawings up on Instagram.
Two years later, Fucci is a full-time artist cranking out new pieces based on demand. "I've been conditioned to produce," he said. This year alone he took part in 17 exhibitions; his shows are often well-attended, big budget parties. Currently, he has a solo show, Yes!, at The Viewing Room Gallery in Sheffield, U.K. and a group show, Prints On Wood, at Treason Gallery in Seattle. In January, Fucci will release a collaboration with luxury outerwear brand Moose Knuckle at trade shows in Paris and New York.
The FADER spoke with Fucci about his fascination with the female form, and the role of art galleries for digital artists.
---
"Before, a lot of people thought I was a woman artist and I think that says something. Sometimes you can tell when things are intentionally male, like, Let's draw some fucking hot babes with big tits, you know?"
"I think galleries are actually becoming more prevalent because of social media, and the hype around art. Instagram is creating demand for some artists to show in actual brick-and-mortar spaces."